Near Southeast DC: Past News Items
Alcohol/Liquor Licenses
Go to Full Blog Archive
---
Justin's Cafe Gets 6D's ABC Committee Support
Jan 6, 2010 9:40 PM
A very quick update from tonight's meeting of ANC 6D's alcohol/beverage committee, which voted 3-0 both to recommend support Justin's Cafe's application for a liquor license, and to recommend that a "stipulated license" be granted. This means that the restaurant could operate under a temporary license until its (still as yet unscheduled) hearing in front of the liquor board is completed. The full ANC will vote on these recommendations at their meeting on Monday (Jan. 11).
Owner Justin Ross said that the build out isn't quite complete yet and that there's still a few weeks of work to take care of, but he's hoping to open within four weeks or so.
A Few Tidbits on Justin's Cafe
Dec 10, 2009 11:11 AM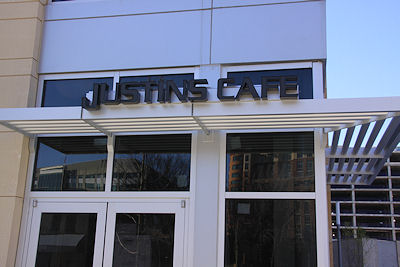 From last night's meeting of ANC 6D's ABC Committee, some bullet points on Justin's Cafe, the planned "fast casual" restaurant in the ground floor of
Velocity
on First Street between K and L (some of these are old, some are new, but for those just tuning in...):
* Justin Ross, the owner, is hoping to open the place by late January, although because of some issues with an ill partner, the liquor license has not yet been applied for, but he hopes that the paperwork will be filed with the city within the next week. (He won't open the restaurant until the liquor license has been granted, although he says the construction is now about 85 percent done.) He's applying for a Class C restaurant license, for beer, wine, and liquor.
* Expected hours are 11:30 am to 11 pm for food service (10 pm Sunday), with hopes that the bar can stay open later, perhaps until 2 am Friday/Saturday and 1 am other days.
* The space is not huge, about 1,400 square feet--it will have 24 seats for eating, and nine stools at the bar. There will be no outside tables. It will be an order-at-the-counter-and-sit set up (though he also expects a fair amount of takeout orders for nearby offices).
* No live entertainment, just TVs and music.
* The menu is salads and soup, sandwiches/paninis, and American-Neapolitan pizzas. Lots of veggies with the sandwiches and on the pizzas (he handed out a draft of it at the meeting). Sweet potato fries are on the menu, and bread choices are three-grain wheat, ciabatta, baguette, and spinach tortilla wrap (along with white/wheat crusts for the pizzas).
*
JustinsCafe.com
will be the web site, though it's not up yet.
Nats fans should note that this will become the closest *indoor* bar to the
ballpark
, as it's only two blocks north of the parking garages.
The ANC and Justin will be negotiating a voluntary agreement, which will probably go to the ANC for approval at its January meeting, but the subcommittee members and the 6D commissioners in attendance seem very pleased with the project.
Next Week's Events (Justin's Cafe Liquor License, Boathouse Lighting, ANC6B)
Dec 3, 2009 9:17 AM
A couple events on the calendar for the week of Dec. 7 to highlight:
* On Wednesday, Dec. 9, ANC 6D's ABC committee will be having its monthly meeting (in advance of the
full ANC meeting
on Dec. 14), and on the agenda is "presentation of plans by Justin Ross re Justin's Cafe planned for 1st & L Streets, SE." This is the first step in the (long) process for
Velocity's
restaurant to get its liquor license, although I haven't yet seen an announcement/posting for their official ABRA hearing (maybe it'll be in tomorrow's DC Register). The meeting is at 7 pm at King Greenleaf Recreation Center, 201 N Street, S.W.
Back Soon, I Promise; But Here's a Few Tidbits
Nov 13, 2009 1:15 PM
I warned last week that this was going to be a week where I'd be missing almost everything, and I haven't disappointed. This is probably the longest period this site has been quiet in many years, and I apologize. But all will be back to normal in the next few days, and I'll catch up with all the various doings, I promise.
In the meantime, mark your calendars for two meetings:
The next
Lower 8th Street Visioning sessions
, on Nov. 17 at 8:30 am and 7 pm, where one topic of discussion is apparently going to be the CSX plans for Virginia Avenue. (This was discussed at Tuesday's ANC 6B meeting, and one of my readers was nice enough to
send his detailed notes from the session
; also, here's
the report from The Hill is Home
.)
The next night, on November 18, DDOT is
holding a public meeting on the Ward 6 Performance Parking Pilot program
. There will be updates on signage improvements, the revenue generated from the meters, plans for "non-automotive transportation improvement modifications" that will be paid for with the meter revenue, and more. It's at Friendship Baptist Church, 900 Delaware Ave., SW, from 6:30 to 8:30 pm. If you're not sure exactly what the Performance Parking Pilot program is,
here's the scoop
.
Also, I see on the DCRA Building Permits Feed that the building permit for Justin's Cafe at
Velocity
was approved on Nov. 9. No evidence yet online of a liquor license application yet.
Hope this can satisfy everyone's insatiable thirst for Near Southeast news for a little while longer....
Velocity Says Restaurant Opening 'This Fall'
Oct 7, 2009 11:18 AM
From the new "
Velocity Voice
" newsletter that a reader was nice enough to pass along, a blurb that says "
Justin's Cafe
" in the ground floor of
Velocity
(at First and L) will open "this fall." The menu will feature "fresh salads, sandwiches and wood oven baked pizzas," and there will be a full bar. Earlier this year a "late August/September" date had been being given for the restaurant's opening, but clearly that has slipped.
I've been scrounging around for a bit more detail, but don't have much more news. Judging from the city's building permits database, it looks like the restaurant's construction permit was filed in June but hasn't been approved yet (I'd link to it, but DCRA rebuilt their pending apps database to make any links to inside pages impossible--boo). The city's
Alcohol Beverage Regulation Administration site
doesn't show any current liquor license for the site, nor does there appear to have been any recent
notification
to ANC 6D about one, but the ABRA web site isn't always up-to-the-minute accurate; I've got a question into them about any pending license. (I'll update when/if I hear back.)
UPDATE:
ABRA doesn't have any liquor license already on file, and no new application has been filed yet. Doesn't mean that one isn't coming, of course, just that it hasn't happened yet.
Update on Little Red Building Plans
Sep 12, 2009 11:35 PM
After seeing the
raze permit approval
earlier this week for
156 L Street
, the former Star Market (aka the "Little Red Building"), I contacted the building's owner for an update on his plans. Mr. Park (whose father used to own Bernstein's Liquors at Half and M SW) says that his plans are now to build just a liquor store; previous plans to include a second-floor deli have been set aside. He's hoping to get a building permit for a new structure within the next month or so, and expects construction to take about five months. So possibly the store could open next spring, though hopefully readers are becoming suitably cautious when hearing development timelines.
I know neighbors at CHT and the Marriott have been working on agreements with the store, but I haven't heard where they stand; anyone in the know please give everyone the scoop, in the comments. And keep an eye out for demolition of the old building, which should take about 10 minutes once it starts.
Cornercopia Liquor License Change Application
Aug 8, 2009 12:46 AM
Quick post:
here's notice, on page 14
(and I'm told this was posted on the building today) of Cornercopia's application for a "substantial change" to the existing liquor license from the old Third & K Market--the new owners are looking to be open (and selling alcohol) on Sundays from 9 am to 6 pm (the old market was closed Sundays), and they're also looking to extend the weekday hours to 7 am to 10 pm (with alcohol sales starting at 9 am). A hearing date for anyone objecting to the change in the license has been set for October 5.
Readers are flooding me with mistaken "they're open!" messages as well as "they told me they'll be open on [x] day!" messages, so, just to be fair--if you're gunning for the free sandwich as the first reader to report that Cornercopia is open, I'll be asking to see your receipt to verify that the market was indeed doing business. (You can send a picture of it from your cellphone!) This is to prevent the I-drove-by-and-it-looked-open messages....
Filming at Nats Park Today; Lots of Other Tidbits
Jun 12, 2009 9:37 AM
* Reader S. reports in from
Nats Park
that filming is happening there today on the Owen Wilson baseball movie. S. is an extra, and says that Owen is there, but hasn't seen any other stars yet.
* The Navy Yard Museum is presenting
"American Girl Day" on June 27
, saluting the series of books that has taken the youngsters by storm. Valerie Tripp, one of the authors, will be signing books, and there will be hands-on activities, prizes, and more. RSVP required; it runs from 11 am to 3 pm.
See the flyer
for more.
* Two readers confirmed
my Tweet
yesterday that the
"Taxation Without Representation" street signs
have now been posted on South Capitol Street between N and Potomac.
* The new owner of the Little Red Building at Second and L formerly known as the Star Market is moving on getting the existing liquor license changed to allow more than just beer and wine (a
process originally started
by the previous owner).
My intern
reported that the sign now posted says that the deadline for filings on the case is July 20 and the hearing is (I think) August 10; however, the hearing notice hasn't yet appeared in the
DC Register
, and the
ABRA web site
is woefully out of date these days.
*
Greater Greater Washington discusses
attempts to get USDOT security to back off from hassling photographers; I've had problems there for years, even though
there is no law prohibiting the photographing of federal buildings
. (They even hassle me when I'm taking photos of
The Yards
, which, to be gentle about it, is *really* none of their damn business.)
* I hear that the Cornercopia Deli is still about three weeks from opening; we'll see if that date holds. And yes, my free-sandwich offer to the first reader who alerts me to the deli actually being open for business still stands.
* There's a couple sales/leasing events at
Velocity
and
Onyx
over the next few days that readers have alerted me to; but if those sorts of tidbits are of interest to you, you'll want to check in with
the BID
; I'm going to shy away from adding those type of shindigs to my already overburdened lineup of items I track.
L Street Doings, and Stories on Stuff There's Already Been Stories On
Jun 4, 2009 11:21 PM
*
ANC 6D
's meeting on Monday night (June 8) looks to be a little shorter than usual, with only a few agenda items, one of which is a public space permit request by the
Courtyard by Marriott
to expand (?) their sidewalk cafe.
* Speaking of L Street, a reader wrote today about the
Little Red Building at Second and L
, once known as the Star Market. Apparently the owner was posting a liquor license hearing notice, which gives me a feeling of deja vu, since this
also happened in September 2006
. The owner told my anonymous tipster about his plans for the building, which are pretty much what we've been hearing since 2006: tear down the building and build a new two-story structure, with the first floor being a liquor store and the second floor being a deli (at other points over the past few years it was a
sushi bar
and then a wine bar on the second floor). The plans have even stayed mostly the same after the
building changed hands last year
for $900,000. See
my various posts from 2006 through 2008
about the previous attempts to change the building's liquor license and the negotiations with the ANC.
Details on the Akridge 'Festival Park' at the Stadium
Apr 13, 2009 10:12 PM
Tonight ANC 6D gave its support to a plan for "Festival Park on Half Street," a 14,000-square-foot combination food, drink, and activity space on the
northwest corner of Half and N streets
, on land
owned by Akridge
directly across from
Nationals Park
.
This is the "beer garden" that caused
a bit of a stir
last week, and representatives of Akridge,
Georgetown Events
, and
Headfirst Sports
were on hand to explain their concept to the ANC. A document handed out describes it as a space with "a large tent that will include a beverage station, a temporary stage for live music, porta johns, tables with seating, possible baseball netting cages for live instruction, and a children's activity area." It would be open on game days beginning three hours before game time and ending two hours after (or before midnight regardless of whether the game is over). The newly erected 12-foot-high wooden fence would surround the site, with one entrance where IDs will be checked and bracelets given to those 21 and older, with up to 12 security employees on hand. There would be food from third-party vendors as well as
Georgetown Events
' own restaurants (
Surfside
,
Jetties
, and the
Rookery
). There's also the possibility of activities in the space (such as farmers' markets or other events) on non-gamedays, though the lease for the space ends at the beginning of November.
Headfirst Sports
(named by Sports Illustrated for Kids as the "Best Summer Camp in the Entire Washington Area") is planning to run in the park a "variety of games, contests, and competitions as well as small clinic and group instruction aimed at teaching young Nationals fans how to play and love baseball and softball." The operator of Headfirst also made clear his interest in working with youth groups from the neighborhood in sessions apart from the gameday activities.
The ANC commissioners were supportive of the plans, although they had a lot of questions (too bad you all missed the long discussion of whether the phrase "frozen drinks" is a legal term), and 6D07 commissioner Bob Siegel complimented the group, saying "you convinced us that this is going to possibly work." Some specifics still need to be hammered out in the "voluntary agreement" that Georgetown Events is entering into with the ANC, but the commissioners voted 7-0 to support the group's application for a "Tavern" liquor license. An April 30-May 1 opening date is being targeted, but there is still city bureaucracy to contend with.
As for the Akridge site, baseball fans
heading to the ballpark today
were met with a slew of new signage on the west side of Half Street advertising "Akridge at Half Street"--the
new web site
shows some of the art on the signs, and I also took a few photos of the fences and put them on my
Akridge Half Street page
, though the skies were so gloomy that I couldn't bring myself to post the complete set. There's a spot where local artists will be creating works right on the fence, and there is also a chalkboard where passers-by can write messages, as many did today.
UPDATE:
Some additional details on the plans
from WBJ
.
More on the 'Beer Garden' (or Not)
Apr 9, 2009 5:14 PM
City Paper does some digging
on the "Beer Garden" item on ANC6D's April 13 agenda that
I posted about yesterday
: "Andrew J. Kline, representing Robert 'Bo' Blair, said at a March 25 meeting of the Alcohol Beverage Control Board that his client wants to create a 'festival site with amenities' near Nationals Stadium, but that 'beer garden is not our term, I don't know where that came from.' [Note from JD: that's what it said on the ANC agenda.]
"Blair, who is on four licenses in the city, according to Kline, plans to hire private security staff, and there will be one main entrance to the festival site. There will be no cover for admittance, and there will be a separate tent where alcohol is served where staff will check IDs. Their preliminary proposal indicates a trailer will be used to lock up liquor when there's no game."
UPDATE:
Further information in
a WashPost piece
on food and drink options near the ballpark: "And the real estate firm Akridge, which plans to eventually turn the space of a former Metrobus garage at Half and M streets into shops, offices and residential units, is hoping to convert the now-empty lot across from the centerfield gate on N Street into something of a block party this season. 'The concept is a tented event space -- partially tented, mostly open -- with live entertainment, food and beverages," says Akridge Development Manager Adam Gooch. 'Half Street is supposed to be the entertainment area.... We're trying to get some life down here.' Permits, schedules and most of the details of the project have yet to be finalized[.]"
The
Washington Blade
has an article about the possibility that Ziegfield's and Secrets--two gay bars at
Half and O SE
that were shut down in 2006 to make way for
Nationals Park
--may be reopening in Buzzards Point, at 1824 Half St., SW. The first part of the article is about how DC police chief Cathy Lanier had to weigh in after initial comments from 1D commander David Kamperin made it sound like the police would oppose the relocation. The rest of the article deals with the application for a liquor license, for which a hearing is scheduled May 14.
A
hearing had been scheduled
for today in front of the
Alcohol and Beverage Control board
about the
ballpark
's liquor license application; but I've been told that no one filed a protest about the application, so the public hearing was cancelled. The ABC board still must review the application and rule on it, presumably in the near future. For a little more background, read
my post from last month
about the ANC's decision to support the application--there were concerns that a protested ABC license might spur either the city council or the DC Sports and Entertainment Commission to enact a license outside of the ABC's regulatory reach.
I just got back from ANC 6D's monthly meeting, where the commissioners voted 6-0 (with one abstention) to support the application by Volume Services Inc. for a "CX Arena" liquor license at the new ballpark. This single license would cover all concessions at the stadium, including kiosks, restaurants and boxes, and at individual seats.
The ANC had asked representatives of the Nationals and concessionaire CenterPlate to discuss potential issues with alcohol sales at the ballpark in greater detail, but it became a more freewheeling discussion between the team officials, who are trying to assure nearby residents that the team wants to be a good neighbor, and the commissioners, who feel that the community has received very little communication up to now from the DC Sports and Entertainment Commission and other city agencies about traffic, parking, and other stadium-related issues.
Nationals senior vice president for business affairs Michael Shapiro spoke a number of times of the Nationals' "sincere desire to become a member of the community," and that they want the neighbors "to be proud" of the new ballpark. Shapiro and director of ballpark operations Matthew Blush offered to meet on a regular basis with community leaders, which appeared to be well received by the commission's vice chair Andy Litsky, who described the ANC's dealings with the Sports and Entertainment Commission on ballpark-related issues over the past two years as a "horror show."
Greg McCarthy, who is senior director of the Nationals' ballpark district dealings, spoke about parking and traffic issues, explaining that season ticket holders will be assigned to specific lots and will be given detailed instructions on the correct routes to use, to prevent the cut-through traffic and circling for on-street parking that the team says it will be actively discouraging. The commissioners made clear that parking issues remain a huge concern for residents, and that they want to hear specifics soon about how gameday parking will be handled.
Shapiro and Blush described upcoming outreach efforts such as bringing neighborhood kids to the ballpark for batting practice, getting jobs at the stadium for local residents, and having ambassadors and security outside the ballpark itself before and after games as part of making "the building work for the community." Commissioners and audience members were particularly interested in job opportunities at the ballpark, with the hope that the Nationals will go beyond "hanging out a sign" to actively recruit nearby residents.
As for the liquor license, Shapiro indicated that most of the rules in place at RFK (such as no alcohol sales after the seventh inning) would be in place at the new ballpark, and suggested that the Verizon Center would be used as a guide for how to handle alcohol-related issues for non-baseball events such as concerts. (I'm guessing that liquor sales might not be an issue at the first non-baseball event at the new stadium, which is scheduled to be the April 17 mass by Pope Benedict XVI.)
With some concerns that protesting or otherwise hindering this application might spur the sports commission or the city council to issue a liquor license outside of the city's Alcohol Beverage Control jurisdiction, the ANC gave its support. The license hearing is scheduled for Jan. 2.
In the meantime, the DCSEC, the Nationals, and community leaders have another meeting scheduled for Dec. 19.
Community Papers, Canal Park Connector, Other Quick Tidbits
Dec 1, 2007 9:05 AM
This morning's quick hits:
* The Voice of the Hill
has posted a piece on its web site
surveying the community reaction to the
11th Street Bridges EIS
, while the December issue of the Hill Rag
looks at the project from the perspective of Hill East
.
* The
Hill Rag
also has
a recap of the November ANC 6D meeting
, which focused mainly on Southwest issues, though there is a small blurb about the ballpark
liquor license
(it sounds like there were some concerns about the 8 am to 3 am time frame listed on the application).
* Meanwhile, the
December Southwester
reports on the Oct. 3 groundbreaking at The Yards by reprinting much of the
Forest City press release
on the project.
* Out of my realm, but I'll still pass along that the four short-listed development teams will be
presenting their proposals for Poplar Point
at Dec. 12 at 6:30 pm at Birney Elementary School, 2501 Martin Luther King, Jr., Ave., SE.
Quick Notes: Bowl Game at the Ballpark?, School Closings, More
Nov 29, 2007 8:58 AM
A few quick items not earth-shattering enough for their own entries:
*
The Post reports
that there is a group trying to launch a "Congressional Bowl" college football bowl game, where one of the teams would be a service academy, and which would be played at either RFK or
Nationals Park
. The NCAA should give its answer in May of 2008.
* In a story mentioning the problems being encountered by cities trying to sell municipal bonds because of the "credit crunch" mentions that DC's "A" rating means it is probably going to have to pay a higher interest rate on a $350 million bond issuance next month that will fund, among other things, the rebuilding of the
11th Street Bridges
, though the city locked into a low interest rate on the $355 million bond issued last year for the
ballpark
.
* None of the
24 DC schools proposed for closure
in the mayor's plan are in Near Southeast (Van Ness Elementary School
closed in 2006
), but I'll note that Southwest's Bowen Elementary is on the list, which brings to mind the continued wrangling over the fate of the move of the MPD First District police station off its current location in Southwest to allow for the construction of the new consolidated crime lab. At
various
times
this fall, there has been discussion about 1D moving to a school building in Southwest (after plans to move them to the Post Plant at
225 Virginia Ave. SE
fell through) and perhaps Bowen's closure clears the way for this.
UPDATE:
Oops, I missed that Phil Mendelson is quoted about the Bowen closing in
today's Washington Times
, wondering whether Bowen was picked to be closed because it needs to be, or because the city wants to put MPD there. (Though I remember hearing talk of either Bowen or Amidon as possible closures long before the MPD question.)
* My
Ballpark and Beyond column this week
talks about the opening of
400 M
(Capper Building #2), the
rash of stolen cars
, and the
ballpark liquor license application
.
* One more addition: The DC Sports and Entertainment Commission is asking the city council for more money, says
the Post
, because its budget will suffer thanks to the move of the Nats from RFK to South Capitol Street, thanks to the loss of the $2 million a year that the Nats were paying to the DCSEC for renting RFK. The team will pay $5.5 million in rent at the
new ballpark
, but that money will go toward paying off the construction bonds.
Florida Rock Back at the Zoning Commission
Nov 19, 2007 12:02 AM
Monday (Nov. 19) is the monthly
Zoning Commission
meeting, and
Florida Rock
(or, "RiverFront on the Anacostia") is one of the agenda items. I *believe* it's going to be a request for a new hearing on the project's revised design, which I
first posted here in June
, and which
received favorable comments
from the Zoning Commission in July. (This is a modification to the second-stage PUD, for those In The Know.) The meeting is at 6:30 pm, and will be shown via
live webcast
.
As always, this monthly zoning meeting overlaps with
ANC 6D
's monthly meeting; I haven't yet seen an agenda for that meeting, so at this point, I'm going to commit myself to finding out what's up with Florida Rock. (I knew I shouldn't have given the entire JDLand staff the week off at Thanksgiving.)
If you're arriving late and don't know what
Florida Rock
is, the project page will give you most of the scoop. But the short version is that it's the nearly six acres of land directly south of the
ballpark
, on the Anacostia River. The developers have been working for nearly 10 years to get this property transitioned away from the concrete business currently there to a 1.1 million square foot mixed-use waterfront destination.
At the February meeting where approval of the design was expected, the
Zoning Commission unexpectedly sent the architects back to the drawing board
, wanting a greater amount of residential space in the project, better views to and from the ballpark, and a better "expression of place." And now the developers are hoping to get this project moving forward, so that perhaps the first phase--an office-building with ground-floor retail and a public plaza on the easternmost end of the site, next to
Diamond Teague Park
--could get underway in 2008. The rest of the project, with a hotel, residential building, office building, public spaces, retail, and the riverwalk along the Anacostia, could take a while to be completed, especially given that the western portion of the site is probably not going to be ready until the
current Douglass Bridge
is demolished and the new
new Douglass Bridge
is built.
You can see the latest renderings, along with some watercolors and much more detailed descriptions of the revised design, on the
project page
.
Knocking Back Cold Ones at the Ballpark Getting Closer
Nov 1, 2007 9:35 PM
Reminder: AWC Board Meeting; And Star Market Liquor License Application Latest
Feb 27, 2007 2:05 PM
Just a reminder that tomorrow (Wednesday) there is an
Anacostia Waterfront Corporation
Public Board Meeting
; its
agenda includes
a presentation and public comments on the new
AWC Draft Environmental Standards
and "Workforce Intermediary Services plans; it will be at St. Matthew's Baptist Church (1105 New Jersey Ave.) at 5:30 pm.
Additionally, there was supposed to be a status hearing tomorrow on the
liquor license application
by the owners of the old Star Market (the "little red building") at
156 L Street
; but I'm told by the
Alcoholic Beverage Regulation Administration
that an agreement has been reached by the applicants and ANC 6D (which was protesting the application), so the status hearing was removed from the calendar. (Attempts to get additional information from the property's owner and from ANC Commissioner Bob Siegel have been unsuccessful at this point.) Perhaps this means we'll be seeing a resolution on this project soon.