Near Southeast DC: Past News Items
600 M/Square 882/Old Capper Seniors
Go to Full Blog Archive
---
What's Next at Capper/Carrollsburg
Jul 31, 2008 12:04 PM

While the focus lately has been on the start of the
Capitol Quarter townhouses
, there is more to the redevelopment of the old Capper/Carrollsburg public housing complex. There are the two completed seniors buildings (
Capper Seniors #1
and
400 M Street
), now providing 300 of the 700 old Capper public housing units that are being replaced. The first phase of Capitol Quarter includes 39 subsidized rental units, and the second phase (which is probably not going to start delivering until 2011) will have another 47 subsidized rentals; this is in addition to the sales of 121 market-rate and 91 workforce-rate townhouses throughout both phases. That leaves a little over 300 public housing units to come, which will be included in the 1,300 apartments expected to be constructed at Capper over the next five years or so.
There are
five new apartment buildings
slated to be built, three of which along the east side of
Canal Park
where the temporary parking lots are, and another at New Jersey and K on the trash transfer site. And there is a new plan for a fifth apartment building, on L Street across from the
Marine Bachelor Enlisted Quarters
(B.E.Q), on the northern portion of the
old Capper Seniors
footprint.
Under the
original Capper plans
, there was to be a strip of 61 townhouses built on this spot, but the DC Housing Authority has recognized that these homes would be dwarfed by the B.E.Q. to the north and the two planned office buildings directly behind them at 600 M Street. So DCHA has now
filed a request with the Zoning Commission
to allow an expansion in the total number of housing units allowed at Capper to 1,747, which would allow the construction of a four-story 189-unit apartment building (with a massing very similar to the B.E.Q.) on this stretch of L Street known as Square 882N. This Zoning Commission request is also looking to expand the number of units in the planned apartment building on the south side of L Street between Second and Third (let's call it Square 769N) to 171 units, as a result of its block-mate
250 M Street
having
recently gotten approvals
to be built higher than originally requested.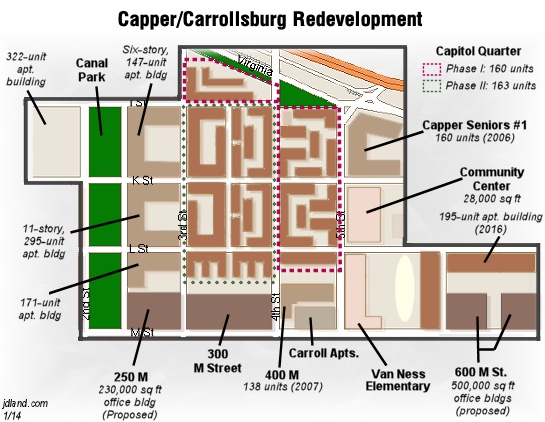 I've updated the map and descriptions on my
Capper Overview page
to reflect these latest plans for the area, and it's worth taking a look at if you're not really familiar with exactly how wide-ranging the Capper Planned Unit Development is. (Reading the
2004 zoning order
establishing the PUD and laying out the requirements isn't a bad idea, either.) I should also note that the apartment and office buildings will combine to have about 50,000 square feet of ground-floor retail. There should also be a new community center at Fifth and K, but it doesn't seem to be on the front burner just yet.
Of course, the question then becomes: when? Timelines are always dicey and should be taken with a couple pounds of salt, but it appears that these two L Street apartment buildings (882N and 769N) would be first up on the agenda, perhaps being delivered in 2011. The other two buildings on Second Street would come next, and the anticipated 400-unit building on the trash transfer site would probably be the last one to be built, finishing maybe sometime in 2013. The three office buildings and the second phase of Capitol Quarter townhouses would be sprinkled throughout that time frame as well, with 250 M Street probably being the first office building to get underway, possibly even later this year. (Have I thrown in enough "maybe"s and "possibly"s and "perhaps"s for you?)
At least these plans don't have to wait until school buses get moved!
Final Photos of Capper Seniors Site, Finally (Fixed)
Jun 3, 2008 7:04 PM
It's only taken three months for me to finally get over to Seventh and M with camera in hand, but at last I've completed my mission, and have added the "afters" to my
Old Capper Seniors page
(and no, I'm not going to rename it my
Nationals Parking Lot W
page). Eventually, a 500,000-sq-ft office building by Forest City is planned for the site, but no timeline for getting that underway has been announced. (
UPDATE:
Link fixed. Oops.)
Comments
(1)
More posts: 600 M/Square 882/Old Capper Seniors
Clear Sunny Skies. That Must Mean....
Mar 20, 2008 3:51 PM


Caught a break with such beautiful weather today, and so I snagged a
new batch of overhead photos
from up high at the
Courtyard by Marriott
. I took the entire batch, both east and west, and
have paired them with the first ones I took
, in March 2006. It's quite a difference; these are the views that people should see when they're carping about "how the area around the ballpark is one big construction zone" -- yes, it is, but look what that construction has done in just two years. (And think of what the commentary would be if this construction *weren't* happening.) You can also toggle to
include all the photos from here in 2007 as well
, to watch the process step-by-step.
Comments
(0)
More posts:
100 M
, 600 M/Square 882/Old Capper Seniors,
70/100 I
,
909 New Jersey
,
Capper
,
jpi
,
Courtyard/Marriott
,
mnorth
,
Onyx
,
Square 743N
,
Square 699n
Prez to Throw Out First Pitch; Parking Lot Updates
Mar 16, 2008 10:45 AM
* We knew he'd been asked, but
it's now confirmed
that President Bush will be throwing out the first pitch at Nationals Park on Opening Night (March 30). Officials from the team have told me that they've acquired more than 50 magnetometers to handle the security checks for the expected 41,000-person sellout crowd. But it's also one more reason to get there plenty early; the gates will open at 3:30 pm.
Barry passes along
the message from Stan:
Take Metro
! Stan also says, as we've heard from multiple sources lately, that the team is continuing to work on some same-day/cash lot parking, though it isn't in place yet. (They've said previously that they're trying to figure out how to offer these spots in a way that would prevent too much additional congestion, perhaps by requiring spaces to be purchased via the Internet beforehand.)
* As for the
surface parking lots
, work is speeding up (just in time!). Striping and lighting looks to be mostly done on one of the Blue Zone lots at Third and Tingey in
The Yards
(
dull parking lot photo here
), and work continues on the two lots along First Street north and east of the ballpark. Ditto for the lots on
Capper/Carrollsburg
land, all of which are in the Orange Zone. Asphalt is being laid at Lot W at Seventh and M on the
old Capper Seniors
site (
another dull parking lot photo here
). Stormwater management systems, gravel, and lighting are in at lots U and T on Third Street between I and L (more not-quite-so-dull photos
here
and
here
, both of which show the new signs now posted).
To manage these Capper lots, the DC Housing Authority has chosen
UStreet Parking
, a certified DC Local, Small, Disadvantaged Business (
LSDBE
) that handles the parking at RFK, the Convention Center, and
many swank spots
that geeky old neighborhood bloggers will never see the inside of, such as Love and Ultra. Look for some free parking days in April, along with monthly parking accounts and possibly some cash parking, especially now that the
Performance Parking
signs (and the enforcement expected to accompany them) have taken away the bountiful free parking on Capper streets that local residents and workers have gotten used to.
UPDATE:
And yes, I've gotten an updated version of the Maine Avenue sign. And "Nationals Park" is now added to the Sixth Street and South Capitol Street exit signs, though not yet with the Curly W attached.
Waterfront Fair Tidbits (250 M, Bridges, More)
Jan 26, 2008 7:22 PM
This afternoon's
Anacostia Waterfront Community Fair
appeared to be very well attended, at least during the 90 minutes or so I was there. (Even Marion Barry showed up.) There were three long tables of displays and information from city agencies, commercial developers, and non-profit organizations, and Near Southeast was well-represented--
JPI
,
Velocity
,
Monument Half Street
, Williams C. Smith (
250 M Street
), Forest City (
Capper/Carrollsburg
,
The Yards
), the
Anacostia Community Boathouse Association
, and
the ballpark
all had people on hand. (There was also plenty of swag--hope you didn't miss out on your DC WASA lanyard!)
Two news items I came across:
* First, confirmation that
250 M Street
will start construction in either late spring or early summer, although they don't yet have any office or retail tenants to announce.
* Second, the
Draft Environmental Impact Statement
for
South Capitol Street
(including a new
Frederick Douglass Bridge
) is going to be released on February 8, with a public comment period to follow. There are two build alternatives that would reconstruct South Capitol Street and the Suitland Parkway (and its interchange with I-295), but neither has been identified yet as a "preferred" alternative. (No design from the four options for a new Douglass Bridge has been chosen yet, either.) There will be public meetings in late February about the Draft EIS, and the
web site
will be updated soon with information on the draft. I'll write more about this when the Draft EIS is officially released, but it's this study that will decide whether a big traffic oval is built at South Capitol and Potomac, and whether the South Capitol/M interchange could be reconfigured into an "at-grade" intersection (i.e., no more tunnel).
I should have asked about the status of the reconfiguration of the 11th Street Bridges now that
that EIS
is complete, but I could never get close enough to the table to talk to anyone. (See update below.)
Other developments such as the Southwest Waterfront and Hill East had displays as well, but since my brain can't process anything outside of my borders, you'll have to hunt down information on those projects elsewhere.
UPDATE:
I'm finally looking through the pile of flyers I picked up, and here's a few timelines in the official brochure for the event (they're called "targeted schedules", so best not to pen them in just yet):
*
Douglass Bridge Replacement
: Begin construction Spring 2010, complete in Winter 2015.
*
11th Street Bridges Replacement
: Begin construction Spring 2009, no completion date listed.
Also, the 500,000-sq-ft office building by Forest City at the site of the
old Capper Seniors building
at
600 M
has a Spring 2009 start date in one of Forest City's flyers. The other Yards start/completion dates in the brochures are on target with what I've written about previously (see my
Yards Phase I page
for details).
Too Darn Many New Photos, Including N Street, At Last
Jan 6, 2008 9:32 PM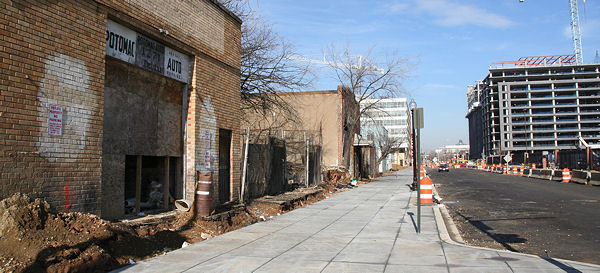 It was time this weekend to catch up on photos for a bunch of locations, including the most aged batch of them all, the views of the
ballpark
's northern footprint
along N Street
, which haven't been updated since September, so you can now have your fill of photographs of imposing parking garages. The curbs and historic streetlamps are now in, and N Street has been paved from South Capitol to Half, and it looks like the paving east to First isn't far behind. So even though the half-shadow half-sunlight conditions weren't the best to work with, I took full updates of the
First
,
Half
,
Cushing
, and
Van
intersections along N,
all of which you can see here
.
One thing that really struck me today for the first time is just how wide First Street is becoming, as you can see in
this batch of northward-looking photos
. I also saw that all the businesses on the west side of First south of M have now vacated--as you can
see above
, it's odd to see those old about-to-be-demolished buildings with sparkly new sidewalks and streetlamps in front of them.
I also trudged around the road construction along First Street north of M as best I could to update photos of
100 M
,
Onyx
, and
70/100 I
, and also got a good new batch of
55 M photos
as well as the always showy views from
the freeway at South Capitol
. And I finally got the last set of
old Capper Seniors photos
to show that the building is indeed gone. And heaven help me I even took a photo of
the new sign
advertising the
Square 696 project
, and also a few shots barely showing that work started this week on the
first Capper parking lot at Third and I
(because there's nothing more exciting than documenting the construction of a parking lot). There's just too much change, and I couldn't stop until it had all been documented! Aaaiiiieeeeee!!!!
For those of you brave enough to try,
here's all the photos from the past two days
on one page. (Thank heavens I've done a lot of work over the past year or so to automate the update process as much as possible.) Don't forget to click on the
icons to see all photos of a location over the years....
Comments
(0)
More posts:
100 M
,
1015 Half
, 600 M/Square 882/Old Capper Seniors,
70/100 I
,
Capper
,
jpi
,
mnorth
,
Monument/Half St.
,
Onyx
,
Square 743N
,
Square 699n
,
staddis
,
Nationals Park
,
Square 701
Old Capper Seniors Skeleton All Gone
Dec 19, 2007 8:30 PM
Having driven by this evening, I can report that the last wing of the
old Capper Seniors building
has come down in the past few days. Nothing left but a big pile of rubble. I'll go back and get photos when it's not, um, DARK.
First Parking Lots About to Start, RFP Issued for Management
Dec 17, 2007 10:27 AM
While
the plan that Tommy Wells announced last week
to address on-street parking around the ballpark and on Capitol Hill is just beginning its trek through the legislative process, the first of the new parking lots that the city and the Nationals will want stadium-goers to use will get underway soon. Building permits have been approved in the last few weeks for temporary surface lots in the
Capper
footprint at Second and K, Second and L, and Sixth and M, and work on the first two should be starting this month. (The third lot will get started in January, after the wreckage from the almost-completed demolition of the old Capper Seniors building is cleared away.)
At the same time, a
Request for Proposals
has been issued by
DC Housing Enterprises
for the management of these lots, offering a one-year contract with up to four one-year renewal options. The RFP, while chock full of selection criteria, required certifications and other specifications, also gives a few details about the planned operations of the lots themselves, which together will have about 670 spaces (or more, if valet parking is used). They will be offering monthly prepaid public parking on weekdays from 6 am to 7 pm, at a rate of not less than $150 per month; some daily parking may be allowed as well.
But users of the lots will have to vacate prior to any Nationals game, since the lots are "expected to be subject to an exclusive arrangement" with the team that gives all spaces over to ballgame parking from two hours before the game until three hours after. And a nice arrangement it is--the DC Housing Authority will apparently receive $10 per parking space per game, whether all spaces are used or not.
The
zoning rule
passed earlier this year that allowed the creation of temporary ballpark-area lots such as these says that they may also be used for a "seasonal or occasional market for produce, arts or crafts with non-permanent structures," though no plans for anything like that have been announced. The rule also states that the lots can only last until April 2013, since it is believed development around the ballpark will bring plenty of underground parking that will negate the need for these surface lots. The three Capper lots will eventually be replaced with a mix of apartment buildings, townhouses, and office buildings, though start dates for those projects have not been announced.
One block south of Capper, at the Yards,
another batch of temporary surface lots
are planned, which would have about 700 spaces. Beyond these and the garages with 1,225 spaces on the ballpark site itself, no other stadium parking locations have been publicly identified, though the Nationals have said they have found enough parking spaces for all season ticket holders--they just haven't said where they all are yet. And the city and the team continue to say that Metro will be the best way to get to the ballpark.
You can check out my
stadium parking map
to see where these new lots are--it also shows the other locations where zoning allows temporary lots, plus existing lots and underground garages where parking could be made available.
Updated Photos, Albeit With Gray Skies
Dec 16, 2007 11:47 AM


Before the snow-that-never-was arrived yesterday, I took a quick spin to get some updated photos. There was still a smidgen of sun when I visited the
old Capper Seniors
site, where only the southwest wing of the huge building remained standing when I was there (but even that could be gone by now). I also
wandered along Tingey Street
behind the
DOT HQ
for the first time in a long time to see what's going on with the work at The Yards--they're now preparing to build some temporary parking lots and are doing their infrastructure work before starting
the rehabs next year
of three existing buildings into residential and retail offerings. I also took some shots along M Street and at
Onyx on First
and
100 M
to take advantage of the overcast skies in those spots, since the building shadows on winter days when the sun's out are almost impossible to work with. Finally, I got updated photos of
55 M Street
, the northern portion of
Monument's Half Street project
, where the section along M Street is now three stories high and a fourth story is underway on the southern edge of the building.
Here's the
entire batch of new photos on one page
--don't forget to click the
if you want to see all photos in the archive from a certain angle. And in case you missed these a few days back, I recently took new overhead photos of the
North of M
area (looking
south and west
and
northwest
), showing quite a change in the last 21 months.
Council Passes Alley Closing and Capper PILOT
Dec 11, 2007 3:33 PM
Two bills of Near Southeast interest passed their first readings at today's city council meeting, on the consent agenda, no less. (Consent agenda = no discussion or bickering! Yay!) First was
Bill 17-0448
, which authorizes the closing of the public alley on
Square 696
(bounded by Half, First, I, and K), and which had been interesting mainly for the affordable housing trust fund contribution discrepancy that
came up during the bill's hearing
a few weeks ago, when the developers noted that they expected their contribution to be in the neighborhood of $900,000 and the Office of Planning determined the required sum be closer to $8 million. Apparently the final bill calls for a $1.1 million contribution, which council chairman Vincent Gray said is the largest trust fund contribution ever as the result of an alley closing. The developers also have agreed to create a 20-foot-wide pedestrian right-of-way through the middle of the block to allow for easy access from I Street to the planned public plaza on K Street, though apparently DDOT requested that this right-of-way be upgradable for "motorized access" in the future if necessary. This alley closing will allow DRI Development to move forward with their plans for 800,000 square feet of office space in three buildings with 37,000 square feet of ground-floor retail. There've been noises that the first construction on the site could begin in the summer of 2008, but nothing official has been announced. (The last tenants on the block, in the cab garage at First and K, are expected to move out in February when their lease expires.)
Also passed today was
Bill 17-0292
, the Capper PILOT funding bill that I
just wrote about in detail a couple days ago
. This authorizes a bond issuance of up to $55 million that will yield close to $37 million to pay for infrastructure improvements at
Capper/Carrollsburg
. The bonds will then be repaid by landowners making payments in lieu of property taxes. I should mention that these PILOT funds won't only be repaid by residents of Capitol Quarter--there are two planned office developments totaling 750,000 square feet that are within the Capper PILOT area (600 M Street at the
old Capper Seniors site
and
250 M Street
) that will generate PILOT payments.
Each bill will come before the council again in January for their final votes.
Quick Photo Update - Capper Seniors, 55 M
Dec 8, 2007 12:19 PM


Foggy air with low-in-the-sky not-very-bright December sun is not conducive to snappy photos, so this is just a brief update to capture the most pressing changes to the skyline. Demolition started back up this week at
Old Capper Seniors
: the southeast wing is now gone, and the east wing is getting smacked with the wrecking ball this morning. You can see the demolition from all angles in the old Capper Senior
Expanded Archive
. I also took a few shots of
55 M
's progress (look for the

icon in its
Expanded Archive
).
Reading the Tea Leaves on Upcoming Projects - Updated with More 1111 New Jersey News
Dec 7, 2007 1:02 PM
Because I'm not always so successful in getting people to tell me the current status of various projects, I spend a lot of time pouring through documents hoping to get hints here or there, and within the past few days I've uncovered a few new ones. I sent out some e-mails asking for additional information, but those have gone unanswered (waaaaah!), so I'll just post what I've seen, and wait for the various bureaucratic processes to move along to get more information.
The developers of the planned office building at
1111 New Jersey Avenue
are having a
Capitol Gateway Overlay Review
in front of the Zoning Commission
on Jan. 31
. This review is now required because Donohoe is buying the land on top of the Navy Yard Metro station east entrance, which means that the project's property now "fronts"
M Street
and must get a review by the Zoning Commission to make sure it follows the design and usage requirements laid out by the
CG Overlay
. I haven't seen any new renderings yet
to know whether the building has grown from its original 146,000-sq-ft design
(note: see
UPDATE
below). No mentions yet of when construction might start. Presumably this design will be presented to ANC 6D, at perhaps its January meeting.
And, in the
Questions and Responses
posted along with the
Capper PILOT
underwriters RFP
, there's the following statements:
*
250 M Street
, the 200,000-sq-ft office building by William C. Smith, "will commence construction on or about May 2008";
* 600 M Street, the 500,000-sq-ft office building by Forest City on the
old Capper Seniors
site, "is expected to commence construction in late 2009 or early 2010 -- Stage II PUD process with the District Zoning Commission has already commenced"; and
*
800 New Jersey/120 Canal
, the planned 1.1-million-sq-ft mixed use project by William C. Smith on the land north of I between Second and New Jersey (known as Square 737), "will commence Stage II PUD upon transfer of District land in early 2008."
1111 NJ UPDATE:
Amazingly, just a few hours later, another document popped up with additional information on
1111 New Jersey
: it's for the Dec. 13 WMATA board meeting, a
request to execute the sale
announced
back in June
of the 5,612-sq-ft WMATA land at
New Jersey and M
to "NJA Associates" (aka Donohoe). And it describes the "new" 1111 NJ thusly (emphases mine):
"The Developer proposes to combine the WMATA property with an adjacent 16,406 sf developer-owned site and develop an office building with ground floor retail. Its current proposal to the District of Columbia Zoning Commission is for an approximately
211,000 sf
building, a portion of which cantilevers over the WMATA property. At ground level, the proposal includes
a wide plaza surrounding the Metro entrance
, consistent with the Anacostia Waterfront Initiative Framework Plan. The Developer will make modifications to Metro facilities at its own cost and subject to WMATA approval. At present the modifications are expected to be limited to adjustments to the vent shaft and new paving in the plaza area. The
existing entrance canopy will remain
. The entrance will be protected during construction. The Developer has stated that it does
not currently anticipate any need to close the entrance
during construction."
WMATA is selling the land for $2.3 million plus an unnamed additional payment if the approved project is larger 206,000 square feet.
Permits for First Temporary Surface Lots Approved
Nov 29, 2007 9:25 AM
The city's
Approved Building Permits Feed
tells us that yesterday three permits were approved for the construction of temporary parking lots on three blocks within the
Capper/Carrollsburg footprint
: Squares 767 and 768, which are cleared lots
between Second and Third and I and L
(just to the east of
what-may-someday-become-Canal Park
), and Square 882 between L and M and west of Seventh, where the
old Capper Seniors
building is in the midst of coming down. This doesn't necessarily mean that construction will start tomorrow (I don't know if the
contracts that were advertised
a few months back have been awarded yet), but it does mean that what is sometimes the biggest hurdle to construction in the city has already been passed.
As part of the
rules governing their creation
, the lots will be open for general paid parking during non-game times, and can also be used for "a seasonal or occasional market for produce, arts or crafts." These lots should yield somewhere between 670 and 720 spaces. Eventually these locations will be home to new apartment buildings along Third Street and both a new office building and townhouses on the Capper Seniors site; the parking lots themselves are only allowed until 2013.
You can find out more background about parking plans for baseball on my
Stadium Parking and Transportation page
, though no specifics have been announced yet as to which lots the Nationals are planning to use for season-ticket holders.
UPDATE: I'm hearing that work on the Third Street lots should get underway in December, and on the Seventh and M lot in January.
Capper Building 2 (Now 400 M Street) Move-Ins Underway
Nov 25, 2007 10:19 PM
[bump] Residents are now starting to move into
400 M Street
, the building long known around these parts as
Capper Building #2
. They've launched a web site,
400mdc.com
, and the sales office at the building is now open. There's a one-bedroom furnished model, of which one measley photo is posted on my
Capper #2 page
along with other photos from the building's interior.
The 139-unit building was originally designed for low-income seniors, but its profile has been expanded to also include renters who earn a moderate income of between 50 and 60 percent of the area's median income (AMI). This translates to a household income between $33,000 and $38,000 for one person and $38,000 to $45,000 for two people, and up to $54,000 for a family of four. The rental price is then set at 30% of the household income, which makes the rent for a one-bedroom unit range from $877 to $993 per month. But even with the change to allow renters with higher incomes, the building continues to rent to fixed-income seniors and other residents with lower incomes, placed through the D.C. Housing Authority, in order to maintain an overall income level of 45 percent AMI.
Fifty of the building's units have already been rented, including the four two-bedroom corner units facing the intersection at Fourth and M, which have some nice views of The Yards and the U.S. Department of Transportation headquarters. Twenty of the one-bedrooms and one of the two-bedrooms are for the mobility-impaired. As I mentioned
in a post a few weeks ago
, the building's first floor has a community room with kitchenette, and laundry, computer, fitness, and conference rooms. Outside there's a landscaped interior courtyard that also serves as a stormwater management system, and is also available for use by the residents of the Carroll Apartments low-income senior-citizens building next door.
New Photos, and a Moratorium on Ballpark Pictures
Nov 25, 2007 12:06 PM
Thanksgiving weekend is a good time to take photos of the neighborhood, given that traffic is close to nonexistent. (Great weather helped, too.) The showy construction work has now slowed down at
70/100 I
,
Onyx on First
, and
100 M
, so after this update I'm now going to scale back the updates to those project pages (and their
expanded photo archives
). Demolition continues
at old Capper Seniors
, though not much happened to the building itself in the past week as work appeared to focus on clearing the ground of the debris from the initial work. And
55 M
continues along, though it's hard right now to get a feel for the progress from ground level (beyond the festive steel beams along M Street), which is why
having the webcam
is so handy.
You can see
all of the weekend's photos on this page
, and of course feel free to click on the
icons to see all photos of a certain location to watch the buildings go up (or down, in the case of Capper Seniors).
Then there's the
ballpark
.
[Long pause. Sigh.]
Taking photos of the
stadium's exterior
started to be constrained in late summer by the infrastructure work being done along First Street and Potomac Avenue; and by October access to N Street had pretty well been cut off too, again because of the infrastructure work. While I grumbled about the loss of access to those locations, I respect the perimeters of construction sites, and totally understand the need for security to keep people out of the ballpark, and so I stayed north of N. But yesterday, while standing on the northeast corner of First and N streets, on an open public sidewalk outside of the stadium footprint, I was approached by a security guard telling me repeatedly that I was "not allowed" to take photos of the ballpark. (At least I wasn't screamed at through a megaphone, as happened to a correspondent of mine at the same location recently.) This is, of course, ridiculous--
there are no laws
against taking photographs of anything while standing on public property, and it deserves its own separate rant about stupid attempts to clamp down on civil liberties in public spaces.
But the cumulative effect of the run-ins I've had over the past few months when I am absolutely positively 100% in no way trying to set foot inside the ballpark (
my favorite
being the time I was shadowed by a guard all the way down South Capitol from N to Potomac and back despite never coming any closer to the ballpark than South Capitol's median) have left me drained and uninterested in continuing the battle. At the same time, I'm dealing with the fallout from a recent memo sent out by the DC Sports and Entertainment Commission reminding ballpark contractors and subcontractors that they are not allowed to talk to "the media" without prior approval by the DCSEC, leaving workers who have been nice enough to answer such probing questions as "how many panels make up each row of the HD scoreboard?" feeling that they can no longer be helpful.
I imagine something could be worked out, though right now I'm worn out from all the drama and not quite ready to fight the fight. In the meantime, I'm not going to update any ballpark photos or post news of the stadium other than links to accounts in the ("real") media. (Of course, the vast majority of the exterior work of the ballpark is already completed, so this isn't exactly a breathtakingly brave stand!) Once the roads are reopened, and the ballpark is close to opening, I'll of course get back in gear, but until then I'm taking a breather.
Quick Demolition Photo Updates
Nov 18, 2007 12:55 PM

I've added some quick photos this morning showing the demolition progress at both
old Capper Seniors
and
1345 South Capitol Street
, which you can
see all at once here
(though they really benefit from being paired with their before-and-afters, as seen on the project pages and in the
expanded Capper Seniors photo archive
). The South Capitol Street photos were hurried and ended up being incomplete after yet another run-in with the
ballpark
's Hired Badge Harry, who screamed at me incessantly for daring to even stand on the curb on the east side of South Capitol Street at O Street while trying to take pictures of the 1345 site, and with my having no interest in getting any closer to the ballpark site behind me. Once I moved a half-inch forward into the gutter, at the mercy of three lanes of high-speed traffic, I was then no longer Public Enemy #1.
Updated Capper Senior Demolition Photos
Nov 15, 2007 6:03 PM
During the five minutes it was sunny this afternoon, I managed to get some updated photos of the
demolition at old Capper Seniors,
where the work is still concentrated on the western side of the building. Within the past day or two the wrecking ball has sliced a hole in the main portion of the building, leaving the old southwest wing standing alone and temporarily making the tower into two buildings. Soon they'll be starting on the still-bricked elevator shaft in the center of the building on the north side. (I wouldn't park my car too close to there for the next few days.) Check the
Expanded Project Archive
if you want more angles of the progress, though they didn't all get updated today. And remember to click on the
icon to see
all
the photos in the archive from a vantage point--the
progression of shots looking south at the building
from across L Street are pretty intriguing. They've gotten a lot done in eight days....
Ridiculous Number of New Photos
Nov 12, 2007 10:11 AM
It started innocently enough. On Sunday morning, when I woke up to find such a brilliant sunny day, I decided to go take a new batch of photos of the demolition at
old Capper Seniors
to replace the dreary ones from Saturday. Then I started moving away a few blocks, to catch more distant views of the building. Then I decided that there were a bunch of locations where
70/100 I
and
Onyx on First
were changing the skyline that I hadn't captured. Then I realized that it had been a long time since I had taken a complete set of photos of the western side of South Capitol Street at
O
and
P
streets, to show the changes since the demolition of the viaduct and all the streetscape improvements. And then of course, while I was there, I had to take a set of shots of the
ballpark's western facade
. Then there were more shots needed of the changes along M Street thanks to
55 M
and
100 M
. By the time I was done, I had a ridiculous number of new images up on the site, which you can
see all on one page
; you can also see most of them paired with past shots by clicking on the "Photo Archive Before-and-Afters" links at the top of that page, like the "
South Capitol Street Makeover
", which shows the new photos from both sides of the street (along with some older angles I didn't update). After a while they all run together, I know. But they make for some spiffy before-and-afters!
More posts:
100 M
, 600 M/Square 882/Old Capper Seniors,
70/100 I
,
Capper
,
Capper Senior Apt Bldgs
,
jpi
,
Monument/Half St.
,
Onyx
,
South Capitol St.
,
Square 743N
,
Nationals Park
Wrecking Ball Starts at Old Capper Seniors
Nov 10, 2007 11:08 AM
After a few days of knocking out the exterior brick walls and windows from the inside by driving Bobcats into them over and over, the showy demolition began at old Capper Seniors this morning, as the wrecking ball started bringing down the western wing of the building. Not the prettiest morning for pictures, but maybe the glum light is apropos. You can look at my
main old Capper Seniors page
for the basics, or the
Expanded Project Archive
for photos of the demolition from considerably more angles. (And don't forget to click on the
on any of these pages if you want to see the images in between the first and last ones.) It's going to be a slow process, and the demolition is not expected to be finished until the end of December.
The 238-unit building originally opened in 1958 as one of the multiple new high-rises at the Arthur Capper public housing project; but by the early 1970s, crime and drug use and government neglect had already turned the building into such a wasteland that even the then-director of public housing for the city later described it as a "fearsome place" where "there was danger to life and limb to any ordinary citizen who wanted to live there." In 1973, it was finally boarded up, and plans were announced to renovate it into a 292-unit building for elderly tenants, with reopening planned for 1976.
But the renovation plans went awry as well, thanks to battles between the city and the Department of Housing and Urban Development over plans for a health clinic within the new building, along with escalating cost estimates, and fights over the bids on the project. Construction finally began in November 1978, scheduled to take 14 months but eventually stretching to three years as incomplete construction documents and a lack of project oversight by the housing authority brought delays, firings, and lawsuits. In late 1981, it finally reopened, but crime was never eradicated, especially as non-seniors began living in the building. The last of the tenants were moved out early this year, with some choosing to move to the new
Capper Seniors #1
a few blocks away at Fifth and Virginia.
While this seniors building at 601 L Street was a home to many people for many years, I'm not sure it's a building to be mourned. It's also now the last remnant of what were once the sprawling
Arthur Capper/Carrollsburg projects
that stretched from 2nd Street to 7th and from Virginia to L. It's taken seven years, but with this demolition, all Capper/Carrollsburg buildings will be gone.
(As for the other impending demolition, I took a quick spin past
1345 South Capitol
this morning and didn't see any action, though some construction equipment has been put in place.)
Old Capper Seniors Demolition Underway; First Photos
Nov 8, 2007 11:14 AM
On Wednesday morning at 11 am, demolition began at the
old Capper Seniors building
at 601 L Street, SE. And, 24 hours later, a lot of progress has already been made on getting rid of the exterior windows and walls. I was amazed to see that, instead of swinging the wrecking ball, workers are actually working inside the building, driving Bobcats into the brick exterior walls over and over to punch them out, turning the building into a skeleton before the actual bringing down of the skeleton begins. (Don't hit the gas instead of the brake, boys!) I've created
an Extended Project Archive
for this building, to see the before-and-afters from lots of different angles beyond the basics on the
main old Capper Seniors page
(which also has some photos taken from the interior of the building last week) so
take a look at today's photos
to see how the work is progressing.
(And speaking of demolition, fences have now gone up at
1345 South Capitol
, and workers there are telling neighbors that demolition could begin tomorrow [Nov. 9]. We'll see!)