Near Southeast DC: Past News Items
11th Street Bridges
Go to Full Blog Archive
---
Slides from 11th Street Bridges Presentation to ANC 6D
Nov 9, 2010 11:54 PM
At Monday's ANC 6D meeting, Bryon Johnston of the 11th Street Bridges Project gave a presentation on the rebuilding of the bridges, including an overview of the design and its main features as well as an update on the construction progress. He was nice enough to
pass along the slides
, which may not mean quite as much without his narration but are still helpful for people who haven't been following along through the
process
.
A few parts of the new design on the Near Southeast side of the project are worth (re-)pointing out, if you can make it through my torrent of descriptions:
* The "freeway" traffic and the "local" traffic will now be separated, with four lanes inbound and four lanes outbound on the freeway/upriver bridge and two lanes inbound/outbound on the "local"/downriver bridge (which Johnston was referring to as "
Local 11th Street
" because 11th will now feel like a street that crosses a river), as shown on
slide
10.
* The local bridge will allow easier access between Near Southeast and Anacostia, for not only cars but pedestrians and bicycles, as well as streetcars when the routes are expanded. As part of this,
11th Street south of M is going to become two-way
, and there will be bike lanes in both directions on 11th north of the bridge. (
Slide
9)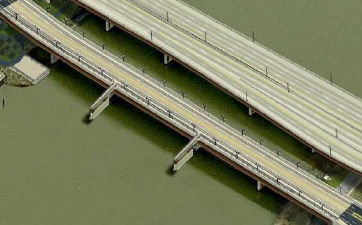 * Another feature that appears to be coming together for pedestrians and bicyclists is creating
two overlooks
that jut out above the river on the south side of the local bridge--these would use two of the in-water piers from the current downriver bridge, and you can see them at left and on
slide
11.
* One of the big changes for traffic flow for both Near Southeast and Capitol Hill is that there is going to be a
new two-lane on-ramp to go westward on the Southeast Freeway toward Virginia at 11th Street
, underneath where the current flyover ramps are. (See
slide
7.) Folks who have easier access to 11th Street will no longer have to drive along Virginia Avenue and/or 3rd Street to go westbound on the freeway.
But part of this new 11th Street intersection is that traffic coming from Pennsylvania Avenue along the sunken road that currently feeds directly into the freeway will instead be brought up to street level at this new signalized 11th Street intersection and will then drive straight onto the new on-ramp. So there will be some consternation from drivers using this route. (This is also shown on
slide
7.)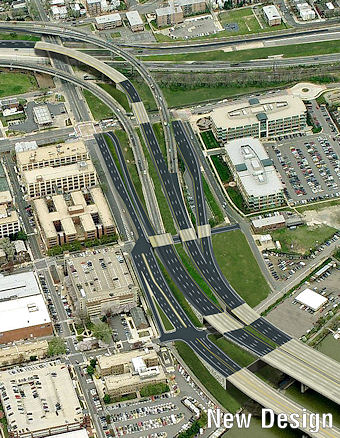 *
To go across the river
from Near Southeast on the freeway bridge, for access to DC-295 northbound and I-295 southbound, drivers will have a
new ramp on the southeast corner of 11th and M
(
slide
4). The existing ramp at 8th and Virginia will still be available, too.
* There will still be an
exit ramp from the inbound freeway bridge to I Street
, just as there is now (
slide
4).
* If you look at
slide
4 very closely (and/or click on the
bird's-eye view
at right) and follow the paths off of each bridge, you can see how the freeway bridges coming across the river will have an exit for M Street similar to the current exit, but it deposits drivers at M just west of 12th instead of using 12th itself. It also no longer has the neat little N Street cut-through directly from the ramp that some Navy Yard workers cherish. To get to the Navy Yard, drivers will turn left on M, then left at 11th, and then go to whichever gate they need.
Other information in the slides includes: a graphic showing of the new ramps and accesses on the east side of the bridges at 295 and MLK (
slide
12), of which the biggest addition is that you'll now be able to get to and from 295 and the bridges in all directions. There's also recent construction photos (including the first structural steel being laid on the freeway bridge), and information on stormwater management areas, and upcoming traffic impacts (
slide
19).
It's expected that the freeway bridge will open about a year from now, with the new local bridge being finished in the winter of 2012/2013. (Dr. Gridlock wrote about recent milestones and upcoming work
a few weeks ago
.)
ANC 6D Supports St. Paul's Historic Designtation, and Other Doings (CSX, 11th Street Bridges, Traffic)
Nov 8, 2010 10:51 PM
From the world of ANC 6D: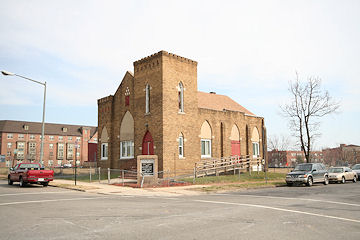 * The commission voted 7-0 to support the historic designation application of
St. Paul's AUMP Church
at
401 I St., SE
, thanks in no small part to Pastor Karen Mills, who charmed the pants off the assembled commissioners and audience with a display of good humor sorely needed after some earlier rancorous exchanges discussing Southwest Waterfront issues.
The church was built in 1924, and apparently the years of having a congregation that didn't have a lot of money ended up being a good thing: because there have been few renovations, the church's facade and bricks are still from the original construction, making it a far better candidate for a historic designation than other churches which have had work done. The church is also notable for being the first church designed by R.C. Archer Jr., who was only the second licensed African American architect in DC. Once the church receives its historic designation, it will then be eligible for some grants to allow for historically accurate and preservation-approved renovations. (The photo above shows the church in 2007, when it stood alone after the demolition of the Cappers and before the start of Capitol Quarter construction.)
The church was approached for this application by the DC Preservation League, and the hearing before the city's Historic Preservation Review Board is scheduled for Nov. 18 at 9 am. You can see the information forwarded to the ANC about the application
here
(shot with my phone's camera, so not of particularly high quality, but it made me feel like a secret agent!). One other educational tidbit: "AUMP" stands for "African Union Methodist Protestant."
Pastor Mills also said that anyone who wants to come see St. Paul's is more than welcome to visit. And so it is with great shame that I admit that I have never been inside of the little church I've photographed so many times --I've always been worried that I would burst into the flames of eternal hellfire the second I stepped inside the doors, and I didn't want the poor little church to get singed as a result of my sins. But I'm now determined to give it a shot anyway.
*
CSX/Virginia Avenue Tunnel
: Stephen Flippin of CSX gave a(nother) update on the status of the Virginia Avenue Tunnel project. While CSX had applied for a $3 million grant under USDOT's TIGER II program to help pay for the NEPA process for the project, they didn't get that funding, so the process got delayed by a couple of months. They are now looking to have the first "public scoping meeting" in January, which would include information booths, audience comments and questions, etc. There would then be a 30-day comment period, followed by an "alternatives" meeting probably in March, then another comment period followed by probably five or six months of work with their design/build team before coming back to another public meeting for a full update on the project. After that, they would need a few months with their designers before construction could begin, which puts the earliest possible starting time for the project somewhere around the spring of 2012. (Definitely not a date written in stone.)
There's also the issue that funding for the tunnel project itself hasn't been secured, and so CSX is looking at various public financing possibilities (transportation reauthorization act, funding from other states in the National Gateway) as well as -- gasp! -- using some of their own money, or at least money they received for other parts of the Gateway that they haven't spent.
Beyond this update on the process, there's no new information on the construction itself, and there pretty much won't be until after the NEPA process is done.
*
11th Street Bridges
: There was also an overview and status report on the
11th Street Bridges project
; I'm hoping to get the slides that were shown, so I'll hold off on writing about that. If in the meantime you have 9 or 10 free hours and want to delve into all the environmental impact studies that were done for the bridge project (which include traffic estimations among many other things), here's the
Environmental Impact Statement
and other associated documents.
UPDATE:
Here's my
writeup of the slides
.
*
Near SE/SW Combined Traffic Study
: During a discussion about pedestrian safety issues at 4th and M, SW, commissioner Andy Litsky reiterated his long-standing complaint that no traffic study has been undertaken to look at Near SE and SW together, and that it continues to be sorely needed. Naomi Mitchell of Tommy Wells's office then spoke up that Tommy is ready to help the ANC finally get this study done. (And there was much rejoicing.)
*
Half Street Closures
: Apparently the city is planning to move legislation that would allow for the closing of Half Street, SE, between M and N during all events at
Nationals Park
with more than 5,000 attendees, instead of the current set-up where it's only closed during Nationals games. This would include recent events like the Susan G. Komen Race for the Cure opening ceremonies and last Saturday's Greater Washington Region Start! Heart Walk.
ANC 6D Coming to Near Southeast; Agenda Posted
Nov 5, 2010 4:33 PM
In case you don't have the date circled in red on your calendar, on Monday (Nov. 8), ANC 6D will be having its regular monthly meeting, and will be making the arduous trek across South Capitol Street to meet in Near Southeast, at the Courtyard by Marriott at New Jersey and L, SE. The
agenda
has just been sent out, and there are some Near Southeast items:
* The St. Paul AUMP church at
4th and I
, which has remained standing while Capper
came down
and Capitol Quarter
rose up
around it, is the subject of a Historic Landmark application, which will be heard at the Historic Preservation Review Board's meeting on Thursday, Nov. 18. I hope to have more information about it when the HPRB's full agenda and materials are available on Nov. 12, but at Monday's ANC meeting there will be a discussion of the application and presumably a vote as to whether or not to support it.
* Updates are scheduled for both the
CSX Virginia Avenue Tunnel project
and for the
11th Street Bridges
.
There
are also a number
of Southwest-specific items, some zoning rewrites, alcohol/beverage issues, and whatnot. But it's totally not true that the agenda also includes a knife fight between all outgoing and incoming commissioners.
The meeting starts at 7 pm.
11th Street Bridges Status Update; Other Catching Up
Nov 1, 2010 9:52 AM
I'm now back after a week wandering the Midwest again, this time spending a few days in Chicago and then going up to Milwaukee, where touring time was cut short thanks to that epic windstorm (but at least I got to see the
Historic Third Ward
and the
Milwaukee Public Market
). Lots of photos of streetscapes and buildings
are here
, if you feel like looking at some non-Near Southeast images for a change.
To catch up....
* Dr. Gridlock
gave an update
on the progress of the
11th Street Bridges
project, which is now more than 25 percent complete. A pretty showy part of the construction will be starting soon, "when steel girders arrive for the new bridge spans. They will be trucked out onto the old bridges and lowered onto barges in the river below." The story gives this timeline: in spring 2011, the new alignment of southbound 295 opens; in fall '11, the freeway bridges (the upstream ones) will open; in winter 2012/13 the local (downstream) bridge between Anacostia and Near Southeast will open, with the entire project expected to be completed in summer 2013. (If the alignments and uses of the new bridges aren't clear to you, check my
11th Street Bridges project page
for more detail.)
There's also
some new lane restrictions
that started last week and will run through Nov. 23: the left lane of 11th Street SE from M to N is closed, and N Street SE between 11th and 12th is closed overnight Tuesdays through Fridays. There are other restrictions and closures as well on 295 and the SE Freeway.
* The Post's Capital Business weekly
has more information
today on the
foreclosure sale
of
100 M
, including this part that is probably of most interest to residents: "Although thousands of fans pour out of the Metro station nearby for baseball games, the Opus bankruptcy has prevented retailers -- other than a SunTrust bank branch -- from occupying ground-level storefronts. Michael Stevens, executive director of the Capitol Riverfront Business Improvement District, said he hoped that with new ownership, that would change. The retail broker for 100 M St., he said, 'has had some tenants that were interested in that property, but he couldn't sign any leases because it was in bankruptcy.' "
* It wasn't exactly a shocker that
Greater Greater Washington endorsed
David Garber for ANC 6D07 commissioner. Along the same lines, there's a
good piece by Housing Complex
this morning on the dysfunctional aspects of the ANCs, with some ideas on how to fix them. Having been tortured by sitting through many ANC meetings for more than five years now, I can certainly vouch for a lot of the issues mentioned. Perhaps there needs to be a Rally to Restore ANC Sanity.
* If you've wanted to know about Ann of Ann's Beauty Supply and Wigs Co. at 125 L St., SE,
People's District recently profiled her
. (Except I think they either mistranscribed the date of her shop opening, or this interview was done when her store was still in the old Waterside Mall in Southwest, because her store opened on L Street SE in 2005, not 1995.)
*
American River Taxi
, which is working to begin boat service between Georgetown, the Southwest Waterfront, and Diamond Teague Park, is hiring
deckhands
and
captains
. No word on when they'll get underway.
* Work has started in the ground floor of 909 New Jersey for the new Harry's Wine and Spirits. Alas, their timeline for opening has slipped (as all construction timelines do), and the owners now have their fingers crossed that they will be open by Christmas.
Quick ANC 6D Meeting Report
Oct 18, 2010 10:29 PM
A few items from tonight's ANC 6D meeting, which is still going on (I bailed after the last Near Southeast agenda item).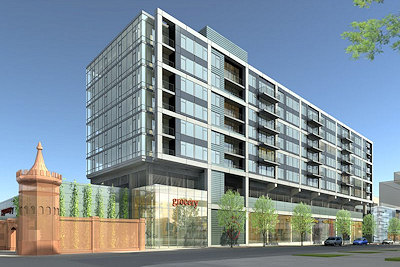 * The commission voted 7-0 to support Forest City's zoning requests for its
Parcel D
project, the combination residential and retail (and grocery store) development on the southeast corner of 4th and M, SE. I
wrote about it in detail
a few weeks back, and you can see my
Parcel D
project page for renderings and additional information, but the short of it is it's a 220ish-unit residential building (with 20 percent affordable housing), a 50,000-square-foot grocery store, and an expected 24,000-square-foot fitness/spa company.
The Zoning Commission hearing will be on December 2, and Forest City is asking for two special exceptions (having to do with roof structures and the proposed 110-foot building height, which will be above the 90 feet that's allowed) and two variances (for a curb cut on M east of 4th for a new private service drive east of the new building and also for some balconies overlooking 4th). Forest City's Alex Nyhan also told the commission that, while the entire Yards project is designed to be LEED Gold, they are going to shoot for LEED Silver on this particular portion.
ANC 6D07 commissioner Bob Siegel commended Forest City on the plans, though he made very clear that he and his constituents want a sit-down restaurant more than anything. Nyhan replied that the
Boilermaker Shop
project one block to the west on Tingey will have four or five restaurants including at least one sit-down one when it opens next fall. Siegel then made the motion to the support the project, Commissioner Sobelsohn seconded, and the vote was unanimous. The National Capital Planning Commission and the US Commission on Fine Arts have both recently voted to support the plans and designs.
* During the public safety report, Capt. Gottert of MPD mentioned that while there were a rash of car thefts in PSA 105 (and 106 and 107) during the past few months, the police had a suspect in mind, and now that he's been apprehended, the thefts have stopped. Gottert had no additional information on
Saturday's carjacking
at 1st and L, SE.
* The agenda had as one of its items a request by the Nationals to add the
stadium
to the Navy Yard Metro station name (coming on the heels of the Capitol Riverfront BID's
request last month
to add their name to the station). However, ANC chair Ron McBee said that the Nationals hadn't yet been able to get their request completely lined up yet, and so the item was postponed.
* Next month's meeting will be on Nov. 8, and will be held at the Courtyard by Marriott at New Jersey and L, SE. Expected agenda items include an update from CSX about the Virginia Avenue Tunnel project, a plan to give historic landmark status to St. Paul's church on the
southeast corner of 4th and I, SE
, and an update on the
11th Street Bridges construction
.
Reminders for a Slew of Upcoming Events
Sep 9, 2010 2:17 AM
It's a busy next few days, so here's a reminder of what's on tap. (Of course, you could just look at my
Events Calendar
, but....)
* Today (Thursday) is the "
Transportation Day
" events that are part of the
Anacostia Waterfront Initiative's 10th anniversary celebration
. Get thee down to 1301 M Street, SE (site of the offices for the
11th Street Bridges
project) for the kick-off at 10 am with DDOT director Gabe Klein, and/or attend the open house until 2 pm, which includes bus tours of current AWI transportation projects (like, say, the
11th Street Bridges
). Circulator buses will be shuttling to and from the Navy Yard Metro station.
If you're wanting to know more about the
Anacostia Waterfront Initiative
and what's been accomplished up to this point, here's a spiffy "
10 Years of Progress
" booklet with all sorts of details.
* Friday brings the start of the
Yards Park
Grand Opening Weekend, starting at 3:30 pm, along with a full slate of events all day Saturday and a few more on Sunday as well--
here's the specifics on all the activities
for all three days. (
UPDATED
with a new more detailed flyer showing all the events.)
* The Nats are
at home
against the Marlins, playing at the usual 7:05 pm Friday and 1:35 pm Sunday times, along with a somewhat rare 1:05 pm Saturday start. It's Fan Appreciation Month, with all sorts of
promotions and offerings
.
* Sunday, Sept. 12 is the Fourth Annual
Youth River Sports Day
put on by the Anacostia Community Boathouse, now at their new home just up river from the Sousa Bridge. It runs from 11 am to 3 pm, and is free and open to the public.
* ANC 6D returns from its summer recess on Monday, Sept. 13. The
agenda
hasn't been released yet, but rumored items include the grant the BID is
applying for to beautify
the New Jersey Avenue "entrance" to the neighborhood, along with what I hear might be a presentation on a possible renaming of the Navy Yard Metro station. While I haven't heard what the new name might be, I imagine that some variant of "Navy Yard / Nationals Park / Capitol Riverfront" will be on the table. Which means that my last chance to convince people to rename the neighborhood
Near Capitol Ballpark River Yards
is probably passing by.
Anacostia Waterfront Initiative Turns 10, Celebrates with a Series of Riverside Events Next Week
Sep 3, 2010 11:57 AM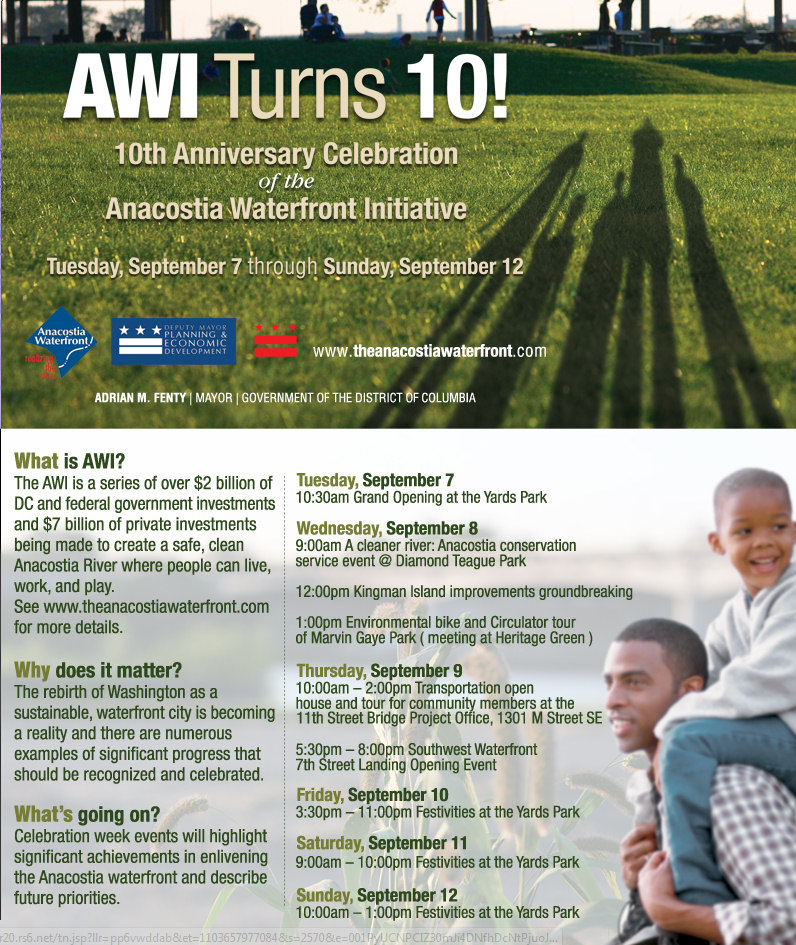 The
Anacostia Waterfront Initiative
, the wide-ranging approach via city and federal investments to revitalize the Anacostia River and its environs, is celebrating its 10th birthday, with a
series of events next week
tied to the riverfront. Some of them you're already aware of, like the dedication ceremony at the
Yards Park
on Sept. 7 followed by the "
grand opening weekend
" of events Sept. 10-12. But there's also some other happenings, including an "Anacostia Conservation Service Event" at
Diamond Teague Park
at 9 am on Sept. 8, a "
transportation open house and tour
" at the
11th Street Bridges
project office on Sept. 9 from 10 am to 2 pm, along with other events at Kingman Island, Marvin Gaye Park, and the Southwest Waterfront.
[And, should my feelings be hurt that the postcard advertising the celebration that came to our house was addressed to my husband and not me? What, I haven't demonstrated enough interest in the river? :-) ]
UPDATE:
Just received a flyer about the
Sept. 9 Transportation Day
--it will start with a kick-off at 10 am with DDOT director Gabe Klein, then the open house until 2 pm, which includes bus tours of AWI transportation projects. Parking is limited at the open house site (over at 13th and M, SE), so they'll be running Circulator buses to there from the New Jersey Avenue Navy Yard Metro station entrance.
LRB RIP: Updating the Demolished Buildings Gallery
Jul 15, 2010 10:40 AM
The Little Red Building at Second and L, SE passed into history on Wednesday, but at least it will live on in my
Demolished Buildings Gallery
, as building #160 to meet its maker since I started taking photos in Near Southeast. Also added to the gallery today are the Anacostia Community Boathouse and its sister building, demolished earlier this month to make way for the
11th Street Bridges
. If you haven't wandered through the
gallery
in a while, take a moment to watch the neighborhood's old life pass in front of your eyes.
Brief Break from Blogging Breather for Bullet Points
Jul 9, 2010 2:36 PM
I'm still eyeing a couple more days of (mostly) blog-free living, but a few items should probably be mentioned before the weekend, and so that you don't think I'm never coming back. First, the calendar:
* On Monday at 6:30 pm, the Zoning Commission will take up the Housing Authority's new request for another time extension to the
zoning order
that requires construction of the
Capper Community Center
. DCHA had asked for a two-year extension last year, but
was only granted one year
, and made clear at that time that they didn't foresee having the money to start the center in that shorter time frame, and that they'd be back to ask for another extension. And now they are.
* Speaking of the community center, there's now a big sign on its footprint (at Fifth and L) touting that the second phase of
Capitol Quarter
's townhouses is being funded by the American Recovery and Reinvestment Act.
But you knew that already
.
* Monday at 7 pm is the monthly ANC 6D meeting. I was hoping the agenda would be out before I posted this, but alas, no. Check back here or on their
web site
to see what scintillating topics will be up for discussion. (
UPDATE:
the agenda is
now out
, and there's nothing really major on it, other than a public space permit for the street work for Phase 2 of Capitol Quarter.)
* On Tuesday, July 13, the Capitol Hill Group Ministry is having its "
All-Star Party Night
" at
Nationals Park
, offering the chance to take batting practice, throw pitches in the bullpen, tour the locker room, meet Teddy, and more. Tickets are $55 per person and $15 for children under 12, with proceeds going to CHGM's programs for homeless and low-income families.
And a few other items:
* Today's
WBJ reports
that a third piece of "public" art is coming to
Nationals Park
; this time it will be 30 "stainless steel-domed forms which will accurately follow the theoretical model of the trajectory of a curving fast-ball pitch," which will be hung early next year on the exterior of the eastern garage. The steel spheres with cutout "laces," each seven feet in diameter, will feature programmable LED lights; the piece will cost about $950,000. As for the other two pieces of public art already at the stadium (the bronze statues in the Center Field Plaza and the "Take Me Out to the Ballgame" mobile near the First Base Gate), I'll quote WBJ's Michael Neibauer: "The first two pieces of public art at the stadium were, to be kind, not well-received at their unveiling in April 2009. The works were selected by arts professionals and D.C. residents, according to the arts commission, but some wonder: Did anyone ask the fans?"
* A reader reports that the
Anacostia Boathouse
at 11th and O, in between the
11th Street Bridges
spans, has been demolished, which was expected because of the footprint of the new bridges. Haven't seen for myself yet to confirm.
* And I haven't felt the earth shift on its axis yet, so I assume the Little Red Building's exterior is still standing, although interior demolition has been going on all week.
Comments
(7)
More posts: 11th Street Bridges,
ANC News
,
Boathouse Row
,
Capper
,
Capitol Quarter
,
Community Center
,
Little Red Bldg/Lot 38 Espresso
,
meetings
,
Retail
,
Nationals Park
,
zoning
Upcoming 11th Street Bridges-Related Closures
Jun 19, 2010 2:44 PM
From DDOT, an announcement of a
slew of weekday lane closures
starting Monday (June 21) through July 23 as part of the ongoing
11th Street Bridges
reconstruction. The closures can happen between 9:30 am and 3:30 pm Monday through Friday, and may include locations such as the 11th Street Bridges (including the ramps to and from the Southeast Freeway), DC-295, 11th Street between G and O, M Street, the SE Freeway near the 8th Street ramp, and other locations.
See the entire list for specifics
; the closures are taking place so that contractors can "conduct drainage inspection work, utility locating, barrier installation, equipment relocation, striping, sign work and various other construction activities."
Upcoming Road Work on O Street, SE
Jun 13, 2010 10:08 AM
For those of you who might use the little stretch of O Street, SE
between 11th and 12th
(under the 11th Street Bridges), a travel advisory: "Weekdays June 15 to 24, weather permitting, contractors for the District of Columbia Department of Transportation (DDOT) will reduce O Street SE between 11 and 12 Street SE to one shared-lane for both directions of traffic and flagmen alternating traffic flow to allow sewer line work related to the
11th Street Bridge Project
. This reduction of O Street travel lanes will occur from Monday through Friday from 9:30 a.m. to 3:30 p.m. and is subject to change due to weather or other unforeseen conditions."
Tidbits: Five Guys; Gump; 295 Lane Closures; SoS
Jun 10, 2010 1:12 PM
* There's been discussion on
Twitter
about this, but I guess it needs to be elevated to the blog--last week a sign went up at Five Guys on Second Street saying that it would be closed for maintenance from June 4 - 14. It certainly looks like they're doing work in there, and I doubt that if it were closing for good they would have given a timeframe, but I know people are nervous, given the dearth of other choices. I don't know any additional details, so feel free to post in the comments if you have any scuttlebutt to add.
* The BID's summer outdoor movie season continues tonight (Thursday) with
Forrest Gump
. Festivities start at Second and M streets, SE, at 7:30 pm, though the movie itself doesn't begin until after sundown.
(I'm already making plans for the July 8 showing of Star Wars--if anyone wants to hang out with me, I can regale you young whippersnappers with tales of seeing it at the Uptown in the summer of 1977, and how my mother almost made us leave because she couldn't quite get hip to robots walking around in sand dunes.)
Aak! They've taken it off the list, and replaced it with
Legally Blonde
! Waah!
* From DDOT, a notice about some
lane closures this weekend on DC-295
, which are technically outside my iron-clad boundaries but which do have to do with the
11th Street Bridges project
: "From 9 pm on Friday, June 11 into the evening of Sunday, June 13, DDOT contractors will close one travel lane in each direction of DC 295 between the 11th Street Bridge and Pennsylvania Avenue. The work is part of the 11th Street Bridge Project. In addition, there will be single lane closures Saturday on both the northbound and southbound sides of Kenilworth Avenue (DC 295) at Eastern Avenue. This work if related to the replacement of the Eastern Avenue Bridge." They warn that there could be backups of two miles or more.
* I didn't really blog about Wednesday's phenomenal debut of Stephen Strasburg (though I was at the game and Tweeted here and there) because I figured that there might be one or two other outlets where you could get the latest. But it will be interesting to watch the impact on the neighborhood if he continues to pitch like an alien being--will all of his games bring huge crowds? Will attendance start to lift at games when he isn't playing? Will game-day traffic and transit issues that haven't really been at the forefront become a sore point if more people come to games more often? And will restaurants and bars (and retailers and office tenants and residents) start thinking a little more about being near the
ballpark
? The
Summer of Strasburg (SoS)
could get quite interesting....
QUICK ADD: From the Nats: "The Washington Nationals will host their annual blood drive, in partnership with Inova Blood Donor Services, this Saturday, June 12 in the Nationals Park Conference Center from 8:00 a.m. to 5:00 p.m. In addition to helping save a life, blood donors will receive two tickets to a future Nationals game, a limited edition Build-A-Bear Workshop bloodhound and the opportunity to take an exclusive behind-the-scenes tour of Nationals Park." There will be a second drive on Aug. 28, from 8 am to 2 pm.
Road and Lane Closures For Work Above N Street SE
Jun 4, 2010 5:46 PM
Over the next few weeks, weather permitting, workers will be demolishing bridge spans that runs above N Street, SE (that little connector road between 12th Street and the Navy Yard gate on 11th). This is part of the
11th Street Bridges
project, and is the continuation of the demolition of the no-longer-needed ramps to and from RFK. (Note that the spans that still carry 11th Street Bridge traffic aren't coming down!) Here's the specifics on time-frames and lane closures:
""Sunday through Thursday from June 6 through July 1, weather permitting, contractors for the District of Columbia Department of Transportation (DDOT) will perform bridge demolition work above N Street SE requiring overnight closures of the street between the 12th Street SE and the gate of the Navy Yard on 11th Street SE. The closures will occur each night from 8 p.m. to 5 a.m. the next morning with a signed detour provided.
"Also during this timeframe, the following lane closures will be instituted for related bridge demolition activities:
"* The left lane will be closed on the ramp from Southeast/Southwest Freeway to I-295 South/Martin Luther King Jr. Avenue continuing across the outbound 11th Street bridge and ending prior to merge area with I-295.
"* The left lane will be closed across the inbound 11th Street bridge beginning on I-295 north near Howard Road and ending past the M Street/12th Street exit ramp.
"All of these closures may be subject to change due to weather or other unforeseen conditions."
Here's a zoom in
on the Google Maps satellite view if you need some visualization assistance. It's the first and third (from the left) of the four "spans" above N Street are the ones that go to and from RFK. I also wonder if this means that
the big embankment that runs along 11th Street
between M and N is coming down--I would think so, since it's now an unused stub.
New Photos. Lots of Them. (1015 Half, 11th Street Bridges, Yards Park, Etc.)
May 31, 2010 4:56 PM
There have been a lot of photos I've been needing to take recently, and the stars finally aligned today for me to go get them. (I sure could use some Gatorade about now, though.) Here's a run-through:

I made my first visit to the
11th Street Bridges
site, and now that all
63 river piles have been driven
, it's kind of an interesting tableau. You can see
my new photos
, as well as
background on the project
if you need some orientation on what exactly you're seeing. I also got some "final" before-and-after photos of the
view at 12th and M
now that the RFK ramps are mostly gone.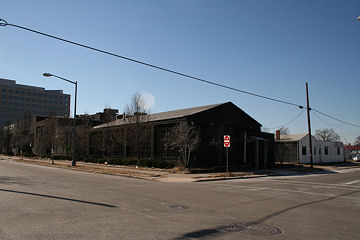 I also wandered over to
1015 Half Street
, now that I've been convinced that they're truly working on the building again. The
main project page
has an overview, but if you can't get enough before-and-afters, the
Expanded 1015 Photo Archive
shows even more angles (though you Nation fans might find them bittersweet).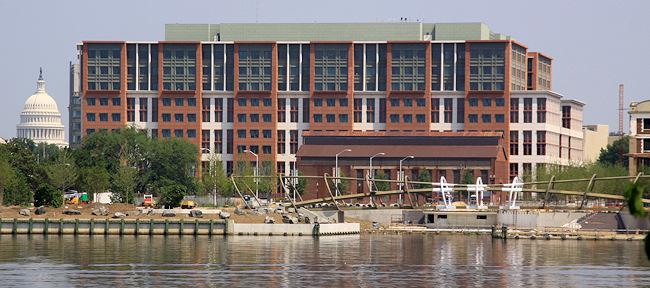 I know I just unleased a big pile of
Yards Park
photos
a few days ago
, but the big hole in the lineup has been a lack of shots from across the Anacostia River, at Poplar Point. So I got over there today, and while they aren't as exciting as you might imagine (though you can see that they're doing some priming or test painting on the pedestrian bridge), I've still added some to my
Yards Park page
, denoted with the

icon. I also finally got my official "after" photos from Poplar Point for
Diamond Teague Piers
, which you can see on the
project page
and
also here
. And, for the fun of it, you can also
"watch" the stadium go up from that spot
.
If you want to see all the "intersection" shots I took today (all 131 of them!),
they're here, on three pages
, and you can then click on the
icon to see the historical images. (I had a lot of spots that needed updating. Yeesh!)
11th Street Bridge River Piles Completed
May 20, 2010 4:49 PM
From DDOT: "The District Department of Transportation (DDOT) today announced the completion of the
11th Street Bridge Project
's first major construction milestone: all 63 river piles for the three new bridges have been driven in the Anacostia River. The 110-foot-long concrete piles that will form the core of the new bridges' foundations were pounded into the river bed since construction began in December. [...]
"The new bridges will continue to take shape in the months ahead as contractors form four piers for each bridge by building struts and caps on the piles then begin erecting structural steel for the bridge decks this fall. Additional work with landside pile driving is also underway to improve connections to the Anacostia Freeway (I-295/DC-295) and the Southeast-Southwest Freeway."
11th Street Bridge-Related Lane Closures Coming
May 14, 2010 2:46 PM
From the
11th Street Bridge
project folks:
"From Monday, May 17 to Friday, June 18, contractors for the District of Columbia Department of Transportation (DDOT) will conduct a variety of work for the 11th Street Bridge Project requiring off-peak-hour weekday lane closures on the 11th Street Bridge and related portions of DC 295/I-295 and the Southeast-Southwest Freeway.
"From 9:30 a.m. to 3:30 p.m. Monday through Friday closures will include:
"* One lane and the shoulder in each direction to and from the Southeast-Southwest Freeway to I-295/DC295 across the 11th Street Bridge for lane striping, barrier installation, surveying and lane realignment work.
"Closures may be subject to change due to weather or other unforeseen conditions."
They also say that closures will be suspended over Memorial Day weekend and immediately before and after Nationals games.
I also hear that the last of the piles being driven into the river will be completed soon, and the big crane on site will start being dismantled and moved out.
Weekend Road Work/Closures of Note
Apr 29, 2010 1:34 PM
From DDOT
, some closures and road work this weekend that might be of interest:
* "DDOT is scheduled to close the
Frederick Douglass Memorial Bridge
(aka South Capitol Street Bridge) for routine testing, from 4 am to approximately 9 am, on Sunday, May 2, 2010. During normal opening and closing operations, the swing span is lowered and then turned or "swung" around in order to allow water traffic to pass. Crews test the swing span each month to ensure it operates properly and make any necessary repairs. The bridge will be reopened to traffic as soon as the test opening and related repairs are completed. In most cases the work is completed ahead of schedule."
* "On Sunday, May 2, from 6 am to 4 pm, contractors for DDOT may stop traffic for five minutes at a time on the 11th Street Bridge, related ramps and portions of the Southeast-Southwest Freeway, to install traffic counting devices in various locations for the 11th Street Bridge Project. The work involves temporarily installing tubing across the traffic lanes and count machines off the adjacent shoulder. Traffic may be briefly stopped with the aid of District Traffic Safety Officers as needed to protect contractors at each location."
See the press release
for the list of work zones tied to this.
There's also information on road work for the Case Bridge and the closure of Chain Bridge, but those are outside my jurisdiction!
Recent Tidbits (Cap Quarter Sold Out, Akridge in 2011, Va. Ave. Dog Park?, Photos of 11th Street Bridge Work)
Apr 9, 2010 9:59 AM
With the
opening
of the 2010 season at the
ballpark
and
lots
of
other
interesting
news
of late, my blogging time and focus has been geared toward these bigger items. But there's a fair amount of little stuff that I point to every day on my
Twitter feed
(also available on
Facebook
), mainly news stories that might be of interest but that aren't really important or newsy enough to devote much more than 140 characters to. I may eventually transition to leaving those completely to Twitter, but I still feel guilty enough for now to round them up here on the blog every so often. But if you're wanting all news items at warp speed, best to start reading the Tweets.
* EYA has passed the news to me that all
Capitol Quarter
Phase I townhouse units are now sold. They are gearing up to begin sales of the Phase II houses, which will start "soon." (Though I wouldn't take your tent down to their sales office just yet.) I imagine they will do the releases of these next houses in groups based on location, as they did with phase I. It's still expected that the entire townhouse development will be built out by the end of 2012.
* Last weekend
Bisnow took a walk around the neighborhood
with a camera (a novel idea!), and gave their readers an update on some of the projects. The only section that I've not seen reported before is
Akridge
now saying that construction for their 700,000-sq-ft mixed-use
Half Street project
is now pegged at "hopefully before next baseball season," likely meaning 2011. But, "once shovels hit the dirt, the one residential and two office buildings will likely go up at once," Bisnow quotes an Akridge rep as saying. It also says that Forest City is "hoping" to get started on the
Boilermaker Shops
retail renovation at
the Yards
before the end of this year. (Lots of "hoping" going on!) There's even a picture of the Pillsbury Doughboy that gazes out over the neighborhood from
Capitol Hill Tower
.
*
Voice of the Hill says
there's a possibility of a temporary dog park being installed at the Virginia Avenue Park (Ninth and Potomac, SE), at least until CSX starts on its tunnel construction project (more on CSX coming in another post later today). This is coming to the forefront because the principal of Tyler Elementary has now banned dogs from the school's playing field.
* Some
neat overhead photos from DDOT
showing the progress on the
11th Street Bridges construction
. I'm hoping to get some ground-level images myself before too much longer.
*
CNN reports on
how Nationals Park has become a very hot venue for political fundraising, actively pursued and encouraged by the team. "[F]ederal candidates, major political parties, and political action committees have spent at least $432,000 on fundraising events either at Nationals games or at their facility, according to campaign finance documents filed with the Federal Election Commission."
Links Roundup (Barracks Meeting Handouts, PSA 105, City Paper 'Best of DC' Nods)
Mar 25, 2010 6:02 PM
* The Marines have posted the
slides
and
handouts
from this week's
workshops
on potential sites for their new barracks. If you didn't see my update, here's
Norm Metzger's additional take
on Tuesday night's meeting.
* MPD's
PSA 105
is having its monthly meeting on Saturday (March 27) at 10 am at the 1D substation at 500 E Street, SE.
* The Washington City Paper's annual "
Best Of DC
" issue is out, and Near Southeast gets a couple of nods:
Cornercopia
was given a Staff Pick for
Best New Bodega
,
Capitol Quarter
is the Readers' Pick for
Best Designed Residential Development
, and the
11th Street Bridges reconstruction
gets a Staff Pick for
Best Construction Project
. Alas, this also means that now my year-long reign as
Second Best Local Web Site
(and "
favorite nasty local blogger
") has come to an end.
* The Washington Project for the Arts is holding its "
WPArade
" in Near Southeast, on June 5 at 12 pm along Half Street from M to N. This parade, modeled after similar events in other cities, "is an extravaganza of artists connecting with community to create a moving visual spectacle of art and culture." They've got a
call for participants
out, and it notes that "participants can traverse the route in any manner that is non-motorized (wagons, bicycles, walking, etc. are acceptable)." It'll culminate with a party at the Bullpen until 3 pm. Who will be the first to enter a giant papier-mache Stephen Strasburg?
Links Roundup: 11th Street Bridges, Bullpen, Wells Challenger, Council Tickets, Freeway Signs
Mar 14, 2010 2:54 PM
Some items of interest
I've tweeted
over the past few days:
* Barry Farm (Re)Mixed shames me
by posting recent photos
of the
11th Street Bridges
construction.
* The Bullpen opens for the 2010 season
on April 3
, when the Red Sox come to town for an exhibition.
* Capitol Hill Tower board member (and, I assume, resident)
James DeMartino
has announced he's running against Tommy Wells for the Ward 6 council seat. DeMartino is running as a Republican. (Here's
a WashPost brief
on the item.)
* Mayor Fenty has
given the city council its ballpark suite tickets
for the 2010 season, leaving reporters across the city bereft at the thought of not having the on-going tiff to cover.
* Technically off-topic, but: I've been grumbling for more than seven years now about the poorly placed sign on the SW Freeway for the C Street SW exit, which points drivers to a left-side lane but then requires them to move two lanes to the right within a quarter-mile to get to their ramp, So I finally
took some photos
to explain the issue and tweeted them to blow off some steam. Soon after,
@ajfroggie
posted
two
great
images
of how to replace the signage along that stretch to fix not only my complaint but some general problems with all of the signs.