Near Southeast DC: Past News Items
11th Street Bridges
Go to Full Blog Archive
---
Roundup: ANC 6D Agenda, 11th Street Bridges Short List, Metro Ballpark Crowds
Oct 15, 2008 2:20 PM
* The ANC 6D agenda for its meeting on
Monday Oct. 20
has been sent around (though not yet
posted online
). There will be a discussion of the
Ballpark Traffic Operations and Parking Plan
as it relates to Southwest, plus public space requests for building signage at
909 New Jersey
and "Brick Walls for Trash Enclosures" at
Capitol Quarter
. (These are also on the
Oct. 23 agenda
of the city's Public Space Commitee.)
*
The short list
for a design/build team to reconstruct the
11th Street Bridges
is out--Shirley Design-Build LLC, Skansa/Facchina, Archer Western Contractors LLC, Perini/Parsons Joint Venture, and KCA Constructors Joint Venture. According to the
procurement schedule
, a draft RFP should already be out (haven't found it online), and final RFP should be issued by the end of the year, with a contract signed with the vendor by June 1, 2009.
*
Metro announced yesterday
that 53 percent of baseball game attendees this year arrived at
Nationals Park
via Metrorail. That's 1.8 million bodies, averaging 23,000 people entering and exiting the Navy Yard station at the 80 home games in 2008. (It apparently doesn't count people who took the bus or walked down from Capitol South.) In the last two years at RFK, only 38 percent of attendees took the subway.
Marc Fisher has some thoughts
on it all (including some questions on Metro's math).
Tiny Items to Mask the Reality That I Have No News
Sep 24, 2008 3:37 PM
* The
Congress for the New Urbanism
has named the 11th Street Bridges (along with the Southeast Freeway) to its
Freeways Without Futures list
, recognizing the top 10 locations in the U.S. "where the opportunity is greatest to stimulate valuable revitalization by replacing aging urban highways with boulevards and other cost-saving urban alternatives." It mentions the opposition of the
Capitol Hill Restoration Society
to the plans to
reconstruct the 11th Street Bridges
, scheduled to start next year.
* A few folks wrote in to mention that there's a new sign up advertising the planned office building at
1111 New Jersey
. Despite some building permits recently in the pipeline, developer Donohoe told me a few weeks ago that no announcement of a groundbreaking is imminent.
* I seem to always manage to be out of town during
WalkingTown DC
, and so missed last weekend's jaunt around the "Capitol Riverfront." Blogger fourthandeye from
The Triangle was there
, however, and gives a nice overview via eyes that don't look at these streets every day.
* The weather forecast does not look good for Thursday night's final home game of the season at
Nationals Park
.
City Soliciting Statements of Qualifications for 11th Street Corridor Design-Build Project
Aug 30, 2008 10:23 AM
Not quite a month after sending out a
request for expressions of interest
, DDOT has now released the official
Request for Qualifications
for what is now being referred to as the 11th Street Corridor Design-Build Project, the heart of which is the
reconstruction of the 11th Street Bridges
. According to the
press release
:, DDOT will then create a short list of between two and five submitters, and will release the official Request for Proposals to just those entities. The
procurement schedule
says that the statements of qualifications are due by Sept. 29, with the shortlisters to be notified by October 10, and a final RFP then released by Dec. 1. The entire selection process, up to an including a contract, is targeted for completion by June 1, 2009. DDOT is shooting for completing the entire project by Dec. 31, 2013, with a budget of $260 million. (Mark your calendars--
I have
!) The new
Anacostia Waterfront web site
has more about the 11th Street Bridges project, and the other plans along the river from the Southwest Waterfront up to Kingman Island.
Comments
(0)
More posts: 11th Street Bridges
Photos from Youth River Sports Day at the Boathouse
Aug 27, 2008 9:15 AM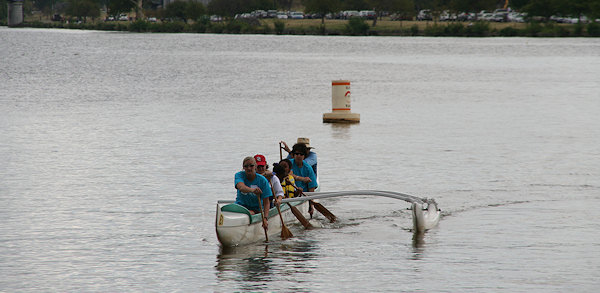 Saturday was the Youth River Sports Day at the
Anacostia Community Boathouse
, and there was a good turnout of parents and kids learning how to row or paddle or just getting acquainted with the Anacostia River. I took
a batch of photos
, all from dry land. (If the captions have any incorrect terminology, let me know.)
The ACBA is going to have to temporarily relocate from this spot during the five-year reconstruction of the 11th Street Bridges. They may be moving a couple hundred feet upriver to a site owned by Washington Gas (as laid out in the
final Environmental Impact Statement
for the project), or they may end up on the eastern side of the river closer to the Sousa Bridge. They are working with DDOT and are hopeful they can get the plans straightened out before too much longer.
City Launches New Anacostia Waterfront Projects Web Site -- 11th Street Bridges Replacement Info
Aug 7, 2008 7:18 AM
On Wednesday
DDOT announced
a new web site, called
Anacostia Waterfront: Realizing the Vision
. It's billed as a "centralized location for updates about the Anacostia Waterfront, as well as project-specific information and links," though as of now the only detailed project information is for the plans to
replace the 11th Street Bridges
, there there are also links to the
Anacostia Waterfront Framework Plan
and the
Comprehensive Plan
.
The items on the 11th Street Bridges include those that I
blogged about late last week
, as the city starts to move forward to procure design/build services for the project. They've
posted the presentation slides
from Monday's informational meeting, which mention the goal of meeting or beating the construction completion date of
Dec. 31, 2013
(mark your calendars). DDOT expects to release the Request for Qualifications on Aug. 15, followed by a Request for Proposals by the end of the year, with a contractor selection and agreement completed by June of 2009, so that work can begin soon after.
This new web site repeats what I saw on the
11th Street Bridges EIS
web site, that the city "will remove the existing flyover ramps to RFK this summer," but doesn't have any additional details. (Summer does technically run until mid-September, I guess.)
Comments
(0)
More posts: 11th Street Bridges
11th Street Bridges Replacement Moving Forward
Aug 1, 2008 12:57 PM
I'm a little late on this, but apparently on July 2 the "
Record of Decision
" was signed for the
11th Street Bridges replacement project
--this is the official sign-off from the Federal Highway Administration on the selected design for the revamped bridges, with one eight-lane span carrying highway traffic and a second carrying "local" traffic (including perhaps light-rail, if it ever happens) between Anacostia and Near Southeast. There's a
two-page FAQ
about the project, if you don't feel like wandering through the
entire Final Environmental Impact Statement
to figure out what's going on. You can also
read my entries
from when the EIS was released last year for some summaries of how Near Southeast will be affected by the new configuration (or look at the
low-rent graphic
I created).
According to the
ROD
, DDOT will be paying the National Park Service just under $1 million for 1.5 acres of Anacostia Park that will be used as part of the bridge project, and will also be footing the bill for some other "mitigation measures" and "enhancements" spelled out in the ROD's Attachment A. Attachment C details how the
Anacostia Community Boathouse Association's operations
will be temporarily relocated during construction from the two brick buildings nestled between the bridge spans to a spot just a bit further northeast along the riverfront, in the 1200 block of Water Street, SE. Attachment D is a list of all the "environmental commitments" agreed to by DDOT to avoid, reduce, or mitigate various impacts of the project.
In the meantime,
DDOT is soliciting Letters of Interest
from those interested in doing the bridges's design/build, and is having an informational meeting on the project on Monday (Aug. 4). Letters of interest are due Aug. 13, and DDOT is expecting to release the Request for Qualifications in mid-August. They appear to be
expecting to begin construction in 2009, with the project lasting five years
. (I *swear* I read somewhere in all of this that they would plan to first build the new interchanges between the bridges and the Anacostia Freeway, but I'm now completely unable to find that verbage.)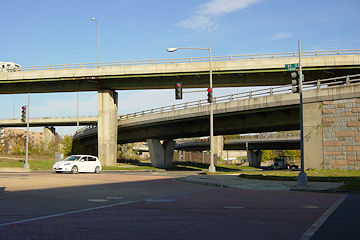 The
FAQ mentions
that the existing flyover ramps to and from RFK (the ones that
head east over M Street
) are supposed to be demolished "this summer", but I've been unable to get any details from DDOT as to whether that's still happening. I'm also not sure whether that's part of the bigger plan (not technically part of the bridge replacement project) to completely do away with the current below-grade freeway to Pennsylvania Avenue and replace it with "Southeast Freeway Boulevard", running at-grade from 11th Street eastward. (
Read the EIS
for more on that.)
How much is it going to cost? The ROD says that a cost review meeting in December "indicated that the estimate was consistent with an 80th percentile probability that the year-of-expenditure project cost would not exceed 465 million dollars." Those of you well versed in bureaucracy-speak can translate that as necessary.
Free Learn-to-Row Clinic on Sunday at Boathouses
Apr 18, 2008 2:47 PM
Council Hearing Friday Includes 11th Street Bridges
Apr 17, 2008 2:03 PM
On Friday (April 18) at 3 pm, the city council's Committee on Public Works and the Environment will be having the "initial segment" of the hearing on DDOT's proposed FY09 budget. And, quoting from
the hearing announcement
: "The initial segment of this hearing will focus on the proposed construction of new
11th Street Bridges
. A project currently budgeted at $450 million."
I haven't quite been able to get an answer as to whether this means that some portion of the project will begin next year--a contact at DDOT told me that they will "begin work on the ramps to RFK late this summer/fall" and that "removal of these ramps was recommended in the
Middle Anacostia Crossings Transportation Study
." That *sounds* like they're demolishing those ramps later this year (which, you can see in the
EIS Preferred Alternative
are indeed slated to be removed, though not technically as part of the
11th Street Bridges project
), but until I see it specifically announced (or mentioned in tomorrow's hearing), I hesitate to say that's actually what's about to happen. If anyone out there has insight..... I won't be able to watch the hearing right away, but will try to get to it within a few days.
Comments
(2)
More posts: 11th Street Bridges
Waterfront Fair Tidbits (250 M, Bridges, More)
Jan 26, 2008 7:22 PM
This afternoon's
Anacostia Waterfront Community Fair
appeared to be very well attended, at least during the 90 minutes or so I was there. (Even Marion Barry showed up.) There were three long tables of displays and information from city agencies, commercial developers, and non-profit organizations, and Near Southeast was well-represented--
JPI
,
Velocity
,
Monument Half Street
, Williams C. Smith (
250 M Street
), Forest City (
Capper/Carrollsburg
,
The Yards
), the
Anacostia Community Boathouse Association
, and
the ballpark
all had people on hand. (There was also plenty of swag--hope you didn't miss out on your DC WASA lanyard!)
Two news items I came across:
* First, confirmation that
250 M Street
will start construction in either late spring or early summer, although they don't yet have any office or retail tenants to announce.
* Second, the
Draft Environmental Impact Statement
for
South Capitol Street
(including a new
Frederick Douglass Bridge
) is going to be released on February 8, with a public comment period to follow. There are two build alternatives that would reconstruct South Capitol Street and the Suitland Parkway (and its interchange with I-295), but neither has been identified yet as a "preferred" alternative. (No design from the four options for a new Douglass Bridge has been chosen yet, either.) There will be public meetings in late February about the Draft EIS, and the
web site
will be updated soon with information on the draft. I'll write more about this when the Draft EIS is officially released, but it's this study that will decide whether a big traffic oval is built at South Capitol and Potomac, and whether the South Capitol/M interchange could be reconfigured into an "at-grade" intersection (i.e., no more tunnel).
I should have asked about the status of the reconfiguration of the 11th Street Bridges now that
that EIS
is complete, but I could never get close enough to the table to talk to anyone. (See update below.)
Other developments such as the Southwest Waterfront and Hill East had displays as well, but since my brain can't process anything outside of my borders, you'll have to hunt down information on those projects elsewhere.
UPDATE:
I'm finally looking through the pile of flyers I picked up, and here's a few timelines in the official brochure for the event (they're called "targeted schedules", so best not to pen them in just yet):
*
Douglass Bridge Replacement
: Begin construction Spring 2010, complete in Winter 2015.
*
11th Street Bridges Replacement
: Begin construction Spring 2009, no completion date listed.
Also, the 500,000-sq-ft office building by Forest City at the site of the
old Capper Seniors building
at
600 M
has a Spring 2009 start date in one of Forest City's flyers. The other Yards start/completion dates in the brochures are on target with what I've written about previously (see my
Yards Phase I page
for details).
Reminder: Anacostia Community Waterfront Fair
Jan 25, 2008 2:53 PM
Reminding everyone that
tomorrow (Sat. Jan. 26) from 1 to 5 pm
is the
Anacostia Waterfront Community Fair
, which will "provide information to residents about the billions of dollars worth of development and transportation projects underway along the Anacostia Waterfront. [...] District government staff, developers, public officials and non-profit partners will be ready to discuss the status in developing and planning of highly anticipated projects including Hill East Waterfront, the Anacostia Riverwalk, Poplar Point, replacement of the
11th Street Bridges
,
The Yards
and the replacement of the
Frederick Douglass Memorial Bridge
."
The event will be at St. Coletta's, 1901 Independence Avenue, SE, which is next to RFK, and across the street from the entrance to the Stadium-Armory Metro station. I don't know what the parking situation will be. Questions should probably go to DDOT at (202) 673-6813.
Yes, I'll be there, roaming around desperately hunting for new tidbits, so say hi if you see me--I'll be the rapidly aging redhead in glasses. (That should narrow it down.)
City Holding Anacostia Waterfront Community Fair
Jan 14, 2008 2:01 PM
Just announced
is an upcoming
Anacostia Waterfront Community Fair
, presented by the city on
Saturday, January 26 from 1 to 5 pm
, "to provide information to residents about the billions of dollars worth of development and transportation projects underway along the Anacostia Waterfront. [...] District government staff, developers, public officials and non-profit partners will be ready to discuss the status in developing and planning of highly anticipated projects including Hill East Waterfront, the Anacostia Riverwalk, Poplar Point, replacement of the
11th Street Bridges
,
The Yards
and the replacement of the
Frederick Douglass Memorial Bridge
." (It's like JDLand.com come to life!)
Also: "The Information Fair will allow residents, business owners and interested parties to review, discuss, question and comment on these and other projects which are under construction and/or study."
The event will be at St. Coletta's, which is across the street from the entrance to the Stadium-Armory Metro station.
UPDATED to add the link to the announcement.
This Month in the Hill Rag
Jan 9, 2008 3:00 PM
Community Papers, Canal Park Connector, Other Quick Tidbits
Dec 1, 2007 9:05 AM
This morning's quick hits:
* The Voice of the Hill
has posted a piece on its web site
surveying the community reaction to the
11th Street Bridges EIS
, while the December issue of the Hill Rag
looks at the project from the perspective of Hill East
.
* The
Hill Rag
also has
a recap of the November ANC 6D meeting
, which focused mainly on Southwest issues, though there is a small blurb about the ballpark
liquor license
(it sounds like there were some concerns about the 8 am to 3 am time frame listed on the application).
* Meanwhile, the
December Southwester
reports on the Oct. 3 groundbreaking at The Yards by reprinting much of the
Forest City press release
on the project.
* Out of my realm, but I'll still pass along that the four short-listed development teams will be
presenting their proposals for Poplar Point
at Dec. 12 at 6:30 pm at Birney Elementary School, 2501 Martin Luther King, Jr., Ave., SE.
Quick Notes: Bowl Game at the Ballpark?, School Closings, More
Nov 29, 2007 8:58 AM
A few quick items not earth-shattering enough for their own entries:
*
The Post reports
that there is a group trying to launch a "Congressional Bowl" college football bowl game, where one of the teams would be a service academy, and which would be played at either RFK or
Nationals Park
. The NCAA should give its answer in May of 2008.
* In a story mentioning the problems being encountered by cities trying to sell municipal bonds because of the "credit crunch" mentions that DC's "A" rating means it is probably going to have to pay a higher interest rate on a $350 million bond issuance next month that will fund, among other things, the rebuilding of the
11th Street Bridges
, though the city locked into a low interest rate on the $355 million bond issued last year for the
ballpark
.
* None of the
24 DC schools proposed for closure
in the mayor's plan are in Near Southeast (Van Ness Elementary School
closed in 2006
), but I'll note that Southwest's Bowen Elementary is on the list, which brings to mind the continued wrangling over the fate of the move of the MPD First District police station off its current location in Southwest to allow for the construction of the new consolidated crime lab. At
various
times
this fall, there has been discussion about 1D moving to a school building in Southwest (after plans to move them to the Post Plant at
225 Virginia Ave. SE
fell through) and perhaps Bowen's closure clears the way for this.
UPDATE:
Oops, I missed that Phil Mendelson is quoted about the Bowen closing in
today's Washington Times
, wondering whether Bowen was picked to be closed because it needs to be, or because the city wants to put MPD there. (Though I remember hearing talk of either Bowen or Amidon as possible closures long before the MPD question.)
* My
Ballpark and Beyond column this week
talks about the opening of
400 M
(Capper Building #2), the
rash of stolen cars
, and the
ballpark liquor license application
.
* One more addition: The DC Sports and Entertainment Commission is asking the city council for more money, says
the Post
, because its budget will suffer thanks to the move of the Nats from RFK to South Capitol Street, thanks to the loss of the $2 million a year that the Nats were paying to the DCSEC for renting RFK. The team will pay $5.5 million in rent at the
new ballpark
, but that money will go toward paying off the construction bonds.
Quick Links: Parking, Bridges, Streetcars
Nov 23, 2007 9:12 AM
I just can't bear to go completely dark for too many days in a row, so here's some light reading for your post-turkey haze:
* These are almost a month old now (oops), but the Hill Rag
has an opinion piece
on the
plans for the 11th Street Bridges
, plus an article on
the community concern
on Capitol Hill and in Southwest over the planning for
ballpark parking
.
* Today's Washington Business Journal
looks at the plans for the return of streetcars to DC
, a very long-term project that could eventually have light rail running down
M Street SE
and across both the 11th Street and
Douglass
bridges. But that's a loooong ways off--first they have to finally get a long-delayed test line in Anacostia off the ground, and then the H Street NE corridor would be next. There used to be a good web site on the project at DCTransitFuture.com, but that site is now hijacked with a fake blog, so the best I can give you is
this DDOT page
with a few links.
* There's also
a WBJ article
on PNC Bank securing the naming rights to the Diamond-level seats (the second priciest) and the club lounge at the
ballpark
. Still no word on naming rights for the stadium itself, though
a few weeks ago we heard
that there might not be a sponsor during the inaugural season.
Deadline for Public Comments on 11th Street Bridges
Nov 19, 2007 12:27 PM
More posts: 11th Street Bridges
Hearing on Bridge Projects
Nov 16, 2007 2:30 PM
Here's my in-depth learned summary of today's city council
hearing on proposed bridge projects
in the city, about 98 percent of which focused on the
future plans
for the
11th Street Bridges
:
* Some people are against it.
* Some people are for it.
The three-hour hearing should be posted soon on the Channel 13
On Demand lineup for this week
, if you want to see for yourself the specifics. But really, it all boils down to arguments over capacity, over whether local streets will see a reduction in cut-through commuter traffic, and differences between Capitol Hill residents and advocacy groups and east-of-the-river residents and advocacy groups, none of whom spoke with any sort of uniform voice.
And since no one spoke about any of the preferred design's impacts on Near Southeast specifically (of which
there are a few
, mainly the revamped interchanges at 11th and M), I'll just leave it to others to go into more detail.
ANC 6D Presentation Meeting Tonight
Nov 5, 2007 1:49 PM
Apologies for the late notice, but tonight
ANC 6D
is having an "presentation meeting", to break out the issues that people and organizations want to bring in front of the ANC but which don't require an official vote. This is an attempt to shorten the monthly business meetings, which can run for hours and kill numerous brain cells of all in attendance. The meeting will be at 25 N Street, SW, at
either 7:00 or
7:30 pm
(now confirmed). Items on tonight's agenda include WASA talking about lead pipe replacement in the neighborhood and an update on Arena Stage construction and schedule.
There's also going to be a presentation by a group called the Coalition of Concerned Citizens of Eastern Washington, who are raising questions about the various road and bridge projects planned along the Anacostia and who have been contacting city officials over the past few months requesting that a new "traffic mobility study" be undertaken. (Here's
their flyer and a copy of a letter to Mayor Fenty
they sent back in August.) I imagine this group will also be interested in the Nov. 16 hearing before the City Council's Committee on Public Works and the Environment on "
Major Bridge Construction Projects in the District
".
Quick Morning Links and Site Updates
Oct 26, 2007 9:44 AM
I don't normally do this, but I've got a bunch of pretty small items, so I'll just run them together:
* There's finally a small piece in the big media about the
plans to redo the 11th Street Bridges
,
from WTOP
. Nothing new, except that DDOT hopes to begin the construction in 2009, contingent on that pesky little thing called federal funding.
*
Monday's kick-off ceremony
for the
Capitol Riverfront BID
is making its debut on DC Cable 16 tomorrow (Saturday),
at 3 pm
, with additional showings on Monday, Wednesday, and Friday also at 3 pm. If you don't have cable, you can watch
its feed via streaming video
.
* I've now posted
Monument's 90-second animation
of what the east side of Half Street will look like when finished. If it goes by too fast (or if you can't get it to work), you can see the stills I took from it on my
Monument Half Street page
. There's no sound, and in order to make it small enough to download in less than 12 hours, the quality is lower than the crystal clear original. But you'll get the idea.
* You may notice that the map at right on my homepage has acquired a bunch of new stars. Showing that razor-like sharpness I'm known for, I took just under five years to figure out that I could display projects on the map even if I didn't have enough room for them under the "selected projects" lists at left. But at least the stars are color-coded! Just hover your mouse over them, and you'll get the descriptions. And don't forget that you can also click on the tabs above the map to get to the directory of all completed, under construction, and in-the-pipeline projects. Now I just need to work on freshening up some of the neglected interior pages of the site; I'll do it during all that spare time I have.
Correction on 11th Street Bridges Entry
Oct 16, 2007 10:23 PM
I need to correct an error I made in
my Oct. 5 post
(which carried over to my
Post column on Oct. 11
) about the
11th Street Bridges Final Environmental Impact Statement
. I incorrectly said that the total number of lanes in the preferred alternative design chosen for the bridges (12) would be unchanged from the current configuration, having misread the EIS wording that referred to the number of
freeway
lanes being unchanged. The two spans currently have eight freeway lanes; the new configuration, quoting from the EIS (page 5-13), will be "a new eightlane freeway bridge along the alignment of the existing 11th Street Bridge as well as a new, local four-lane bridge crossing on the current alignment of the Officer Welsh bridge." (The "Officer Welsh Bridge" is the official name of the downstream span and "11th Street Bridge" the official name of the upstream span of what is commonly referred to together as the "11th Street Bridges.")
I regret the error, and have docked my pay and put a warning in my file. If I do it again, I will fire myself and look to replace myself with a new me that I can trust.
More posts: 11th Street Bridges