Near Southeast DC: Past News Items - May 2011
Go to Full Blog Archive
---
12 Blog Posts
Redistricting Latest; Navy Yard Riverwalk Hours; Singles; A Break
May 26, 2011 5:14 PM
A few tidbits going into the holiday weekend:
* Nothing changed for Near Southeast as a result of Thursday's Redistricting Committee meeting, but it certainly wasn't boring. Tommy Wells took some swipes at Jack Evans, Marion Barry threatened to sue, Harry Thomas, Yvette Alexander, and Muriel Bowser talked about the need for unity, and when committee chair Michael Brown refused to recognize Barry for a second round of statements, the two talked over each other for a number of moments while Phil Mendelson and Jack Evans tried to reach Barry's microphone. Finally, while Barry continued to talk, Evans called the motion, they voted to approve the
draft map
that keeps Near Southeast in Ward 6 (with some small changes on the Ward 2/Ward 6 border), the hearing ended, and the microphones were shut off. I don't often suggest council hearings for an On Demand Popcorn Special, but if you have an hour (or want to fast forward to the last 10 minutes), it should be available
on the OCT web site
soon. Here's
DCist's report on the hearing
, along with
Mike DeBonis's pre-hearing post
on the "Jackmandering" that has Tommy Wells unhappy. Next up is the public hearing on June 1 at 6 pm, which should be even more festive.
UPDATE:
No need to wait! TBD has the
video of Barry vs Brown
. And here is
a short Examiner piece
on Barry's lawsuit threat.
* The Washington Navy Yard Riverwalk's Twitter feed
announced yesterday
that, starting on Tuesday, May 31, their gates will open at 5:30 am instead of the current 8 am. The gates will still close at 5 pm, and this is still Monday through Friday (excluding holidays), and the area can still be closed at the WYN's discretion. The
Twitter feed
has been good at announcing when closures are planned. Perhaps this expansion on the beginning the day means that further expansions might someday come down the pike?
* Also on June 1, the ANC 6D Alcohol Beverage Committee will be taking up requests from both Cornercopia and Harry's Reserve for exemptions from the ban on selling "singles." The agenda says that this "will cover exemptions for 25 to 70 ounces of beer, NOT single beers from a six-pack, or miniatures, small pints." The meeting is at King Greenleaf Rec Center at 7 pm. Any recommendation to allow the exemptions would then taken up by the full ANC for approval at its monthly meeting on June 13.
And, with that, I'm going to take a bit of a breather. Between the flurry of high-emotion news items over the past few months, the upcoming holiday weekend, and some stuff on the boards in my "real" life, it's a good time to step back for a little while. I expect to be away from blogging all next week, and maybe a little past that. If really big news breaks (and I mean *really* big), I may try to put something up, but I definitely won't be operating at normal warp speed. I may do some not-very-timely
Tweeting
if I can't bear not to, but I really am going to try to take an actual break. There haven't been many of those in eight-plus years...
In the meantime, feel free to use this spot as an open thread on matters of neighborhood interest. But behave, because I'll still be reading....!
Draft Redistricting Plan Keeps Near Southeast in Ward 6
May 25, 2011 8:32 PM
Within the past hour, council member Michael Brown released the draft redistricting map for the city (
available ward by ward
). To not bury the lede, as we say in the news biz, Near Southeast and Southwest
remain in Ward 6,
with no move across the river to Ward 8. And, in what appears to be a last-minute compromise, Eastern High School and Eliot-Hine Middle School remain in Ward 6, while the rest of the Hill East/Rosedale/Kingman Park areas east of 17th Street shift to Ward 7. Ward 6 also loses its half of Penn Quarter to Ward 2, while gaining a portion of Shaw as well as the section of Southwest south of Independence Avenue that had remained in Ward 2. (If you want to see the current Ward 6 boundaries,
here they are
.) And you can also
read the subcommittee report
, with all the reasonings behind the moves (and rejected moves).
This is not the final word on the new boundaries--the three-member redistricting committee will be meeting and voting on this on Thursday at 1 pm, and then there is a public hearing scheduled for June 1 at 6 pm. The full council will then vote on June 7. If the council members hear compelling arguments against these boundaries,the draft map can still be amended.
If you are interested in Thursday's redistricting committee meeting, you can watch it on DC Channel 13 or via live-streaming at
oct.dc.gov
. Plus I'll be following it on
Twitter
, along with all the other #reDC regulars.
(And apologies to
Facebook
and Twitter followers who were bombarded with messages tonight as word of the new maps came out. Breaking news can be high-volume sometimes!)
And then, once this is done, the ANC redistricting can begin!
Tidbits: Redistricting Latest, Retail, Outdoor Movies, Kittens, Events
May 24, 2011 2:17 PM
News has gotten a little sparse of late, though there's suddenly plenty of little updates and whatnot, some that I've
tweeted
(and some that I haven't). Sorry that this is a bit of a monster post, but that just means you need to read it all carefully!
*
Redistricting:
With the redistricting committee's proposed map of redrawn boundaries coming out no later than their meeting at 1 pm on Thursday, news has begun to trickle out of what it will look like.
Mike DeBonis reported
on Monday that any part of the city west of the Anacostia River being moved to Ward 8 is "off the table," since the split neighborhood of Fairlawn is expected to be moved entirely into Ward 8, which would satisfy the ward's population requirement. (He also lays out some of the other "on the table" moves.) In an "op-ed" today at
The Hill is Home
, Tommy Wells says that Ward 6's new eastern boundary may be 17th Street NE and SE, moving Hill East and its landmarks (RFK, Eastern High School, Eliot-Hine Middle School, and Reservation 13) into Ward 7. After the committee votes on its map Thursday, there will be a public hearing at 6 pm on June 1, before the entire council votes on the plan on June 7.
*
Retail:
The big International Council of Shopping Centers'
REcon convention
is underway in Vegas, and the Post's Jonathan O'Connell is
tweeting
all the DC-related retailer news,
including
that Mayor Gray and members of the city council had lunch on Monday with representatives of Forest City, who gave a presentation on
The Yards
. Will there be an announcement soon on things getting started at the
Boilermaker Shops
, as Forest City said there would be
a few weeks ago
? A
Post feature
on Capitol Hill restaurateur Xavier Cervera mentioned that he has "deals in the works for 400-seat and 140-seat restaurants on the waterfront," the first of which would seem to be the sportsbar
rumored
for the Boilermaker space. The rumblings below the surface that the official Boilermaker announcement is coming soon continue to be strong (with any opening being at least a year away, since there's a lot of exterior work to be done to the building), but there's been no official announcement of this or any other Boilermaker lease.
* In an Examiner article about
Wegman's being wooed
for DC's Walter Reed site, it's mentioned that Michael Stevens of the Capitol Riverfront BID and city officials are meeting with AMC Theaters to discuss potential locations. The article describes a possible spot as "First Street, south of M Street and adjacent to Nationals Park." I'm a little skeptical of "First Street", mainly because
the big empty lot along First
(Nats parking lot F), owned by Willco and slated in the past for a mixed office/residential/retail development, hasn't seemed to be in play for any movement on any development. On the other hand, there's been talk that Akridge has been interested in having a movie theater as part of its
Half Street development
, also south of M and adjacent to Nationals Park, and construction
could be starting
there late this year. Either way, nothing is firm.
*
Kittehs:
Are you looking to adopt a cat? How about a
Market Deli
-branded kitten? Some residents have captured and spayed/neutered/vaccinated two of them, estimated to be 4-6 months old, and are looking for someone to adopt them. Here's the
additional information
. (I would have leapt at this, but my two cats, ages 17 and 14, would kill me in my sleep if I brought home new "siblings" for them.)
And, some
upcoming events
to note:
* The
Yards Park
folks have passed along the news that the
fountains are off
all this week for maintenance. No water-based frolicking for you!
* The
Capitol Riverfront Outdoor Movie Series
gets underway this Thursday (May 26). The theme this summer is Best of the Oscars, and they're starting off with "Casablanca." Movies start at 8:45 pm (or sundown), and there will be food trucks and snacks for sale. The movies have moved back to Tingey Plaza, just south of
US DOT
at New Jersey and Tingey.
*
Harry's Reserve Wine and Spirits
at 909 New Jersey is going to be having a free "
community cookout
" on their courtyard on Friday, May 27 from 5 to 8 pm, and again on Saturday, May 28 from 4:30 to 8 pm. They are doing it to thank the neighborhood for the support they've received since opening. There will be free "high-end" beverage tastings in addition to grilled offerings. The owners also want to pass along that they're getting fresh shipments of a variety of cheeses this week, and that they now have 800 beers in stock.
* Ryan Zimmerman's annual "
A Night at the Park
" fundraiser is scheduled for June 30, benefitting his
ziMS Foundation
. Tickets are now on sale, and it's
been announced
that country star Rodney Atkins is the featured performer.
Thursday Tidbits: Bike to Work, New Tweeters, Crawfest, 55 M
May 19, 2011 12:26 PM
A roundup:
* Friday is
Bike to Work Day
, with the
Yards Park
being one of the morning "
pit stops
," from 7 to 9 am. If you're interested in joining in the fun, you need to
register
.
* The
Canal Park
folks have recently begun using their Twitter account,
CanalParkDC
. An update on the park's progress was
tweeted on Wednesday
, though it probably wasn't what park fans want to read: "Rain delays, water in our excavation preventing pouring foundations. Very frustrating!"
* The
Navy Yard
has
created a Twitter feed
for its portion of the Anacostia Riverwalk, to alert people to planned closings. This is in addition to the
web page they've set up
for hours and information about the riverwalk.
(I've added both of these feeds to my
Near Southeast Businesses/Organizations Twitter list
, which displays all the latest tweets in real time on the JDLand home page, for those of you who have remained blissfully outside of the Twitter vortex.)
* Louisiana State Society is having its
Crawfest
at the Yards Park on Sunday (May 22), with 4200 pounds of boiled crawfish, 150 pounds of jambalaya, sausage, corn, and potatoes, Abita beer, Louisiana music, and more. Society members get in for $45 per person, while non-members can pay $55 to attend. (Tickets for children 12 and under are $15.)
*
DDOT says
that its move out of the Reeves Center to Monument Realty's office building at
55 M
is almost complete.
* Speaking of 55 M,
it was named
"Best Urban Office over 150,000 SF" at the NAIOP Maryland/DC 9th Annual Awards of Excellence.
CSX Funding the Virginia Avenue Tunnel, NEPA Process to Begin
May 18, 2011 5:46 PM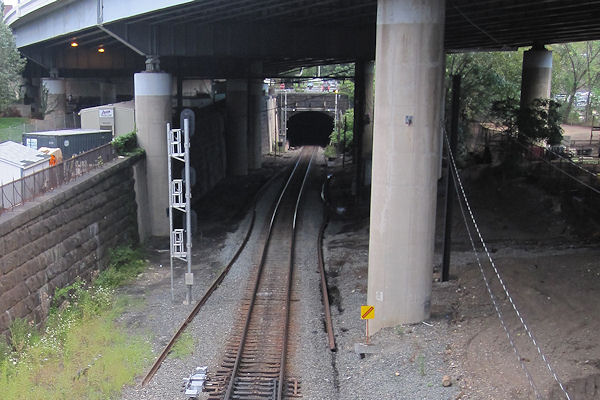 CSX announced today
that it will be investing $160 million of its own monies in its
National Gateway project
, with most of that money going toward the funding of the expansion of the Virginia Avenue Tunnel, the 107-year-old structure that runs beneath Virginia Avenue from 2nd Street SE to 12th Street SE. With this decision, the company will start moving toward design and construction of the project, first by going through the
NEPA process
of environmental impact studies, which apparently is going to be spearheaded by the
Federal Highways Administration
(with support and assistance from DDOT, according to CSX).
Within the next few months there will be an initial public "scoping" meeting, where the parties lay out exactly what needs to be done with the tunnel and why. After a 30-day comment period expires, an "alternatives" meeting will then be scheduled, and this will be the meeting that residents will be the most interested in, because this will be when the design options for the project will first be made public, and will be the stage where CSX will at last answer the questions that so many people who live on or near Virginia Avenue have wanted answered since this project first really hit the public consciousness in late 2009. (Will the trench be completely uncovered? Will we be able to get into our alley? How will firetrucks service our block? What about noise? What about dust? What about traffic? What about the 6th Street exit off the freeway?) And at a meeting this afternoon, representatives from CSX didn't suddenly decide to answer any of those sorts of questions, deflecting them as ones that will be addressed at the alternatives meeting.
The CSX briefers today emphasized that they feel "sooner is better" for getting the project underway, with the expansion of the Panama Canal launching in early 2015 being one of the drivers of their decision to invest their own dollars rather than continuing to search for federal or state monies to pay for the project. (And, perhaps to ward off an expected line of criticism, they also made sure to mention that using their own money was in no way an attempt to sidestep NEPA.)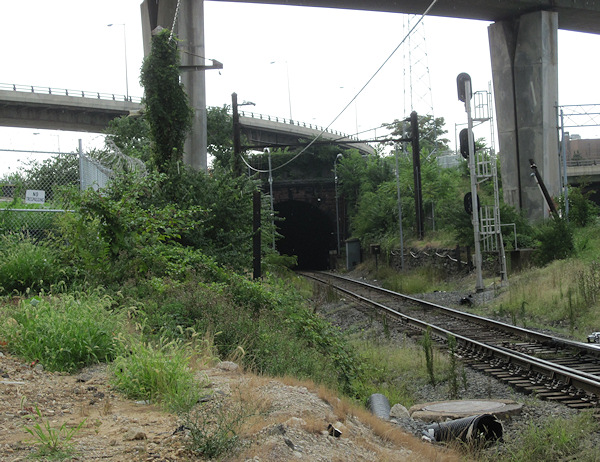 There's no firm date as to when construction might begin, owing to the reality that federal reviews don't always happen on a metronome-like timetable, and that then there will be permitting processes and other agency reviews (such as going through the National Capital Planning Commission and the city's historic preservation reviews). But it would seem that spring 2012 would be a likely target time if there are no big roadblocks thrown up, especially given that Panama Canal 2015 date and that CSX says they expect the project to take about three years. With other construction happening at or near the tunnel's path, including the rehab of
225 Virginia
, the
11th Street Bridges reconstruction
, and perhaps the start of some portion of William C. Smith's mixed-use project at
2nd and H
, the very northern portion of the neighborhood will certainly continue to be knee-deep in heavy machinery for a number of years (and CSX says that they are coordinating with those other projects).
If you are just tuning in and aren't up to speed, CSX is wanting to add a second track to the tunnel, ending its status as one of the last (if not the last?) stretch of single track in CSX's east coast operations. They also plan to lower the floor of the tunnel to allow for double-stacked trains, vastly increasing the amount of cargo they can move through their system. (You can
read their press release
for what they consider to be the benefits of this expansion and all of the $850 million National Gateway project.)
As I've said, there isn't much in the way of specifics as to how exactly the project will be configured, other than we know there will be a parallel track running in an open trench, and that Virginia Avenue itself will be closed, but with bridges across the construction at 3rd, 4th, 7th, and 8th to allow the movement of north-south traffic. (This would mean that vehicles exiting the Southeast Freeway at 6th Street would need to turn north under the freeway to then move toward any final destination.)
My
post from a walking tour of the project last July
has some of the (few) details so far announced on the project, but focus will now turn to the NEPA public meetings as the point where the real specifics of the project and its impacts will be revealed, and where residents will be able to voice any and all concerns, problems, anger, threats of litigation, etc. Until then, feel free to use the comments here for all that! You can also read
my previous CSX posts
for more background and details on the project up to now.
Zoning Approvals Given for Temporary Capitol Hill Day School
May 17, 2011 4:25 PM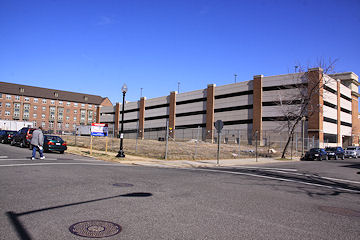 On Tuesday morning the
Board of Zoning Adjustment
voted to approve three exceptions and variances that will allow the
Capitol Hill Day School
to use the currently empty lot at 5th and K streets SE as a temporary location for its operations while its Dent School building at 2nd and South Carolina undergoes renovations.
This move, which has the
support of ANC 6D
and the Capitol Quarter Homeowners Association, would bring a "modular building" to the site this summer, with the school's expectation that it will return to the Dent building in early 2012.
There will be no on-site parking, but the school is leasing 29 parking spaces in the big parking lot one block to the east, on the site of the
old Capper Seniors building
(Nats lot "W"). And the
Office of Planning report
on the application says that DDOT has "agreed to prohibit parking between mid-June 2011 and the end of January 2012 on school days between 7 am and 6 pm on the east side of the block [...] in order to facilitate the drop off and pick up of students." (I'll note that this 7 am start time is one hour earlier than what was announced at
the ANC 6D meeting
where this plan was discussed.) CHDS representatives also told 6D at that meeting that they will be asking parents coming from north of the freeway to drive south on 4th, turn left on L, and then turn left on 5th to pull into one of their four drop-off spots, where students are then guided out of the cars. (Buses will pull in and out of these spots as well.) The spaces will be available for parking after 6 pm and on weekends and holidays.
There were few questions from the board; Commissioner May did ask whether this plan will negatively impact the long-delayed plans for the
new community center
to be built on the site. The
current requirements placed on the community center project
by the Zoning Commission as part of the Capper PUD are that the Housing Authority must apply for a building permit by July 1, 2012, and that construction must begin no later than June 30, 2013, dates which are far enough in the future to not be delayed by the Day School's occupation of the site.
The commission then voted to approve the requested relief; but, after a representative from the city's office of the attorney general raised some concerns, the hearing then devolved into a long technical and legal discussion of defining which conditions of a previous order were being addressed, which I totally admit to bailing out of. But in the end the project was still approved. You can watch the
video of the hearing
when it's posted if you want more information; and the
Office of Planning report
is also a very good resource for the zoning issues, plus there's a drawing on page 3 that shows how the temporary building will occupy the lot.
Short Update from Monday Redistricting Meeting; The Schedule
May 17, 2011 9:10 AM
On Monday night there was another residents' meeting on the subject of
redistricting
, this time with
two members
of the city council's redistricting committee: Phil Mendelson, for whom this was a third public session in Ward 6 on the subject, and Jack Evans, making his first appearance at a Ward 6 assembly.
As with the
other meetings
, neither council member tipped a hand as to which sections of the city will be moved to different wards as part of the constitutionally mandated need to standardize the population sizes of the city's eight wards. And as with the other meetings, residents made clear that they very much want to remain in Ward 6. (Has our message gotten through? one resident asked toward the end of the session. Yes, Jack Evans assured him, it certainly has.) But Phil Mendelson stressed once again that no neighborhood wants to move, and that residents in areas other than Ward 6 are equally as vocal about their dissatisfaction--but the boundaries must be redrawn.
Mendelson laid out the upcoming schedule, with the committee's map of proposed changes being made public probably on May 25 for their vote on May 26. A public hearing on the committee's map is expected to be held June 1 at 6 pm, with the full council having its first vote ("first reading") on the bill enacting the new boundaries on June 7. A final vote could come on June 21, or perhaps in early July.
UPDATE
: Here's a
post on Tommy Wells's blog
with more information on the schedule and how the public can participate; this post was updated on May 20 changing the public hearing date to June 1.
I was told tonight by an audience member that there is apparently another Ward 6 public meeting on redistricting being held on Wednesday, May 17, in ANC 6B; I don't have any further information on it. (
UPDATE
:
EMMCA has the details
.) But having now attended four of these, I think I'm declaring myself #redc'ed out until the council committee's map is made public next week.
Late Tuesday Tidbits: Ribbon to Be Cut, Ground to Be Broken
May 10, 2011 10:26 PM
Just a few items to catch up on, though they've already been
tweeted
(Twitter really is the best friend of a lazy blogger):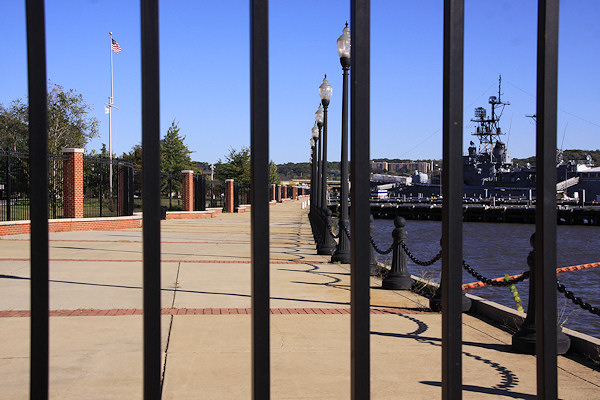 * The
Navy Yard
is having a ceremonial ribbon-cutting for its portion of the Anacostia Riverwalk Trail on Wednesday morning (May 11) at 11 am. It was on April 1 that the
Navy opened this long-completed but long closed off stretch
, which runs from just east of the
11th Street Bridges
to the
Yards Park
, though it is only open from 8 am to 5 pm Monday through Friday (excluding holidays) and is subject to closure if the Navy deems it necessary. (I finally took my first walk on it from the Yards Park and back recently, though I did it close to closing time and was imagining the hilarity that would have ensued if I had gotten locked in.) This ceremony also dovetails with the start of the BID's
Wednesday Lunchtime Concert Series
at the park, at 11:30.
* Will from
just across the way
reports that Camden is
having a ceremonial groundbreaking
on May 17 for
1345 South Capitol Street
, the 276-unit apartment building with ground-floor retail just across from
Nationals Park
that's been on hold since 2008. Though it's on the Southwest side of the DMZ and therefore in Will's territory (as spelled out in our meticulously negotiated Neighboring Blogger Treaty), I probably won't be able to completely prevent myself from taking photos of the progress from time to time, especially since I have a
full set of "befores."
But I'll be leaving the bulk of the coverage work to Will.
* The old fogies who were around in the 2004 to 2006 era might remember that a big part of getting the city council to approve the deal to fund and build
Nationals Park
was the "
Community Benefits Fund
," which would receive additional ballpark tax money and distribute it to libraries, schools, and other neighborhood developments. But
Mike DeBonis reports
that Mayor Gray's FY12 budget has a change that essentially makes the mayor and council decide every year whether the fund's money goes to the neighborhood projects or to "other spending priorities" in the city. Citizen groups are unhappy and council members are, too, DeBonis says.
Redistricting Update: ANC Resolution, Mendelson Meeting
May 10, 2011 2:48 PM
The
pushback
by Near Southeast residents against the idea of moving the neighborhood out of Ward 6 and into Ward 8 continues, with some evidence that their calls, e-mails, and petitions are having an effect:
At Monday night's ANC 6D meeting, two of the three council members that make up the
redistricting
committee came to speak to residents. Phil Mendelson (who said that he invited himself to the meeting) and committee chair Michael A. Brown
gave a short presentation
on how redistricting works, and then spent about 45 minutes answering audience questions. Neither of them took a position on whether Near Southeast or Southwest should be moved, and both also took pains to note that there is no official proposal yet, and that it is Marion Barry who is floating the idea. (They also indicated that Marion Barry's argument about how the move would improve the economic standing of Ward 8 wasn't quite resonating with either of them.) The initial map of the redrawn ward boundary lines should be released by the committee later this month, either on or after May 25 (when the FY12 budget stuff is wrapped up).
After the council members finished, the ANC quickly voted unanimously to support the
resolution to keep all of 6D in Ward 6
. Near Southeast commissioner David Garber has been tweeting his visit to the Wilson Building today to deliver the resolution and a 200-plus-signature
petition
, saying that
Jim Graham told him
that Near Southeast is "not in play" and that
Mary Cheh's office assured him
that "she supports keeping Near Southeast in Ward 6." (Cheh had made this known last week, when
she told Tommy Wells
to make the calls from concerned Near Southeast residents stop.)
Residents are continuing to press the council, with reports on the
Near Southeast mailing list
of multiple visits to council members' offices. And another meeting for residents on the subject has now been scheduled by Capitol Quarter resident and meeting-organizer-dynamo Bruce DarConte, this time with Phil Mendelson, on Monday, May 16, at 6:30 pm at the Capper Seniors building at 900 5th St. SE.
(People interested in this battle might also want to read Lydia DePillis's rumination on the optics of the fight, "
So Much for One City
.")
UPDATE, 5/12: Bruce DarConte has passed along that Jack Evans, the third member of the redistricting committee, has confirmed his attendance at the May 16 meeting at Capper Seniors.
Food Truck Festival 'Truckeroo' Coming to Half and M June 3
May 8, 2011 11:00 PM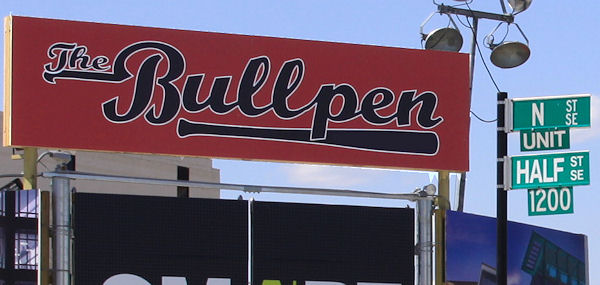 From
Monday's Capital Business
from the Post, the news that the owner of the
Bullpen and Das Bullpen
is following through on the desire he stated
a few months back
to hold "food truck festivals" on a regular basis in the parking lots at Half and M, SE. Apparently, the first "Truckeroo" festival will be held on
June 4
June 3
, and the Post says it will "include food trucks like Lobster Truck, Fojol Bros., Eat Wonky, Curbside Cupcakes and D.C. Slices, is scheduled to run from noon to 9 p.m., and occur monthly through October. The idea is to drive business to the ballpark area on non-baseball nights."
(The blurb also says that the Bullpen "is the biggest cash cow in the burgeoning Blair empire.")
Nothing on the Bullpen web site about Truckeroo yet, but I'll post more as I hear.
This site will eventually be the location of
Akridge's 700,000-square-foot mixed-use development
that will run along the length of Half between M and N north of the ballpark, but no start date for construction has been announced.
UPDATE:
Bo Blair has told the BID (and now me directly) that the Post got the date wrong, that it's actually scheduled for Friday, June 3.
Residents Meet to Plot Strategy to Fight Ward 8 'Annexation'
May 4, 2011 9:33 PM
A group of Near Southeast residents* met tonight to discuss the best way to fight
Marion Barry's announced desire
to take the neighborhood around
Nationals Park
out of Ward 6 and into Ward 8 as part of the city's redistricting process. Tommy Wells addressed the group, giving them a quick primer on
how exactly redistricting works
, emphasizing that one of the stated goals of the process is to not split up "contiguous" neighborhoods, and also making clear his feelings about Barry's plan (while never actually mentioning the Ward 8 council member's name): "I don't want to lose one inch of Ward 6," Wells said, because "Ward 6 works."
Saying that it's unfair that Ward 6 should be the only ward to give up residents, he said that he will propose a map that would return Kingman Park to Ward 6; he also suggested that the portion of Penn Quarter that isn't in Ward 2 could be moved there, allowing some of Ward 2 to be shifted to Ward 5 (which would then allow some of Ward 5 to be moved to Ward 7, and then some of Ward 7 shifted southward into Ward 8).
But the bulk of the discussion was advising the residents on how best to make their opposition to Barry's idea known to the council members who are in the forefront of the redistricting battles (some of whom are at-large representatives up for election next year). He spoke of the best ways to voice opposition in terms of mechanics, saying that petitions are a good idea (and there are two already circulating, an
electronic one
with more than 100 signatures and
a new one handed out tonight
by resident and meeting organizer Bruce DarConte), as well as group visits to councilmembers' offices and high volumes of phone calls to the Wilson Building.
But Wells also stressed that residents who want to fight this need to describe how such a move would negatively impact Near Southeast's "cohesiveness" with its surrounding neighborhoods, especially with Capitol Hill just to the north and with Southwest. (It would be interesting that, if the Ward 8 "annexation" were to happen, the residents of school-less Near Southeast would be sending their children to the "neighborhood" schools that would still in be Ward 6.)
He also emphasized that arguments against a move to Ward 8 move should not center on "personalities." That concept was not really expanded upon but, if you've
read the comments
on my post last week on this issue, you might infer it to mean "don't rant about how you don't want Marion Barry as your councilmember." Wells also said to not mention not being able to park elsewhere in Ward 6 as a reason for opposition, which did seem to come up an awful lot at last week's hearings, to the dismay of many in the DC Twitterverse. "This is about how you view your community."
Near Southeast's ANC commissioner David Garber mostly echoed Wells's remarks, and said that he will be drafting a resolution for next week's ANC 6D meeting that would show the support of all Near SE and SW commissioners for remaining in Ward 6. (Garber has also launched a
Near Southeast mailing list
that residents are using to organize their resistence to being "annexed.")
With the council set to unveil its suggested map of new boundaries within a few weeks, there will be a flurry of activity on this front--including the Ward 6 Democrats'
redistricting meeting tomorrow
(Thursday) at 7 pm at Chamberlain Elementary School. The final vote by the council on the new boundaries will be in July; and "there's a very good chance" Near Southeast can win the fight, Wells said.
[*I didn't take a head count; you know how much trouble the media gets in for crowd estimates! But the community room at the Capper Seniors apartment building was quite full.]
Photos: Defrocked Deli, 11th Street Changes, LRB, More
May 1, 2011 11:26 AM
I grabbed a smattering of photos yesterday, taking advantage of some gorgeous weather (I walked about as much as the Nats did against the Giants, though I think I was more successful). I put most of them in their usual places in the
Photo Archive
, but I thought there were some standouts that would be worth seeing in sizes larger than my normal images, so I
posted this gallery
as well. What all is in it?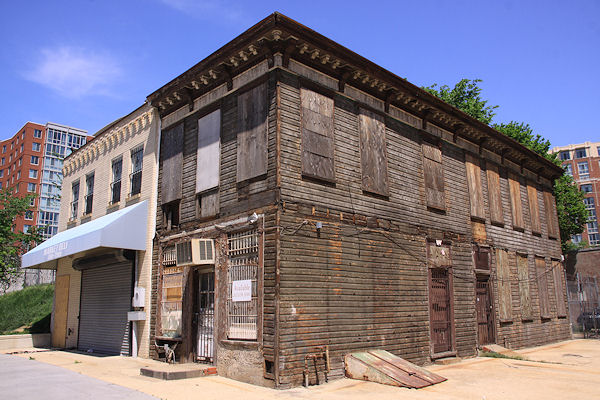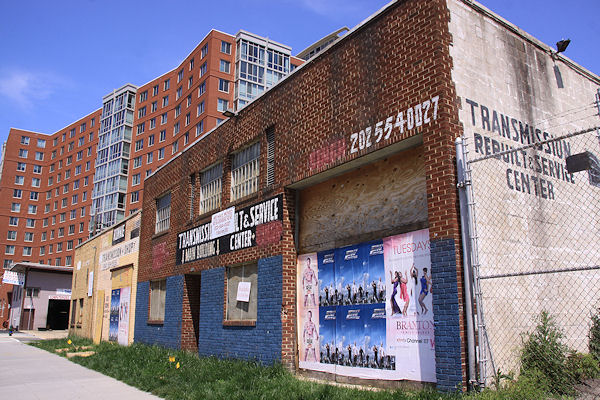 If you haven't been to 1st and L since Thursday, you might be a bit surprised at what the
northeast corner
looks like, because about 24 hours after the
decision to reject the landmarking application
, workers arrived at the
Market Deli
and removed all the beige siding and the signs. (Dang, I would have offered to hang onto one of those.) I took a bunch of shots of not only the defrocked Deli but also its siblings along that stretch of 1st Street, because with raze permits having been filed, they may not be around much longer.
I also caught the progress
at the Little Red Building version 2.0, where the windows and doors are now in place. And then I figured I'd better save for posterity the
signs on the M Street fences
at
Canal Park
announcing the availability of 3,500 square feet of restaurant space when construction is completed in (we hope) 2012.
A new demolition project started on Friday, bringing down the last portion of the decommissioned ramp from RFK to the outbound
11th Street Bridge
, which will bring quite a change to 11th Street south of M as the massive retaining wall that has run along the east side of the street will be disappearing. There will be a new ramp from M just east of 11th to take traffic to the new outbound freeway bridge, but it will be set back a bit, and 11th Street itself will be wider since it will have traffic running in both directions to and from the new "11th Street Local" bridge. (
UPDATE
, many days later: As I watch the demolition, I now see that most of the retaining wall is going to stay in place, since that is where the new on-ramp to the outbound freeway will be. Duh.)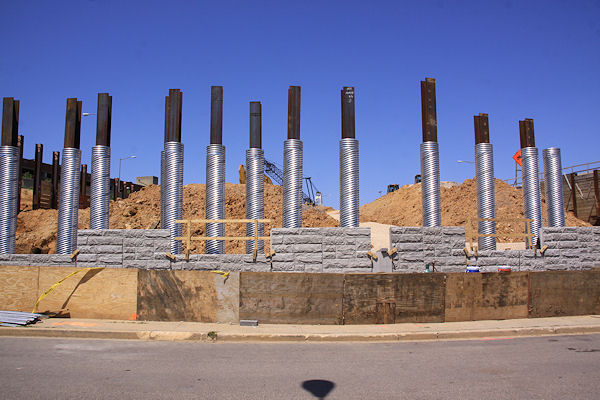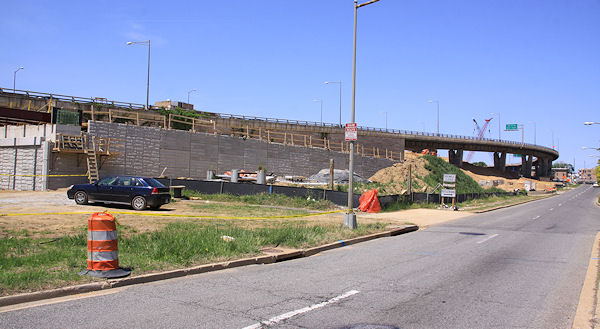 I walked the circuit
down
11th
,
across
O
, and
back
up
12th
, and took photos of the work on the new freeway span as it gets closer to crossing above O (above, left), as well as shots of work on the new exit ramp (above, right) that will take drivers off the inbound freeway span all the way up to M Street (rather than dumping them onto 12th as in the current configuration). I put a bunch of before-and-afters on my
11th Street Bridges project page
(where you can also see
graphics and information on the new design
), but there's a number of enlarged versions of these construction photos in the
photo gallery I posted
(scroll down about halfway).
So,
check out the gallery
for the nice pretty big shots, follow the targeted links above, or
see all of yesterday's photos
, where as always you can click on the
to see the complete archive of images for any location.