Near Southeast DC: Past News Items - March 2008
Go to Full Blog Archive
---
Temporary Surface Lots in Southwest, Con't.
Mar 25, 2008 6:04 PM
There's not a lot to say about Monday night's continuation of the
Zoning Commission's hearing
on whether to amend the city's zoning laws to allow temporary surface parking on eight lots in Buzzards Point. This session was mainly to have representatives of the Nationals and DDOT available for questions from the commissioners, and most of the time was spent taking them through the
Ballpark Traffic Management Plan
.
The big question seemed to be the one that chairman Hood opened with: are additional lots (beyond
the ones approved
over the summer) required by the Nationals this year? Gregory McCarthy of the Nationals replied that the team has its parking-space inventory complete for the 2008 season, but that some of the lots being used could be lost to development projects in 2009, requiring the team to continue to find locations for parking. Commissioner May noted that some buildings in the area are already under construction and would have underground parking available when they open, but McCarthy said that "most" are residential buildings that wouldn't be able to offer stadium parking because of their need to have the bulk of their spaces available at night for tenants. (There are two office buildings opening in the next year which could be targets for Nats parking--
100 M
and
55 M
.)
There was also some discussion of the state of sidewalks (and lack thereof) in Buzzards Point, which the commission feels DDOT would need to address before allowing parking in that area. DDOT representative Karina Ricks was a little vague on whether new sidewalks would be DDOT's responsibility or whether it would be up to the lot owners at DDOT's behest to build acceptable sidewalks.
There were some questions about the routing of traffic toward existing parking lots and whether it is going to keep fans off the residential streets; McCarthy told the commissioners about the brochures going out with season-ticket parking passes giving the preferred routes to a fan's specific parking lot. If the ability to build new lots in Buzzards Point were to be approved, DDOT indicated that the current traffic management plans would be revised to take the additional traffic heading to that area into account.
(And speaking of this, apparently signs are now popping up along M Street to guide fans to parking lots based on zone color; there will also be signs about which freeway exit to take for which zones put up soon, according to McCarthy.)
It's expected that the commission will vote on this proposed amendment at its April 13 public meeting. If you want more information on this case (07-08A), here's the
Office of Planning report
, and you can also
read my discussions
of the original amendment for more detail on the limitations and rules of these lots. And, it should be emphasized that, if this amendment passes, it doesn't mean that surface lots will definitely be built on these blocks--this is just a change in zoning rules to allow the possibility of lots, if the landowners wish to build them.
The Final Count
Mar 25, 2008 5:19 PM
This just in from the Nationals: "Please be advised that the seating capacity for the Washington Nationals
new ballpark
-- Nationals Park -- is
41,888
."
Intrepid Blogger Interrogates Me About JDLand
Mar 25, 2008 1:57 PM
I always get queasy about self-promoting here, but if you're wanting a bit of a peek behind the JDLand curtain, blogger William Yurasko
lobbed some questions my way
about the
ballpark
and life here at the Obsessive Compulsive Time-Sucking Vortex, and I gave him some typically long-winded answers.
(But maybe you'd just rather look at the
Curly W
that appeared late this morning in centerfield.)
Positive Nature 'Bucket Fundraiser' Saturday and Sunday; Bus Garage Sales Office Closes Thursday
Mar 25, 2008 10:47 AM
Short items:
*
Positive Nature
, the program for at-risk youth that is in danger of losing its rented space at 1017 New Jersey Avenue because of a sharp increase in its property taxes, is looking for volunteers to help with a "massive bucket fundraiser" on Saturday and Sunday as fans arrive for the first games at
Nationals Park
. They have been working on raising $200,000 by the end of March. The fundraiser info, which came via e-mail, isn't posted on
their web site
yet.
* Metro says
via press release
that the sales office at the Southeastern Bus Garage will close on Thursday (March 27), in advance of the garage itself shutting down operations the next day. And WTOP is reporting today on the proposal to lease the bus garage and its parking lot to the Nats for parking, but you can find
far more detail about it all in my post from Friday
than you will in WTOP's blurb.
SE/SW Freeway 'Stadium' Signage; Exhibition Info; Sun Critic Likes It; Another Parking Lot Offer
Mar 24, 2008 10:59 PM
Just a few items to end your day (or start it, I guess):
*
WTOP makes sure
DDOT is planning to take down the old "Stadium" signs on the SE/SW Freeway that point drivers to RFK rather than
Nationals Park
. Meanwhile, tonight in front of the Zoning Commission, Gregory McCarthy from the Nationals said that new signs will soon be posted on the freeway indicating which exits fans should use for the ballpark based on the
color-coding of the parking lots
.
* A
press release from the Nationals
gives the basics on Saturday's 6 pm exhibition game against the Orioles, which is open to season-ticket holders and invited guests only. In one small change, the Nats Express shuttle from RFK will begin operating three hours before gametime, rather than 90 minutes. (The gates at Nationals Park will be opening at 3 pm as well, allowing fans to watch batting practice at 3:30.) A pre-game ceremony will begin at 5:30 pm, with remarks from city officials and a ribbon-cutting at home plate. And then they'll actually play some baseball. It's been said that approximately 25,000 people will be expected for this dry run, in advance of the Big Kahuna the next night.
* The Baltimore Sun's architecture critic
says nice things
about the place.
*
Last week I posted
that Splash car wash at 10 I Street SE will be offering both same-day cash lot and season-account parking for $35 per game; word now arrives that the owner of the little empty lot at First and L (next to the Market Deli) is also offering a few spaces (season-long accounts preferred), at $25 per game. Call (301) 279-7033 and ask for Marty Resnick if you're interested. These are separate from the lots
around the neighborhood
that the Nats have officially contracted with to provide parking for season-ticket holders (and perhaps sameday parkers somewhere down the line).
Reminder: Zoning Hearing on Parking in Southwest
Mar 24, 2008 2:39 PM
Just a reminder that tonight at 6:30 pm is the continuation of the
Zoning Commission hearing
about whether to potentially allow temporary surface parking lots on some squares in Buzzards Point in Southwest. This is not approving lots themselves, just
changing the zoning
of certain blocks to give landowners the option to add lots if they wanted,
as was done last year
with a number of blocks in Near Southeast (only some of which now having parking lots on them). The hearing was continued so that DDOT and Nationals representatives could be there to answer questions. As of now, no Nationals parking lots are located in Southwest, except for one already existing surface lot right under the Southwest Freeway.
For more on all this,
read my entry
from before the first hearing, which includes the
Office of Planning's report
that has more details on which blocks would be covered, along with explanations of the rules governing these temporary surface lots (including that combined they may not total more than 3,775 spaces). There's also the
ANC 6D resolution opposing this change
. Tonight's hearing is at Suite 220 South, 441 4th St., NW, or can be watched via a
live webcast
, which is the preferred method of lazy bloggers.
Fourth Street Now One Way; Visitor Passes; Ballpark and Development; Recent Headlines Again
Mar 24, 2008 7:44 AM
* Within the past week,
Fourth Street between the SE Freeway and M Street
has been signed and striped to become
one-way southbound
. It's always been one-way southbound north of the freeway, but extending that another four blocks seems to be a bit of a surprise.
* If you live in Southwest or on Capitol Hill and received in the past few days a
nondescript envelope
addressed to "Ward 6 Resident" from DDOT, don't throw it out (like I almost did)--it's your
Visitor Parking Pass
. Guard this with your life.
* As soon as I
swear off
chasing every little story on the ballpark unless it somehow relates to the neighborhood, both
the Post
and
the Examiner
come out with stories this morning doing just that, talking about the development that's exploded in Near Southeast over the past few years. (And thanks for the hat tip, Michael.) Sayeth the Post, on A1: "
Nationals Park
opens this weekend and appears nearly complete. But it's surrounded for blocks by a construction zone. [...] Despite appearances, this is just the way District leaders hoped it would be: a ballpark set amid a vast Southeast Washington neighborhood in the middle of one of the biggest overhauls in city history. Some 500 acres are to be transformed, spreading south from Capitol Hill to the Anacostia River, sweeping away an accumulation of old auto body shops, sex clubs and debris-filled lots[.]" If you've read either of these stories and are looking to know more about all the development underway around the ballpark, I invite you to look at the
big ole' map
at the top right of my home page--moving your mouse across it gives you the basics on each project, and clicking the map takes you to pages chock full of additional details and photos.
Last Batch of Ballpark Exteriors Before Opening Day; And a Note About This Week
Mar 23, 2008 6:44 PM
With thanks for the gorgeous weather, I've spent the day on what may be one of the final complete updates of my
Stadium Exterior Photo Gallery
, with new versions of not only the main photos on that page, but the complete lineup of shots on
South Capitol Street
,
N Street
,
First Street
. and
Potomac Ave.
It's these pages that show what has happened to the 21-acre site now occupied by Nationals Park in the last 22 months, by comparing photos taken before the start of construction to what those streets look like today.
(You can also see my
latest Interior Photos
, most of which are from
yesterday's GW game
.)
I've also decided, after a bit of pondering, that I'm not going to spend this week scrambling after every story written about the ballpark. If there's *news* (like the Navy Yard station west entrance opening), of course I'll post about it, but this is a time where I'm pretty sure people can find the latest about the stadium without my assistance.
I'm going to focus more on how the ballpark's completion has changed the look of the neighborhood, and on the state of the neighborhood itself as it prepares to welcome thousands of people who've never been here before. I'll be working on some special pages with lots of before-during-and-after photos as a way to step back a bit from the falderal, and to try to drive home to people wandering through exactly how much has changed in the short time since work on the stadium began.
But I won't be able to resist completely, and at the end of this pretty historic week I'll have a big pile of images from Saturday's exhibition against the Orioles and from Opening Night.
Photos from Today's GW Game at Nationals Park
Mar 22, 2008 7:20 PM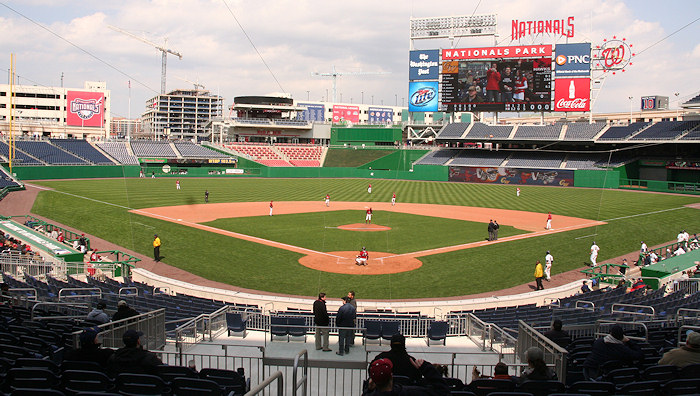 I'm actually not finished yet (still need to caption them), but for those of you who can't wait a moment, here's
way too many photos
from today's first-ever baseball game at Nationals Park. (There's also
five new bigbigbig panoramas
, too.) The pretty brisk day started off cloudy, got sunny as the game got underway, and ended up with a bit of rain here or there by the end, but on the surface it seemed to go well (not like wildfires suddenly erupted in right field or anything). I'll link to the media coverage later, but enjoy the photos in the meantime. Tomorrow I'll be doing a full Exterior Gallery update.
UPDATE:
Captions are added, so
enjoy the photos
.
The Post says
: "After years of political debate and turmoil that almost caused Major League Baseball to pull out of Washington, the city has a stadium that seems just about ready for prime time. Sitting behind home plate, there was little to see that didn't look finished."
Here's
MLB.com's take
on the day (and another
on the food
): "George Washington University scrimmaged St. Joseph's on Saturday afternoon, and while the stadium may not have been finished, it was good enough for the fans and Nationals president Stan Kasten."
AP has a story
being run all over the country as well. The local networks have had some stories, but they aren't posted on the web.
Quick Ballpark Links; First Event Mere Minutes Away
Mar 22, 2008 9:55 AM
I'm barely even reading these pre-Opening Day stories anymore, but I'll still link to them in case anyone *hasn't* had their fill:
* A church on Capitol Hill
complains to WJLA
about the new
on-street parking restrictions
, saying that they shouldn't have them because they're a "40-minute walk" from the ballpark, which is quite a bit of hyperbole for 400 D Street, SE. I live two blocks closer to the ballpark than the church, and I'm pretty sure those two blocks don't double the time of the trip (and the 20 minutes it takes me from my house is definitely at "amble" speed).
* WAMU looks at the
environmental impacts
of the ballpark.
*
WJLA
talks about Ben's Chili Bowl at the ballpark, and
NBC4
talks about the complete lineup of food at the ballpark that some of us
reported weeks ago
. If you want more, um, intense coverage of the events at Ben's yesterday (and equally intense coverage of basically everything having to do with the Nationals), visits
Nats320
, where no Nats tidbit ever is overlooked. He makes me look like a once-a-month dabbler.
* I always predicted that the ballpark would drive every media organization in the country to do a story, and it's now starting: here's
Fast Company's quick overview
of Nationals Park, from a more business-oriented perspective.
*
Scripps wonders
what sort of reception President Bush will get when he throws out the first pitch next Sunday.
And now it's time to get ready for the
first-ever baseball game
at Nationals Park, GW vs. St. Joseph's. The 2,000 fans who got tickets are going to be restricted to moving around on the main concourse and in the lower bowl only.
Nats to Lease WMATA Garage and Lot for Parking; Bus Operations Ending Friday?
Mar 21, 2008 4:35 PM
A proposal
will be going before the WMATA board next week to allow the Nationals to lease the
Southeastern Bus Garage
at Half and M (just across from the about-to-reopen Navy Yard subway station west entrance one block north of the ballpark) and an adjoining surface parking lot just across Van Street. This would happen once the
Metrobuses are relocated
, which apparently is supposed to be by
Friday, March 28
.
The lease for the Van Street lot would start the next day, and the garage itself would be available on April 20 (after Metro takes a few weeks to remove equipment). For the first 12 months, the Nats would pay $27,370 a month to lease the garage and $9,500 a month to lease the Van Street lot. If they were to decide to lease them until 2010, the rates would be slightly higher.
This money would be used to offset operating expenses associated with the garage's closure, and could bring WMATA nearly $900,000 in revenue if the leases were to run until April 2010.
The unknown, of course, is what will happen with the sale of the garage site, which of course was originally awarded to Akridge for $69.25 million but which is now
tied up in a lawsuit
brought against WMATA by Monument Realty. The parking lease with the Nats does allow for cancellation by either party with 30 days notice.
The WMATA Planning, Development and Real Estate committee will vote on the propsal first on March 27, and, if it's approved, the full board will vote on it later that same day.
For Nats fans who might be wondering, the garage and lot are both in the Red Zone, so would cost $35 per game to use.
If the garage is indeed closing next week, there will be much rejoicing by pedestrians who've been dodging the buses for years, including distracted neighborhood bloggers trying to grab photos while standing in the middle of the Half and M intersection.
Quick Items on Ballpark, Peeps, and Elephants
Mar 21, 2008 3:41 PM
* A reminder that Saturday at 1 pm will the
very first baseball game played at Nationals Park
, between George Washington University and St. Joseph's University.
MLB.com has more
--and I'll have photos from it sometime Saturday or Sunday.
* MLB.com also has a
Q&A with Stan Kasten
about the ballpark and other items. "You want all of it to work right, but you know there is going to be a hiccup here and there. We are going to be looking at everything. We'll be getting right back at it that Monday morning [March 31] to see what worked and what didn't work -- to see what we could improve on. Hopefully, we'll have that whole week to improve things even further."
* You can't swing a cat today without hitting
news
of the
Metro Peeps
.
* Poor Phil Mendelson. He still wants to use
225 Virginia Avenue
for some MPD functions, and the mayor and the executive branch
appear to be ignoring him
.
Florida Rock Gets Preliminary Zoning Approval
Mar 21, 2008 10:13 AM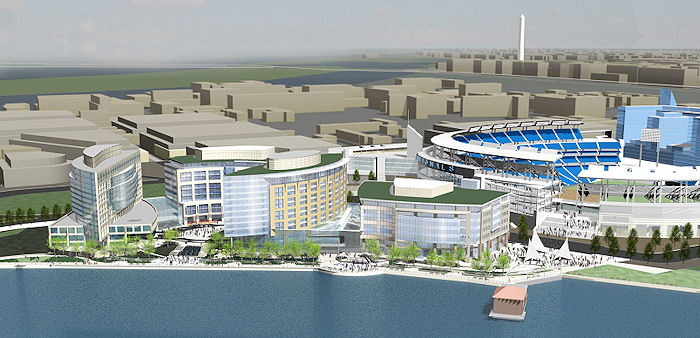 With a surprise motion at the end of last night's second-stage PUD hearing, the Zoning Commission has given preliminary approval to the design of
RiverFront on the Anacostia
(better known as Florida Rock), the 1.1-million-square-foot four-building mixed-use project nestled between
Nationals Park
, the Anacostia River, the
Douglass Bridge
, and
Diamond Teague Park
. It's been about 11 years since FRP Development first entered the zoning process for this site, and almost two years since the commission unexpectedly sent architects back to the drawing board for a design that better responded to the changes brought by the ballpark.
You can see a few
renderings of the latest design
on
my project page
, and
read about the specifics
(dear heavens, I'm not going to summarize it all AGAIN--read the
Office of Planning report
for more on this submittal). The one big addition to the design is a large sculpture to be placed on the public plaza ("Anacostia Place") across from the grand staircase of the ballpark, celebrating the Anacostia River watershed, which the commissioners seemed to respond to favorably.
The commissioners all remarked that the project has come a long way, and were pleased with the overall design. There were some concerns from commissioners Peter May of the National Park Service and Gregory Jeffries about the facades of the two western buildings that will face the proposed traffic oval on South Capitol Street at the foot of a
new Douglass Bridge
, that they aren't "animated" enough in terms of retail for such a prominent location. May had also called the project "too complex", with too much going on with different facades and finishes, but when longtime commissioner Michael Turnbull of the Office of the Architect of the Capitol said that he "liked the complexity," it was clear that there weren't going to be requests for large-scale changes to the design.
After 2 1/2 hours of presentations and questions, Chairman Hood brought up the idea of giving initial approval immediately, which, judging by the wide-eyed glances between the many representatives and consultants in the audience, was not expected. Commissioner May was not really in favor of moving forward, and Jeffries initially seemed to be leaning that way but then hemmed and hawed his way back to agreeing that the proposed action could go forward. (Earlier Jeffries had noted with some surprise that a project of this scope had not brought out a single member of the community in opposition.)
It was decided that the developers need to submit more detailed drawings of the plans for the South Capitol Street facades, and that no final approval would be given to the project until all commissioners approved of them. Commissioner May ended up abstaining on the vote, which was 4-0-1.
Architect Davis Buckley asked for six weeks to prepare the new renderings, and the commission scheduled a Special Public Meeting for May 22 at 6 pm to take final action.
This doesn't mean that earthmovers will arrive on May 23 to start building Anacostia Place and the eastern office building; construction drawings will have to be completed, and the trip through the vaunted DC permitting process will have to begin. But the notion of a Fall 2009 start date for the first phase of this project is looking closer to a reality. As for when the entire project could be completed, the western two buildings are dependent on the construction of the new Douglass Bridge before they can start. So, mark your calendar for about 2018.
I hope to snag some additional renderings included in last night's presentation; there was also a cool fly-over animation of RiverFront and its relationship with its surroundings, though it included the long-defunct Garages Wrapped With Development Goodness once envisioned for the north side of the ballpark, causing Commissioner Turnbull to spend some time lamenting What MIght Have Been.
Morning Roundup: Capper in the NYTimes, Photos
Mar 21, 2008 8:57 AM
* The
New York Times looks at the plans
for replacing
Capper/Carrollsburg
with
Capitol Quarter
. (They also sent it out via their news service, so it's appearing in lots of papers
around the country
.) "Bucking national trends and citing what they call 'a moral goal,' District of Columbia officials have pledged to preserve and even expand low-income housing, replacing dangerous projects with new communities that keep both poor and 'work force' residents -- firefighters, teachers and laborers -- in the mix. The redevelopment of the Arthur Capper and Carrollsburg projects, where Ms. Jackson lived, is the first in the country to promise replacement of all low-income units within the same neighborhood[.]" There's a lot of good detail about the public-housing side of the project, along with comments from former residents.
* Here's a few photos that show
the fences around the Capper surface lots
that I was blathering about yesterday, if you haven't seen them.
* Don't miss yesterday's photos
from on high
.
* Coming as soon as I can finish writing it, big news about a milestone finally passed for one of Near Southeast's oldest "new developments."
Making Sure You and Your Peeps Ride Metro; Sneak Peek at Navy Yard West Entrance
Mar 20, 2008 10:51 PM
You can't say the folks at Metro aren't trying everything to get the word out about using public transit to get to
Nationals Park
--witness
this YouTube video
that hit the streets today, where two Peeps try to tell another Peep to take Metro instead of driving. The production values won't win any awards, but it manages to talk about the two-way New Jersey Avenue entrance, the capacity expansion to 15,000 passengers an hour, and the N22 bus, all while making you crave Easter-y sugar. (
h/t DCist
, and
ABC 7
, too)
If you want the less-viral version of information about the Navy Yard expansion,
NBC 4
and
WTOP
and
WUSA
have video from a tour given today to the media of the revamped west entrance, scheduled to open in time for Opening Night. Also, during yesterday's
Metro ride-along with Stan Kasten
,
Nats320 grilled WMATA's COO
with a pile of Metro/Nationals-related questions.
If you haven't been following along, Metro has spent $20 million increasing the number of fare gates and vending machines, adding two elevators and relocating the station kiosk, fare gates and fare vendors from the mezzanine to the street entrance. One thing in today's reports that is quite different from anything I've heard in the past two years--Metro is now saying that the upgrade to 15,000 passengers an hour is just for the west entrance, and that the east entrance can handle an additional 5,000 passengers an hour. Seems odd that this has never been emphasized before now, that it's always just been that the upgraded station would handled 15k....
Clear Sunny Skies. That Must Mean....
Mar 20, 2008 3:51 PM


Caught a break with such beautiful weather today, and so I snagged a
new batch of overhead photos
from up high at the
Courtyard by Marriott
. I took the entire batch, both east and west, and
have paired them with the first ones I took
, in March 2006. It's quite a difference; these are the views that people should see when they're carping about "how the area around the ballpark is one big construction zone" -- yes, it is, but look what that construction has done in just two years. (And think of what the commentary would be if this construction *weren't* happening.) You can also toggle to
include all the photos from here in 2007 as well
, to watch the process step-by-step.
Comments
(0)
More posts:
100 M
,
600 M/Square 882/Old Capper Seniors
,
70/100 I
,
909 New Jersey
,
Capper
,
jpi
,
Courtyard/Marriott
,
mnorth
,
Onyx
,
Square 743N
,
Square 699n
Splash to Offer Same Day Cash Parking for Ballpark
Mar 20, 2008 10:35 AM
A little bit of news broke yesterday
in the comments
, as the owner of the
Splash car wash
at 10 I Street, SE (next to the McDonald's) announced that he will be offering the
first known cash lot parking
near the
ballpark
. Splash "will be offering stadium parking on a very limited basis (11 cars) during our 8-5 work week hours and Sundays and federal holidays from 10 to 4pm, but many more than that in the evenings (40+ cars). It is suggested that parties interested in season long parking only 4 blocks from the stadium contact us at [
splashdc@earthlink.net
], not the car wash. The charge will be $30 per car per event."
As we've been told ad infinitum, as of now there is only parking for season-ticket-holders in the lots that the Nationals have contracted with in the vicinity of the ballpark (though that may change); fans who want to drive to a Nats game but who don't have a season ticket parking pass have the free parking at RFK (or parking at a Metro station) as the only other option. Street parking is
a definite no-no
.
This Morning's Ballpark Odds and Ends
Mar 20, 2008 7:45 AM
* The prettiest darn fences, about four feet high, popped up around parking lots
T and U
on Third Street within the past two days. An unexpected touch. (I originally said wrought-iron, but now that I think about it, that's not what they are. Just black steel or some other metal I'm not smart enough to recognize. But still cool. Photos to come.)
* The
Prince George's Gazette
says that
Nationals Park
"could bring jobs and an economic boon to the southern part of the county."
* This is a few days old, but the US Park Police and the National Park Service
say you'd better not think
of parking at Anacostia Park during ballgames and other events at the stadium: "The NPS and USPP remind those seeking parking for events at the new Nationals' stadium that parking within Anacostia Park is open to park users only. Parking on turf is illegal within Anacostia Park. Park users are asked to be aware that increased vehicular traffic is anticipated and to make plans accordingly."
* Dr. Gridlock on his
Get There blog
talks about the "National Trifecta" on March 29--the
National Marathon
(which
wrought all sorts of havoc
in Southwest last year), the
National Cherry Blossom Festival
, and the Nationals-vs-Orioles exhibition game--that could make for rough driving around the city on that Saturday.
Quick Batch of New Ballpark Interior Photos
Mar 19, 2008 9:19 PM
I unexpectedly found myself inside the
ballpark
this evening, and of course couldn't
resist taking some photos
. They're not anywhere close to a complete set, just a few shots here or there of some nice views and fun things I hadn't seen before, like the flags hung by the BID along First Street, one of the bike racks, etc. The big lights weren't on (as you can see above), so it's all kind of impressionistic. (That's a nice way of saying "blurry.")
There's also two new stitched-together panoramas, for those of you who are fans of them: one from
a second-level suite
on the left-field side (which was taken at dusk but looks like daylight after some fiddling with the camera settings), and the above view,
from section 106
.
Parking and Access for Fans With Disabilities
Mar 19, 2008 5:11 PM
This afternoon the Nationals
sent out a press release
about how fans with disabilities will be able to get to
Nationals Park
. Here's the biggest items:
"Prior to every Nationals game at Nationals Park, the Metropolitan Police Department (MPD) will allow passengers to be dropped off along 1st Street, SE or along South Capitol Street; both locations are adjacent to Nationals Park, as near as possible to the two HOK designed accessible elevator entrances. After games, passengers may be picked up at the South Capitol Street location only. There are curb-free areas along South Capitol Street between O and P Streets."
Cars with state-issued disabled parking placards/license plates will be able to park in Lot E at
First and N
(just across from the ballpark) on a first-come first-served basis, or may purchase single-game access to those spaces for $35 per game starting March 26 at
nationals.com/waytogo
.
(
UPDATED
to add the link to the full press release.) And here's a link to the
Post's story
, with quotes from worried fans.