Near Southeast DC: Past News Items - January 2009
Go to Full Blog Archive
---
31 Blog Posts
Go to Page:
1
|
2
Akridge Gets ANC Backing for Half Street
Jan 13, 2009 9:38 AM
I was unfortunately unable to get to
Monday night's ANC 6D meeting
, thanks to an avalanche of Inauguration-related work at my real job that couldn't wait, plus there was the arrival yesterday afternoon of my brother's third child, Teddy. (And if you think you've got it bad over the next week, light a candle for him--he's
Washington correspondent
for the Cox Radio Network, and has to cover all of the inauguration while tending to a newborn and two other kids under the age of five who will be wondering what that squirming, crying package is that arrived at the house.)
Anyway, I've been able to find out that the ANC gave its support to
Akridge's planned 700,000-sq-ft mixed-use project
on Half Street between M and N, subject to the finalization of the community benefits package. I wrote a long entry after last month's ANC meeting
describing Akridge's designs for the project
, if you want all the details. I hope to get renderings within the next few weeks, in advance of the
January 29
Capitol Gateway Overlay Review
.
I hope to find out soon whether the illustrious
Capitol Quarter
trash enclosures
discussions have been brought to a close.
(And I hope to make it to tonight's ANC 6B meeting, which will have a briefing on the
South Capitol Street EIS
. But only if work doesn't intervene again.)
A Bit More Clarity on Inauguration Day Restrictions
Jan 12, 2009 5:56 PM
Tommy Wells has posted on his blog
additional information to clear up some of the confusion around the Bus Parking Zones in Ward 6. The
map I posted last week
looks to be pretty much on the mark (and the Post's maps showing huge zones where no parking would be allowed are incorrect). If you live elsewhere in Ward 6,
Tommy's post
is worth reading, and should calm some nerves in Southwest, where the Post was making it look like the entire area would be no parking, which isn't the case. (Of course, if you were going by my map, you knew this already!)
For Near Southeast, there is this additional piece of info: "DDOT will allow up to 325 buses to park in the Nationals Stadium parking lots (entry and exit will be controlled via the Frederick Douglass / South Capitol Street Bridge)." Also, Tommy's list of closures says that M Street will be closed all the way to 12th Street, which is different from DDOT's list. (There's also the fact that the city's Inauguration site now has two different lists of street closures, with their new
Street Closures page
not listing any of the bus zone closures that are on their
Parking Areas page
.)
UPDATE:
Apparently even the city isn't quite sure where it should be putting up signs;
Channel 7 reports
that Emergency No Parking signs went up today in the 900 block of Fifth Street, SE (across from
Capper Seniors #1
) in front of private homes where buses are not supposed to be directed to park. And the report mentions the increasing confusion over the online and print maps and the bus parking zones.
More Info on DC Inaugural Gala, River Restrictions, and Recently Twittered Items (and a Manifesto!)
Jan 11, 2009 4:55 PM
*
Last week I posted about
the "DC Inaugural Gala" scheduled for Monday, Jan. 19 at the
US DOT HQ
at New Jersey and M. I didn't have much information, but a little more has come down the pike. It will be featuring the O'Jays and Salsa "king" Johnny Pacheco, as well as local artists Brian Lanier, Familiar Faces, Tommy Bryant and the Giants of Sound, and Nuera.
Mayor Fenty, Council Chairman Gray, and DC delegate Eleanor Holmes Norton are scheduled to attend, and it's being billed as the first (outside) event ever held at US DOT. Also, according to the
press release
, "The hundreds of guests in attendance also will be able to visit small intimate parties in special 'neighborhood rooms' that will be decorated by residents to make local people feel at home and give visitors a taste of District of Columbia communities."
Ticket prices have been, um, revised to $144 per person, along with higher-priced tickets with additional bells and whistles. Tickets can be purchased online at
DCPresidentialGala.com
(though as of Sunday afternoon it still lists the previous higher price for single tickets).
And, FYI, my employer doesn't let me go to inaugural balls other than on official business, so everyone be sure to tell me all about the parties, and think about me while I stay home cleaning the house and cursing my wicked stepmother and stepsisters.
* The
Coast Guard has released the specifics
of the security on the Anacostia and Potomac rivers surrounding the inauguration. On Jan. 18 and 19, recreational boaters will not be allowed in the security zone (which, for the Anacostia, is from Route 50 down to the Potomac), and those moored within the zone must not move without authorization. From 11 pm Jan. 19 until early Jan. 21, all vessel movements (recreational and commercial) will be prohibited.
And now, rehashing the other
Twitter updates
of the past few days:
* Tommy Wells has
posted the list of Ward 6 establishments
that have applied to stay open during the Inauguration extended hours. None of the hundreds of Near Southeast restaurants and bars are on the list (unless you want to count the Capitol Skyline Hotel at South Capitol and I, SW), but a number of Southwest Waterfront, Barracks Row, and Pennsylvania Avenue joints are on the list.
* It's a shame that
Diamond Teague Park
isn't done yet, because it could have gotten into the Inauguration Water Taxi biz--the
Post's Inauguration Watch blog reported on Friday
that there will be water taxi service from Alexandria to 600 Water Street, SW (Pier 4). $90 round-trip, $50 one-way. More info starting Monday at
InauguralWaterTaxi.com
, which just redirects to the Potomac Riverboat Company's web site. (They're the ones gunning for Teague service, when the docks are ready.)
* The
comments
on my
new Douglass Bridge design post
from Friday veered off unexpectedly into
my posting a bit of a manifesto
in response to the people who from time to time admonish me or implore me to lead some sort of "movement" of one kind or another for or against some project in Near Southeast. If you find my bland just-the-facts recitations of the latest news items aggravating or bewildering, this might help explain a bit.
And it also reveals why I leapt off the fence for the first time and expressed a design preference against the cable stayed swing that so many people wanted: on the arched bascule bridge (as well as the retractile and stayed bascule designs), there will be pedestrian/bike paths on both sides of the bridge, while the cable stayed swing design would only have one path, smack in the center of the bridge, slightly elevated but still surrounded by six lanes of high-speed traffic. To me, if I'm going to cross a grand promenade bridge by foot or bike from one liveable, walkable community to another (someday!), I'd rather be able to stop and gaze out at the waterfront and the shorelines instead of white-knuckling across it as fast as possible to get away from the cars whizzing by me on both sides.
Now I shall return to keeping my preferences to myself!
New Douglass Bridge: Arched Bascule-Riffic!
Jan 9, 2009 11:14 AM
On January 7, the city and federal agencies working on the various Anacostia Waterfront projects held their first "Interagency Coordinating Council" briefing of 2009, and were kind enough to post
the PowerPoint slides
(28 MB!) at
theanacostiawaterfront.com
. A number of Near Southeast projects are part of this domain, including
South Capitol Street
, the
Frederick Douglass Bridge
, and the
11th Street Bridges
. Let's start with South Capitol Street, where the final designs for the reconfiguration of
South Capitol Street
(under the
South Capitol Street EIS
) appear to have been chosen (the "Final EIS Preferred Alternative"):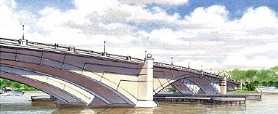 * The top headline is that the
new Douglass Bridge
is apparently going to be an arched bascule design (like the Memorial Bridge), with an opening span to allow for larger vessels to sail through.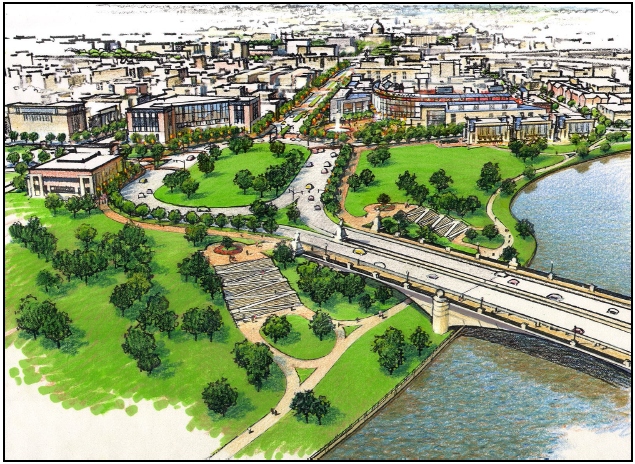 * There will be a
large traffic oval
at the foot of the new bridge (which will be located to the south of the current bridge), reshaping the intersection of
South Capitol Street and Potomac Avenue
. (The
ballpark
's Home Plate Gate and entrance promenade will be the northeast edge of the oval.)
* The intersection of
South Capitol Street and M Street
will become an at-grade intersection (no more underpass for through traffic).
* There will be modifications to South Capitol's interchange with the SE/SW Freeway. They aren't specified in this document, but based on my
previous readings of the Draft EIS
, I believe the final design will remove the existing ramp that begins at I Street with an at-grade intersection underneath the freeway that would have two left-turn lanes to a new ramp. With the removal of the existing ramp to I-395, the intersection at South Capitol and I would also be reconfigured.
* The northern section of South Capitol Street will match the reconfigured portion between N Street and Potomac Avenue, as a six-lane boulevard with a median and wide sidewalks.
* They expect to get a Record of Decision on the Final EIS from the Feds this fall. There's nothing in this document about a start date.
(Hopefully I'll find out more about the final EIS at
Tuesday's ANC 6B meeting
, so look for additional details on all of this in the coming days.)
As for the
11th Street Bridges
, the file says that a demolition contract will be awarded this month for the decommissioned ramps to and from RFK, with the work expected to take place this spring. As for the big work to reconstruct the bridges, the city expects to choose a design/build team and have a contract with them by June 1, with the entire project slated to be completed by the end of 2013.
The PDF also has quick updates on the Anacostia Streetcar Project, the MLK Great Streets Initiative, the Anacostia Riverwalk Trail, the Parkside Pedestrian Bridge in Ward 7, and a new traffic circle at Pennsylvania and Potomac avenues. It's also got some good general bullet points on the South Capitol and 11th Street projects if you haven't been following up to now. I just hope you have a high-speed connection to download the entire 28-MB file. Otherwise, go get some lunch.
UPDATE:
I've taken a little time to give both my
South Capitol Street
and
Douglass Bridge
pages a makeover with the new information (and boy, they needed it)--there's now some graphics pinched from the Draft EIS that do a better job explaining what the future plans are. I'd also suggest reading the
executive summary of the 2008 Draft EIS
, with the knowledge that most of the Design Alternative #2 options apparently have been chosen for the final design. It's a fair amount of detail, but worth it if you want to know how the project has reached its current state, and what's coming in the future. As I said, more to come as the city briefs neighborhoods and groups on the final EIS.
ANC 6D Meeting Monday Night
Jan 9, 2009 9:38 AM
The agenda is out (though not net yet
online
) for Monday's ANC 6D meeting, and if you've liked the past few meetings, you'll love this one, because it's pretty much a rehash of
recent agendas
: the
Capper
PUD modifications (
described here
), the
Capitol Quarter
trash enclosures
(perhaps the fourth time's the charm), and
Akridge's Half Street project
, which is going to the Zoning Commission
at the end of this month
. (For Southwest folks, the Hogate's liquor license discussion is back, too.) And, although it's not on the agenda now, I'm guessing there might be some inauguration-related discussions. The ANC meets at St. Augustine's church, Sixth and M streets, SW, at 7 pm.
Final Ballpark Price Tag, Guest Parking Passes, Etc.
Jan 8, 2009 11:36 AM
Time to "officially" post some recent items that I've
Twittered
(so, if you can't bear to wait for these sorts of blurbs that these days I tend to wait to post in groups, be sure to subscribe to my Twitter feed):
*
The WashTimes's Tim Lemke says
that the final pricetag for
Nationals Park
is coming into focus, and that it will be somewhere near $693 million.
*
Tommy Wells says
that the Ward 6 guest parking passes that "expired" on Dec. 31 will be honored through the end of January, and that DDOT will be mailing the 2009 passes by the end of the month. (This matches
what I heard at the November meeting
on the performance parking program.)
* Just outside of my jurisdiction, but to fill space it's worth noting that the
Coast Guard has renewed its lease
for another 10 years at the foot of Second Street, SW, in Buzzard Point. (This is where I can explain that "Near Southeast" really is different from the "Capitol Riverfront", since the BID covers Buzzard Point, but since it's not in Southeast I try desperately not to!)
Inauguration Street Closures, The Illustrated Version
Jan 7, 2009 7:44 PM
Funny, it only took me a few hours to figure out that if I wanted a map of the street closures and parking restrictions
so damn bad
, I could
just make one
: (click to enlarge, and be sure to scroll down for the explanations of the colors)
Inauguration Day Street Closures/Public Entry Points; Much of Near Southeast to Be Closed to Traffic
Jan 7, 2009 4:49 PM
This afternoon the
Secret Service
and local jurisdictions released
the Inauguration Joint Transportation Plan
(the list of street closings and restrictions), and
a map that shows
the main closures and restrictions around the Mall, as well as where visitors will be able to enter the Mall and the parade route. I'll let the major media outlets dissect what it means city-wide, but for Near Southeast, here's the early scoop:
* The Southeast-Southwest Freeway, the 11th Street Bridges, and the South Capitol Street (Frederick Douglass) Bridge will be restricted to buses and authorized vehicles only.
* Although no streets in Near Southeast are specifically listed in the Secret Service's batch of street closings, that doesn't mean that they aren't going to be a whole bunch of closures. I
mentioned a few days back
that much of Near Southeast will be bus-only parking, and apparently the specific streets have now been decided on. And, according to
the city's web site on Inauguration Day Street Restrictions
, the Emergency No Parking Zones will be established starting at 3 pm Monday, Jan. 19, with the streets then being closed beginning at 12:01 am Tuesday Jan. 20, through 12:01 am Wednesday, Jan. 21 to vehicular traffic except for "charter buses, metro buses, taxis, postal vehicles, law enforcement vehicles and emergency vehicles,
as well as residents with government issued identification or vehicle registration showing residency inside the restricted area
" (emphasis mine).
It would be great if they posted a map, because the lists of streets are pretty hard to work with. It looks like M Street and Virginia Avenue will be closed to Ninth Street, Half and First will be closed from I Street to N Street, New Jersey will be closed from I to M, and I, K, and L, will be closed to Sixth Street. So, this would mean that north/south streets from Third eastward will be open between M and the freeway.
* There's also this on the city street closure page, which I can't quite decipher: "The following access points have been identified as pedestrian-only routes to the National Mall: [...] East Capitol Street, NE to North Carolina, SE to New Jersey Avenue, SE to I Street, SE." I guess this means these streets will be closed to traffic and will be where pedestrians are funneled to? (But then, where to? Up South Capitol?) Like I said, I need a map!
More to come, I'm sure, especially once all the media's mapmakers get on the case.
My advice? Do what I'm going to do--pretend there's a snowstorm a'comin, get a week's worth of provisions ahead of time, and just hunker down until Wednesday, with no plans to go anywhere except on foot.
New Douglass Bridge Design - Coming Soon? (Post on Upcoming Meetings)
Jan 5, 2009 8:38 PM
New Year, New Meetings:
*
ANC 6B
(mostly Capitol Hill, but also including the Eighth Street area of Near Southeast) has posted its January 13 meeting agenda, and one of the items on it is "South Capitol Street Draft Environmental Impact Statement."
This draft EIS
, which envisions substantial changes to the section of
South Capitol Street
from the Southeast Freeway across the
Douglass Bridge
to Firth Sterling Avenue, was released last year, and at December's Anacostia Waterfront Fair
it was announced
that the final EIS is expected to come this spring.
It may not sound like much to get excited about, but one of the cornerstones of the final EIS should be the unveiling of the chosen
design for the new Douglass Bridge
. I
wrote a long entry about the Draft EIS
when it was released, and on my Douglass Bridge page you can also
see the four preliminary designs
. (And you can also relive
2007's Extreme Makeover
!) Feel free to sound off in the comments on which bridge design you want--but, please, no wagering.
Also on ANC 6B's agenda is "ZC # 03-12I/03-13I, Modification to the Arthur Capper Carrollsburg PUD," which I imagine is the series of deadline extensions and other zoning items that I've previously written about.
(
UPDATE:
This has apparently been removed from the 6B agenda, at the Housing Authority's request.)
This meeting is at the Old Naval Hospital, 921 Pennsylvania Ave., SE, at 7 pm.
* ANC 6D's monthly meeting will be on the previous night, Jan. 12, at St. Augustine's Church at 6th and M Streets, SW. No agenda yet posted. (6B usually wins this race by a country mile.)
* This Thursday (Jan. 8), Metro's Customer Service, Safety and Operations Committee will be voting on whether to
authorize a mid-February hearing on the discontinuation of the N22 bus
, which runs between the Union Station, Eastern Market, and the Navy Yard subway stations and which is expected to be replaced by DC Circulator route. I'm not sure why this is on the agenda again--my understanding was that they
approved it in December
, as did the full board. Read my previous posts with more detail on this change
here
and
here
.
DC Presidential Inaugural Gala To Be at USDOT on Jan. 19
Jan 5, 2009 3:44 PM
There's now a second inaugural shindig scheduled for the neighborhood, with the
Post reporting on
a "
DC Presidential Inaugural Gala
" to be held at the
US DOT HQ
at New Jersey and M on
January 19 from 8 pm to midnight
. It's being run by the "District of Columbia Presidential Inaugural Committee" (
I don't yet know whether it's an official city entity or not; sure sounds like it, but I haven't yet confirmed
). This is not Mayor Fenty's official ball (at the DC Armory) or the council's official ball (at the Wilson Building). Still trying to find out more.
Tickets are a mere $244.51 per person, says the Post. More when I get it. This is the night after the
Capitol Riverfront Gala
being thrown at
70 I Street
. No actual inauguration-night balls for Near Southeast yet, though.
Here's a comprehensive list
of all the galas, balls, and other festivities planned throughout the four-day extravaganza.
No Movement on the Post Plant; Teague Murder Still Unsolved
Jan 2, 2009 9:08 AM
A few items to catch up with from my lazy past few weeks:
*
The Examiner looks (again)
at the city still paying $500,000 a month in rent for
225 Virginia Avenue
(aka the old Post Plant) even though there are no plans to use it, which apparently
continues to drive
Phil Mendelson nuts. The city
requested expressions of interest
from developers to take over the lease in the fall, but has yet to announce any deal. The Examiner piece frames the continued payments for an empty building against the District's budget shortfalls: "The last thing Fenty should do, Mendelson said, is 'dump the building below cost' just to escape the lease. 'It makes sense to me to use it,' he said." If you want the entire sordid past of the city's relationship with this building, browse through my
225 Virginia news items
.
* Also from the Examiner, a story last week on how the
murder of Diamond Teague remains unsolved
: "Diamond Teague was 19 years old and going from the rough streets of D.C. on to college when he was gunned down on his Southeast Washington front stoop, and police are still looking for his killer. Teague had earned a scholarship to the University of the District of Columbia by helping with projects for the Earth Conservation Corps, a nonprofit organization for disadvantaged youth. Teague was the drummer at Galilee Baptist Church and an avid basketball player, and friends and family said he had managed to avoid the street life and violence that had marred his neighborhood." The
park named in his honor
is expected to open this spring.
31 Posts:
Go to Page:
1
|
2