Near Southeast DC: Past News Items
Go to Full Blog Archive
---
Eastbound SE Freeway to Pennsylvania Ave. Closing Jan. 31
Jan 19, 2013 4:03 PM
The next step in converting the sunken portion of the Southeast Freeway between 8th Street SE and Pennsylvania Avenue to the eventual
at-grade "Southeast Boulevard"
is coming, as
DDOT has announced
that on Jan. 31, "all eastbound lanes along this stretch will be closed to traffic for approximately 18-20 months while crews fill the roadway to restore it to the local street elevation."
This will be preceded by for a week or so beginning around noontime on Tuesday, Jan. 22, with the route being reduced to only one lane.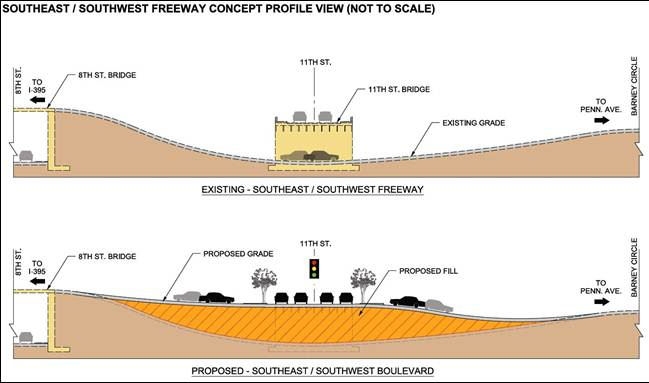 Not only are these closures to allow for the
filling-in of much of the old roadway
, but also to start construction of bridge piers for "a new bridge over the SE Freeway," which I believe will be the new three-lane flyover ramp from the freeway to the outbound 11th Street Bridge, replacing the current one (seen at top left in the photo).
If you're worked up about this closure because you're using the route to Pennsylvania Avenue to then use the left-turn-to-DC295, you should already be using the
new exit ramp from the outbound 11th Street Bridge directly to northbound 295 anyway
!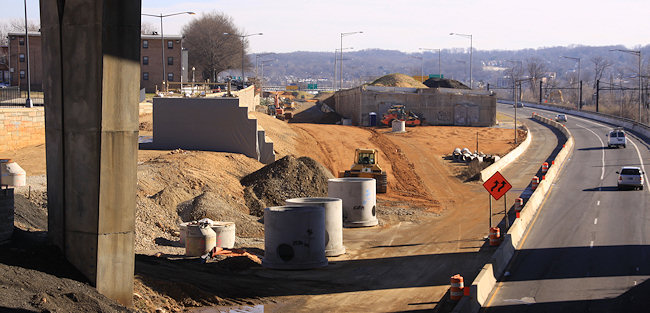 The work of bringing in lots and lots (and lots and lots) of dirt to build up the sunken route has already begun on the old westbound side of the road, as seen in
this photo I took earlier this month
, when I also updated the
before and afters for the 11th Street & not-yet-Southeast-Blvd intersection
.
If you haven't been following this project, which is part of the
$90 million second phase
of the
11th Street Bridges project
, the filling-in is so there will be an at-grade signalized intersection at 11th Street, SE. Drivers will arrive at the new intersection from the SE Freeway (or Pennsylvania Avenue) and have the option of getting onto 11th Street, or continuing straight. There will also be a new stretch of 12th Street north of M to Southeast Blvd., so that drivers exiting the 11th Street freeway bridges can continue north across M to the new boulevard, instead of turning left onto M and then right onto 11th.
There is also supposed to be a new pedestrian/cycling trail alongside this new Southeast Blvd., creating another connection between Virginia Avenue Park and Barney Circle than using the currently-ripped-up-by-DC-Water M Street route.
This
construction drawing
shows all the new intersections, ramps, flyovers, and whatnot for both phases of the project on the west side of the river, if you need some help visualizing.
There are also supposed to be public meetings coming this year as part of
studies now underway
on how to remake the Barney Circle-not-yet-Southeast-Blvd interchange.
Happy Anniversary to Me: A Decade of Photos and Blogging
Jan 18, 2013 10:04 AM
(Warning: Navel gazing ahead!)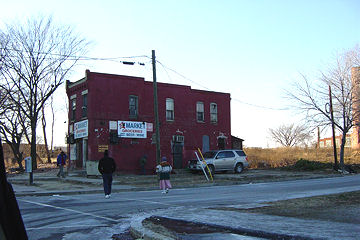 Even in my semi-retired state, I'd like to believe it is still worth noting that Saturday marks the 10-year anniversary of
my first real photographic excursion* south of the Southeast Freeway
, when on lark on a cold Sunday afternoon I had my husband drive me around while I took some furtive shots with an early generation digital camera.
There was no rhyme or reason to the pictures I took, and there certainly was no grand plan that I'd spend the next decade amassing more than 60,000 additional photos** of the changes and events along the path of Near Southeast's redevelopment.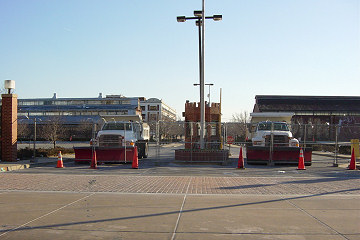 All I knew was that were some plans to redevelop the neighborhood, especially the areas along the water as well as the
public housing project
a few blocks south of my house. I thought it would be cool to have some "before" photos, especially having watched other areas of the city change so radically from what I had first remembered as a high schooler and then college kid in the 1980s, venturing to the original 9:30 Club or the Tiber Creek Pub. I put a few of them up on my web site (already called JDLand, I'll have you know), mainly so that
my dad
could see them.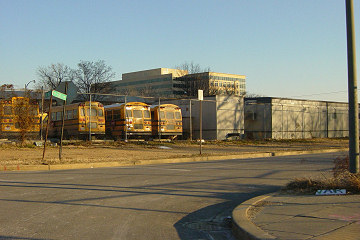 When I took these pictures, the notion of a
baseball stadium
anywhere in DC, let alone on South Capitol Street, was still thought of as a "maybe someday" dream, not anything that was actually only five years from opening. There was no hulking
US Department of Transportation
on M Street, and no public access to the entire 55-acre
Southeast Federal Center
with its long stretch of Anacostia waterfront. There were no parks, though there were
school buses
! And there were certainly no
brightly colored townhouses
selling for hundreds of thousands of dollars.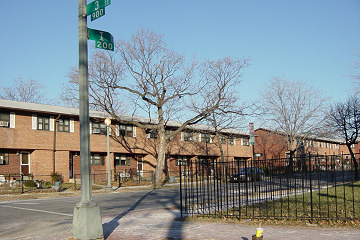 There were a couple of new office buildings built a few years earlier when NAVSEA moved to the
Navy Yard
, and one additional one was under construction. There was a banner announcing a coming
shiny new apartment building
at New Jersey and K, which my husband and I laughed at every time we saw it--who would ever want to live THERE?.
There were a lot of small businesses, a number of carry-outs and market/liquor stores, four gas stations, concrete plants, auto repair garages, warehouses, Metrobuses, and of course nightclubs, gay and straight. And a lot of trash-strewn empty lots.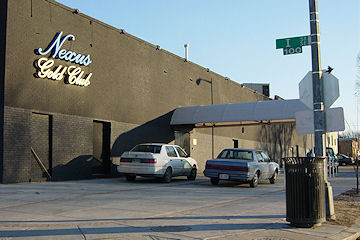 I look now at the photos from those early years, and it just doesn't seem like it can really have been 10 years. I remember when the boarded up gas station at
3rd and M
was demolished in October 2003, thinking "FINALLY!"
I remember working up the courage to go to public meetings, and feeling like a dingbat trying to explain who I was ("yeah, so, I have this web site, and I, like, take pictures and stuff?").
I remember walking around the neighborhood for hours on Sunday mornings in 2006 and 2007, rarely crossing paths with another human.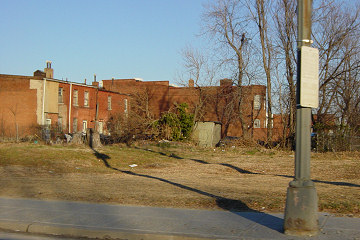 I remember the exhaustion of the all-details-blogging about the construction and opening of
Nationals Park
, especially at the end of 2007 and beginning of 2008. I laugh about how my fraidy-cat tendencies were shoved aside while I traipsed around the site in a hard hat (me! in a hard hat!), sometimes climbing rickety ladders, to get to spots where the best pictures would be had.
I think about how it seemed like the documenting of the stadium's birth was the main subject of this site, and yet I realize that I've now written about the neighborhood for almost as long with the stadium open as not.
I imagine I should have some grand What It All Means theory, for the neighborhood, or for "citizen journalism" or "hyperlocal blogging," or my life, or whatever. But, mainly I'm lucky that the stars aligned to have this particular neighborhood undergo such a transformation, in a way that tied in with my history-journalism-photography-web development backgrounds (and my obsessive-compulsiveness).
I do think it's been shown, though, that a project like this isn't as easy to replicate as it might seem (so maybe I did deserve
that award
!).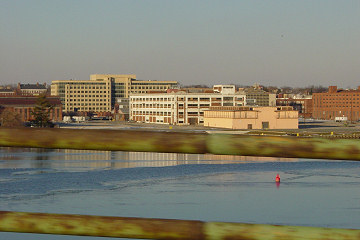 I'm also lucky that so many people have helped me along the way, with information, tips, tutorials on commercial real estate development and construction, and zoning, and urban planning, and all the other things I really knew nothing about before I started down this path.
And I'm really lucky that over the years people who have stumbled onto the site have found it interesting, which is what has pushed me to keep going, even if it's in a somewhat less-than-optimal fashion right now. Because, really, all I wanted was some cool pictures to be able to look back on.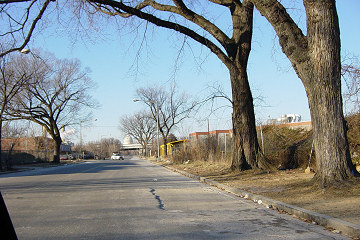 Without getting into detail, my
pulling back somewhat
has definitely been the right thing to do, and the times when I go days or even weeks without posting aren't really just me being lazy. But the funny thing is, I still research and track all the minutiae the same way--it's just that final step of writing it out that I can't always get through.
I think, though, that 2013 is going to have a lot of the "milestones" that still propel me to post--
restaurants will open
, other retail may come along, and maybe some buildings will get started. And there still will be pictures to be taken. Because, even if I wanted to, I don't think I could ever really stop watching the neighborhood change, and if I'm going to watch it, and photograph it, I might as well keep blabbing on about it, and might as well share it with anyone still interested.
So
go look at the pictures from January 19, 2003
(and
all the others that I've put online
), since that's what this was really all about. And accept my deep appreciation for being along for the ride.
*I say "real excursion", and date the blog's anniversary to Jan. 19, 2003, because that was the first time I took photos and then put them on the web, and really began this life-consuming project. But I need to note that I did also take some photos of the neighborhood back in the fall of 2000, during the reconstruction of M Street and the Navy Yard's renovation for NAVSEA, with my old film camera--but I forgot about them and didn't even develop the film until sometime in 2004 (hence the rotten quality!).

**Only about one third of the photos I've taken are actually on the web site, by the way.

Van Ness Elementary Apparently Still on Track For 2015 Reopening

Jan 17, 2013 8:02 PM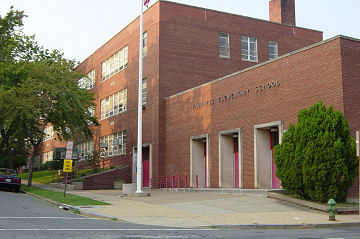 As part of a
release outlining the impacts on Ward 6
of today's
School Consolidation Plan
announced by DC Public Schools Chancellor Kaya Henderson, Tommy Wells said this:
"The Chancellor again committed to reopening Van Ness Elementary in near Southeast for the 2015-16 school year and expects to share further details of the academic curriculum and planning later this year."
No details beyond that morsel, but it should be welcome news for the parents of the neighborhood, who long for an elementary school close by. Van Ness, at 5th and M SE,
has been closed since 2006
, as the number of neighborhood school-aged children dwindled with the closing of the
Capper/Carrollsburg
public housing project to make way for the mixed-income
Capitol Quarter
townhouse development.
Vats of Beer! Or At Least the Vats to Make Vats of Beer
Jan 15, 2013 12:32 PM