Near Southeast DC: Past News Items
Go to Full Blog Archive
---
Final 2012 Tax Assessments: Back Over $6 Billion in Value
Jan 16, 2012 10:06 AM
In March 2011, I posted on the
proposed 2012 tax assessments
for the 900-plus tax parcels that I track as Near Southeast properties, which valued the neighborhood at just a teensy bit under $6 billion ($5.994B). But there's a reason those are just "proposed": property owners need a chance to prostrate themselves before the city to try to get their assessments revised. In addition, new properties come onto the rolls during the year as projects get completed.
So, I can now report that the 2012 tax assessment total for Near Southeast is: $6.06 billion. Since the final assessments for 2011 came in at about $5.81 billion, 2012's number is a $248 million increase for actual assessments year-over-year.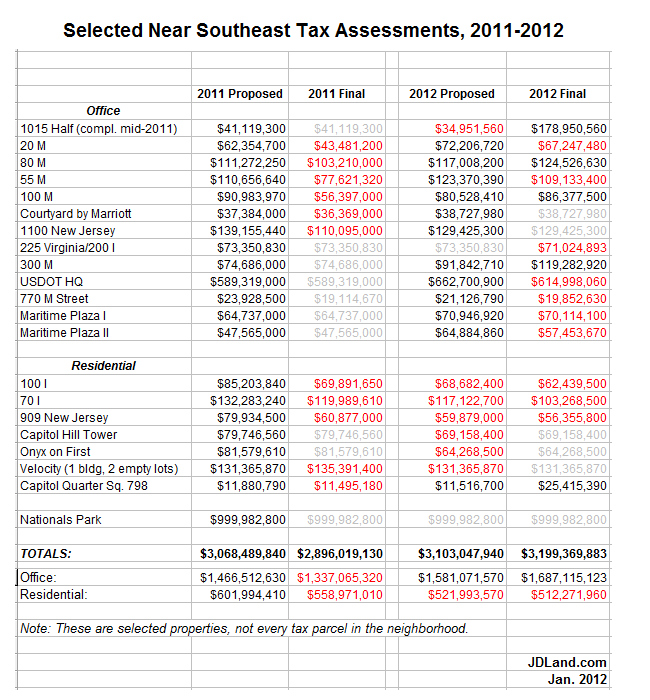 There were 15 properties that received reductions for their 2012 bills, totaling about $148 million. The big property owners managed a few hefty cuts, with JBG's
US Department of Transportation
building leading the way with a $47.7 million reduction to just under $615 million, followed by CSX's empty lots near the freeway north of I Street getting a $46.3 million haircut down to $66.2 million. Many of the other shiny new-ish buildings of the neighborhood also got their tallies reduced, such as apartment buildings
70/100 I
and
909 New Jersey
and office buildings 20 M,
55 M
,
225 Virginia
, and Maritime Plaza I and II.
But these reductions were offset by $216 million in upward revisions. Most of this is thanks to
1015 Half Street
finally being completed, taking that parcel's assessment from last year's $41.1 million to just a hair under $144 million. Three other buildings (80 M, 100 M, and 300 M) received higher final assessments as well. Plus, 32 townhouses in Capitol Quarter came onto the rolls as completed buildings, bringing just under $14 million in new tax revenue. (Yes, yes,
PILOT/payment in lieu of taxes
--don't stop me when I'm on a roll.)
And, because people always want to know, the ballpark's assessment for 2012 remains the smidgiest smidge under $1 billion, unchanged from 2011, at $999,982,800.
Alas, I can't give good year-to-year comparison numbers on final assessments in previous years because I didn't really grasp this whole revision thing until last year (oops), but I can say that proposed assessments were just a mite over $6 billion in both 2010 and 2011, after having been at $4.47 billion in 2009. My March post has the
year-by-year proposed assessed values
for the neighborhood, if you want those numbers.
If you feel like digging deeper (since you don't pay me enough to just post all my numbers for you to use), here's the
the current assessments database
, which you can search yourself. Tune in this March to see what the city proposes for 2013 values, and then in January for what the values really end up being....
Tell Me, Who Are You? You? You? -- A Quick Reader Poll
Oct 19, 2011 10:46 AM
Oh, I really wanna know.

After nearly nine years of blindly stumbling along, curiosity has finally gotten the better of me, and I've crafted what is hopefully a
quick and easy reader poll
. Pretty please, with sugar on top, take a moment to answer some quick questions to help me better understand who's out there reading this stuff I'm still churning out. I want to know why you read, what you read, and how you read it. Your answers will help me as I continue to try to make all of this work be somewhat interesting and useful, given how much the world of a "just a neighborhood blogger" has changed since 2003.
Don't delay! Reply now!
(And, oops, if you tried it in the first few minutes and didn't get a "Thanks" page, you ran into a boo-boo I've since fixed, so please try again? Sorry. Sorry.)
(Dang it, I had another half-hour blip between 12:45 and 1:15 where submittals weren't working. I've got to hire a better staff.)
Final Capitol Quarter Workforce Housing Lottery Completed
Oct 18, 2011 1:32 PM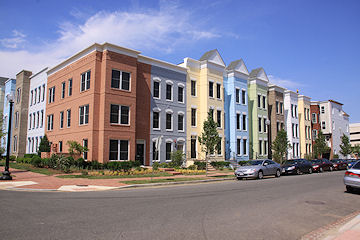 The folks at EYA have passed along that the fourth and final lottery for workforce-housing units at
Capitol Quarter
was completed on October 1, with 66 people entering for the 12 houses that were made available. (EYA also drew 24 names for a backup list in case any of the chosen 12 withdraw.)
I don't have any of the documents for this round of the lottery (didn't get any notification of it in advance this time around), but here's the
information provided for the last lottery
, back in March. At that time, household income needed to be under $119,025 in order to qualify, and there were scads of qualifications and requirements that potential lottery entrants needed to be certified as having passed in order to participate.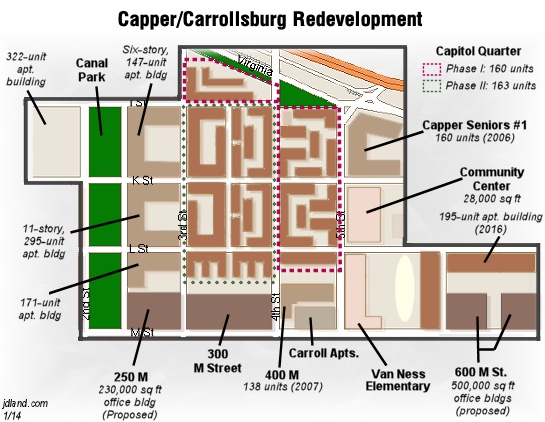 As for the rest of Capitol Quarter, it is nearing the finish line, with seven or eight market-rate homes left to sell on the second-to-last block (bounded by 3rd, 4th, K, and L), along with the 12 market-rate homes that will be available on the final block on the south side of L between 3rd and 4th (right behind the 300 M Street office building).
This portion of the
Capper/Carrollsburg redevelopment
should be completed by next summer, with the two phases of the Capitol Quarter townhouse development bringing approximately 120 market-rate houses, 82 workforce-rate units, 25 Section 8 ownership units, and 86 subsidized rental units. This is in addition to the 162 subsidized senior housing units at
900 5th Street
and 138 subsidized units at
400 M Street
. This leaves
five mixed-income apartment buildings
and the
250 M
and
600 M
office buildings still to be built to complete the
Hope VI plans
that will replace the 707 units of public housing one-to-one, along with constructing an additional 1,000-plus market-rate and workforce-rate units. No timelines have been announced for the next phases.
Tidbits: Truckerboo, Teague/Yards Bridge, Espresso Bar, Red Sox
Oct 17, 2011 6:06 PM
I'm back from a week by the beach in Central Florida--yes, of course we went to Disney, and the Kennedy Space Center, along with logging more than 100 miles of biking along A1A. Here are some small items while I regain my blogging legs:
* The October instance of the Truckeroo food truck festival, appropriately dubbed "
Truckerboo
," is scheduled for Friday, Oct. 28, from 11 am to midnight at Half and M Streets, SE. In addition to the usual lineup of trucks and the drinks flowing at the Das Bullpen bar, there will be "truck trick-or-treating" for kids from 3 to 5 pm, along with costume contests (kids, individuals, and groups). They're requesting a "one buckaroo" donation this time around, with all proceeds benefitting the King Greenleaf Recreation Center in Southwest.
More info here
.
* The bridge between
Diamond Teague Park
and the
Yards Park
is close to finished, as you can see in this
not-totally-fabulous cellphone pic
. When it opens, visitors will be able to walk along the west bank of the Anacostia from 1st Street SE (at
Nationals Park
) all the way to 11th Street SE (as long as the Navy Yard's stretch of boardwalk is open).
* Awnings for
Lot 38 Espresso
have now gone up at the
old Little Red Building site
across from Canal Park (
reader photo here
), along with a "Coming Soon" sign. The owner, Yung Park, told me this afternoon that he's shooting for a Dec. 1 opening date.
* The Nationals have announced that they will be playing a
home exhibition game against the Boston Red Sox
on Tuesday, April 3, 2012. The team's regular season gets underway on April 5 at Wrigley Field, with the home opener scheduled for April 12, against the Cincinnati Reds. No game times have been announced yet.
New Photos of 11th Street Bridges Construction Progress
Oct 12, 2011 9:57 AM
On Friday morning I was lucky enough to get a wonderfully wide-ranging tour of the 11th Street Bridges project, and of course made sure to have camera in hand to get a pile of photos of the current state of construction. I've put together
a gallery of these photos
, and will slowly work on adding them to my
11th Street Bridges project page
over the next week or so. Some points of note:
* DDOT expects that the new bridges carrying inbound and outbound freeway traffic will open by the end of this year. There will still be plenty of work to do in terms of ramps and connections and other necessary work surrounding those bridges, but at least these new structures will be open fairly soon. (If you haven't been following closely, one of the big "adds" of this entire project is that when completed vehicles will be able to move between the freeway bridges and northbound/southbound DC295 in all directions, which isn't currently the case.)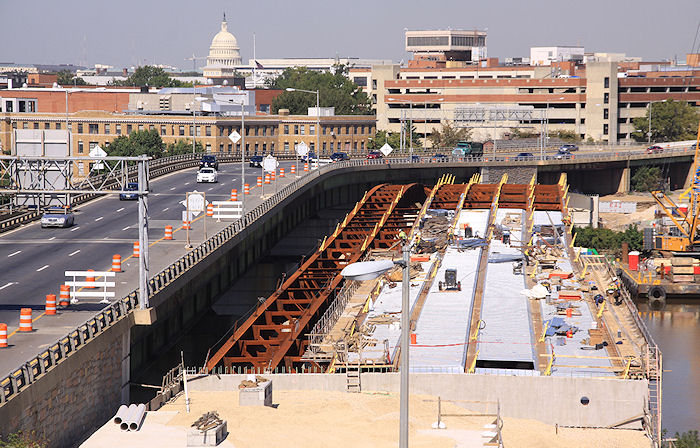 * The new 11th Street Local bridge, carrying traffic between Anacostia and 11th Street SE by the Navy Yard, is expected to open by fall of next year. However, according to
Greater Greater Washington
and
other
outlets
, this bridge apparently will not be having streetcar tracks built into it during this initial construction phase as originally designed, because of all manner of
bureaucratic falderal
I'm too lazy to bother trying to explain here. If this happens, portions of the deck of the bridge would have to be pulled up and redone with the streetcar tracks a few years from now. (On the other hand, the concrete hasn't been poured on this bridge yet, so maybe there's still a chance some folks could figure out a way to get it to happen now?)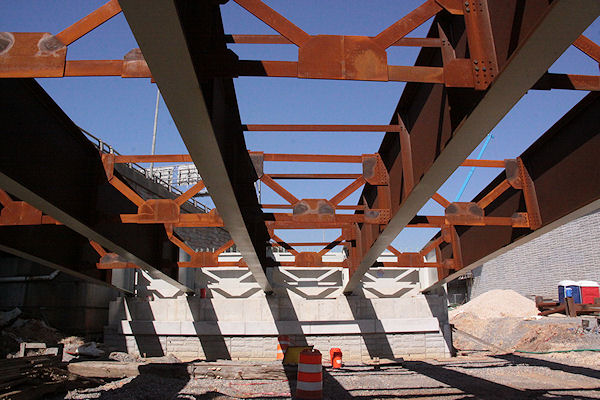 * These graphics show the plans for the
paths and landscaping under the bridges
along the Anacostia Riverwalk Trail (just east of the entrance to the Navy Yard's portion of the riverwalk). They appear to include an interesting little jut-out into the river, on what I imagine is the footprint of the existing downstream bridge.
* If you drive 11th Street north of M and see the big concrete piers popping up to the east, they are for the new flyover ramp that will connect inbound freeway bridge traffic to the Southeast Freeway. Work is also underway on a new ramp that will bring traffic from RFK and Pennsylvania Avenue up to a signalized interchange at 11th Street rather than continuing underneath 11th to the Southeast Freeway. There will then be a ramp from 11th to the westbound freeway, which means that folks who live on the eastern side of Capitol Hill or who work at the Navy Yard will be able to get on the freeway at 11th rather than zooming down Virginia Avenue all the way to 3rd Street.
It's a pretty big project, and I'm giving short shrift to much of the change that will be coming to the connections to the bridges on the east side of the Anacostia, but the
new photo gallery
should still be interesting, and my
11th Street Bridges Project page
can probably help with additional details if you're in need.
The photo gallery
also has this stitched-together panorama taken up on the new flyover bridge, but you'll probably want to
look at a larger version
, since it gives a pretty good look at a large swath of skyline alongside the Anacostia River:
If you missed my batch of photos from last week of the new Southbound 295 flyover bridge that opened over the weekend,
here they are
.
Tree Planting on Saturday, Metro Name, Nats Park Uses
Oct 12, 2011 8:38 AM
* On Saturday, Oct. 15, a group of neighbors together with Casey Trees is having a
tree-planting event in the "triangle park"
bounded by Virginia Avenue and 4th, 5th, and I streets, SE. No prior experience is required, and coffee and treats will be provided along with a post-planting lunch for volunteers. More information and how to volunteer
here
.
* WMATA staff
has recommended that
"Ballpark" be added to the Navy Yard Metro station name as one of its new "secondary" (subtitle) names, rather than the
requested "Navy Yard-Ballpark."
However, since there is not yet any organization that has committed to paying for the name change (which a DDOT rep said at a recent ANC meeting would be in the $100,000 range for a two-exit station), WMATA's board will not be voting on this name change at its
meetings on Thursday
. They will vote on whether to change the Waterfront-SEU station to just "Waterfront," having veteoed the city's request for "Waterfront-Arena Stage" as being over the 19-character length limit and also having a "commercial naming rights issue." (via
GGW
)
* The ANC 6D October agenda has been sent out (but isn't yet
on the web site
). In addition to the very important business of giving thumbs up or down to five different races/walks that want to use neighborhood streets, the commission will be getting updates on the
225 Virginia/200 I project
and the big DC Water
Clean Rivers Project
that will be
ripping up M Street SE
for a number of years. (Won't that be fun if M Street is a construction zone at the same time as
Virginia Avenue
?)
First Batch of 11th Street Bridges Photos (New Flyover Bridge)
Oct 7, 2011 2:46 PM
Late tonight,
DDOT will be opening the new southbound DC 295 flyover bridge
, which is the first major phase of completed work on the
11th Street Bridges project
. This will shift the flow of southbound traffic so that vehicles merging into 295 from the outbound 11th Street Bridge will be funneled into the left side of the freeway traffic, allowing thru 295 traffic to much more easily access the Howard Road exit without having to weave through the 11th Street Bridge merge flow.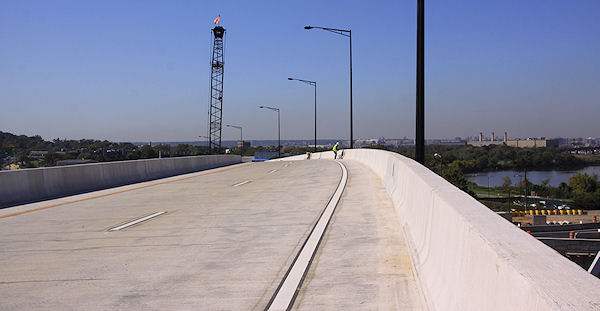 Since this is on the east side of the Anacostia, it's not something I'd normally be writing much about, except that I got to visit the flyover bridge with camera in hand, hours before its opening, as part of a wide-ranging tour of the entire 11th Street Bridges project that DDOT was generous enough to arrange for me. In order to stay ahead of the news cycle, I've posted a
quick gallery of images of the new flyover bridge
,
But of course these are not the only photos I took, and so early next week look for another batch of images that I'll be posting of the work on the bridges themselves and the new approaches that are being put in place. Work began on the
project
in late 2009, and DDOT expects that the new inbound and outbound freeway bridges will be open by the end of this year. The new 11th Street Local bridge should open in the second half of next year, with the various new connector ramps being completed soon after. (There is
one shot of the new bridges
included in this batch that should whet your appetite.)
Raze Permit for Concrete Plant on Florida Rock Site Approved
Oct 6, 2011 10:11 AM
The
DC approved building permits feed
, now back online (thank you!), brings the news today that the raze permit filed in February for the concrete plant on the
Florida Rock site
across from
Nationals Park
has now been approved. With the
move of the operations
around the corner down South Capitol Street to Buzzard Point finished, demolition should be able to get underway fairly soon. (Though whether it actually WILL....)
As
we found out a few months ago
, site owner Florida Rock Properties has entered into a joint venture with MidAtlantic Realty Partners to move forward on the first phase of the 1.1-million-square-foot "
RiverFront on the Anacostia
" redevelopment of the site, which they are hoping will be a 200-unit apartment building on the eastern edge of the site (across from the Nationals Park grand staircase at First and Potomac, next to
Diamond Teague Park
) instead of the
office building originally planned
. The Zoning Commission will need to approve this change, and that process should be beginning soon. Apparently there will be a presentation on the new plans at the Oct. 17 ANC 6D meeting (though the agenda isn't out yet). Their hope is to begin construction in the spring of 2013.
DDOT Requests 'Navy Yard-Ballpark' Metro Station Name
Oct 6, 2011 9:50 AM
Greater Greater Washington reports
that DDOT has formally asked WMATA for four Metro station name changes, with "Navy Yard-Ballpark" being on the list. This seems to put to an end the attempt by the Nationals to
add their Curly W
to the station name, an idea which was
supported by ANC 6D
last month. (The
BID's desire to have the station renamed
"Capitol Riverfront-[Curly W]" also now would appear to have gone by the wayside.)
Also on the list is changing Waterfront-SEU to Waterfront-Arena Stage.
Land Acquisition, Design Work to Start for South Capitol Street
Sep 28, 2011 2:51 PM
Just sent out by DDOT: "Today the District Department of Transportation (DDOT) announced the start of land acquisition and preliminary design work for the South Capitol Street Project, which includes replacement of the current Frederick Douglass Memorial Bridge. [...] While the Record of Decision (ROD) is still pending, the Federal Highway Administration signed the project's Final Environmental Impact Statement (FEIS) following the requisite 30-day public comment period that ended in May."
I'm posting quickly, so I shall now crib unabashedly from my
post on the Final EIS
, from back in April:
If you are interested in this subject, there is
more verbiage and documentation
accompanying the plans than you could ever dream of. (Traffic studies! Environmental consequences! Technical reports!) And I've
written a lot about the process
, which began more than a decade ago with other studies before the EIS got underway. And I'm sure there will be posts on other blogs delving more specifically into portions of the plans. But, since most people probably want to know "what does this mean for me?", you can see
this graphic
(from the 224-MB
chapter 2
of the FEIS) giving a quick overview of what changes are planned along South Capitol Street if the final EIS is signed off on (and, more importantly, if funding is secured). The short version, for the west side of the Anacostia:
* Add "pedestrian amenities" and enhance the streetcape along South Capitol north of I and along New Jersey Avenue SE north of the freeway.
* Replace the existing ramp to the freeway from South Capitol and I with an at-grade intersection. (This would be a left turn onto a ramp to the freeway from under the freeway, near the current Nats HH economy parking lot.)
* Bring
New Jersey Avenue SE
back to a 160-foot full right-of-way, and add streetscape enhancements.
* "Reconstruct South Capitol Street as an urban boulevard." This means bringing M Street up to an "at-grade" intersection (no more tunnel), and would include new signalized at-grade intersections to allow traffic to cross South Capitol on K and L streets. (M Street would also get reconstructed between the Halfs [SE and SW].) The section of South Capitol north of M would have the same streetscape that the south portion received during its 2007/08 makeover, with wide sidewalks and a tree-lined median.
* Build a traffic oval at South Capitol, Potomac, Q, as the gateway to a new arched bascule-design
Douglass Bridge
that would have wide "multi-use trails" (i.e., sidewalks!) in both directions. The existing bridge would be demolished, after the new bridge is built somewhat downriver of the current location.
The
Executive Summary
(220 MB PDF) gives a good overview of the
FEIS
and preferred alternative (as it should!), but I also suggest wandering through the
Chapter 2: Alternatives
section, especially if you came to the neighborhood or JDLand after 2008 and didn't get to follow along during the EIS process, or if you're interested in the additional plans for east of the river, which I'm going to leave to others to discuss. My
previous posts on all of this
may be of interest as well. If you're wanting to see some of the earlier studies referenced in the FEIS, there are links to them at the top of my
South Capitol Street project page
.
How much would this all cost? The preferred alternative is priced in this final EIS at $806 million in FY 2014 dollars. (New bridges are expensive, you know.) Note that nothing in today's statement from DDOT says anything about funding, or a construction timeline.
Getting Around Tidbits: Circulator Route Change, Bike Racks
Sep 27, 2011 1:53 PM
* On October 3, the
following changes will be made
to the Navy Yard-Union Station Circulator route: "[B]uses will no longer travel west on Constitution Avenue and north on Louisiana Avenue to reach Union Station. Buses will instead stop adjacent to Union Station on Columbus Circle at the flag poles before turning right on F Street, NE and right on 2nd Street, NE to Constitution Avenue. The route will no longer serve the Union Station garage level and the stops located at Louisiana and D Streets, NE will no longer be served." Other Circulator changes--including the end of the SW-Convention Center route and the beginning of an east-of-the-river route that will run down Barracks Row--
are listed here
.
* DDOT and the Washington Area Bicyclist Association (WABA), along with ANC commissioner David Garber, have launched "
Rack Attack
," which will result in the installation of 36 new bike racks around Near Southeast. The first one
was installed this morning at Cornercopia
.
Final ANC Redistricting Recommendation Maps Approved
Sep 26, 2011 12:47 AM
At the Ward 6 Redistricting Task Force's meeting on Sept. 22,
final recommendations for ANC and SMD boundaries were approved
, and the 6D map they are recommending remains close to their original
draft proposal
, despite
6D's request for substantial changes
.
I'm not going to talk about the changes in western Southwest, but you can see on the two maps below the large differences close to and east of South Capitol Street between what the task force is recommending (left) and what the ANC wanted (right) (click to enlarge):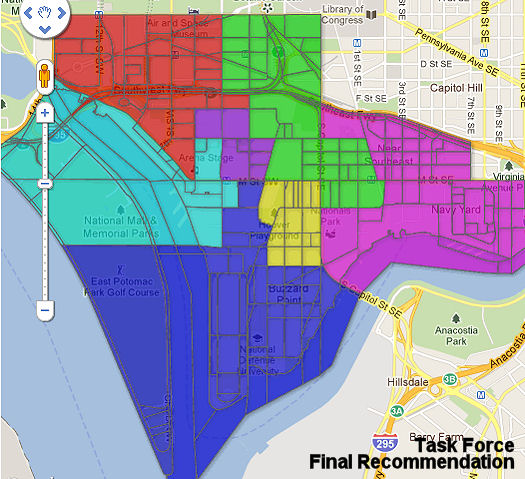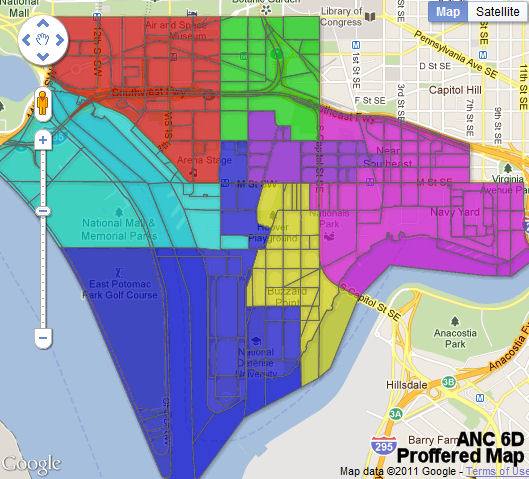 (Task Force final recommendation on left, ANC proposal on right. 6D02 is green, 6D03 purple, 6D07 fuschia)

The task force's

original recommendation

in August (very similar to the map above left) was for 6D02 to come across South Capitol Street into Southeast, covering the area bounded by I, New Jersey, and N. Then 6D07 would cover the rest of Near Southeast (except for the small cut-out on the northeastern side, which has been and will continue to be in ANC 6B). This would mean that 6D07/Near Southeast commissioner David Garber's current address would no longer be in 6D07 but instead in 6D02, where commissioner Cara Shockley also still resides under the new boundaries.

This, with a number of other changes that the 6D commissioners

disapproved of

, moved them to

proffer their own map

(above right), which kept 6D02 all in Southwest and instead expanded chair Ron McBee's 6D03 SMD across South Capitol, in such a way that Garber's block would remain in 6D07. (It also had 6D07 coming west across South Capitol for one small block, bounded by South Capitol, M, Carrollsburg, and N.) Cara Shockley vehemently disapproved of this map at the commission's September meeting, while Garber did not vote on it (citing what he described as his constituents' desire to be instead be a part of ANC 6B).

I was not at the task force's Sept. 22 meeting, but the

ANC's arguments

do not appear to have held much sway, and the

final 6D map

being recommended by the task force (above left) is very similar to the

original draft map

, at least in terms of how it handles blocks east of South Capitol.

The task force will be meeting again on Monday, Sept. 26 at 6:30 pm at 1100 4th St. SW (DCRA hearing room) to approve the report that will "include the narrative to explain the recommendations as well as the required text description of the ANC/SMD boundaries." That report and the maps will then be submitted to Tommy Wells on Sept. 28, who will then submit Ward 6 redistricting recommendations to the council on Sept. 30.

Bullet from Freeway Gunfire Strikes Virginia Ave. SE House

Sep 25, 2011 3:51 PM

Readers are reporting that late Saturday night three or four shots were fired on the Southeast Freeway that resulted in a bullet going through a window of one of the houses in the 300 block of Virginia Ave. SE, with the one of the bullet's shards then ending up either lodged in or very near the bassinet of a 5-day-old baby. No one in the house was injured. The gunfire seems to have been the result of people in one car on the freeway shooting at another car.

There's no police report anywhere as yet, so these are only details I'm getting from readers, but perhaps more information will become available. (I've sent a request into the

MPD 1D mailing list

.)

UPDATE:

This is Commander Hickson's reply to my question on the MPD-1D list: "There was a shooting on the Freeway that involved a passenger in one moving vehicle firing at another moving vehicle. As a result of that shooting a shot struck and entered a private premise in the 300 block of VA Ave SE, causing damage to the home and the targeted vehicle. Thankfully, no one was injured in the vehicle or the home. The only description that was provided was for a black "luxury" vehicle, occupied by three subjects."

Site Closure Ceremony for NGA at 1st and M SE Next Week

Sep 22, 2011 10:03 AM
A little birdie tells me that the
National Geospatial Intelligence Agency
folks are having a "site closure ceremony" sometime next week for their operations on the
southeast corner of 1st and M, SE
. (You know, the place with hardly any windows and the guys out front with guns.) As part of the Base Realignment and Closure (BRAC) process, their operations have moved to
swank new digs
down at Ft. Belvoir.
The closure ceremony is apparently for "cleared personnel only."
This site, officially known as Building 213 from the old Navy Yard/Southeast Federal Center days, is on the footprint of
the Yards
and as expected to be home to an office building someday, but not anytime soon.
In the meantime, maybe that parking lot will become available to the public?
Out-of-Boundary Events this Weekend: SW ArtsFest, Barracks Row Fall Festival
Sep 22, 2011 9:07 AM
If you're looking for things to do this weekend beyond the
final Nats home games of the season and Blocktoberfest
, you've got choices just across the freeway and just across South Capitol Street:
* The inaugural
SW ArtsFest
runs Friday through Sunday, featuring the
(e)merge art fair
at the Capitol Skyline Hotel and a series of other artsy events around the neighborhood. See their
Facebook page
for all the details. (The Post has
some info on (e)merge
as well.)
* The
Barracks Row Fall Festival
is on Saturday from 11 am to 5 pm, transforming 8th Street SE between E and I into "a midway full of music, food, and favorite local traditions."
This Week's Events Lineup: Bikeshare Bash, Opera, Nats Finale
Sep 20, 2011 5:20 PM
On the calendar for the rest of the week:
* Thursday, Sept. 22 brings both the
Capital Bikeshare 1st Birthday Bash
at the Yards Park and this year's
Opera in the Outfield
at
Nats Park
. Bikeshare's bash runs from 6 to 9 pm; Opera starts at 7:30 pm.
* The Nats play their final home games of the 2011 season against the Braves this weekend, and the team is promoting it as a
FAN-tastic FAN-ale
. There will be fireworks after Friday night's game (and perhaps during the game, since Strasburg is scheduled to be on the mound). Saturday and Sunday, both afternoon games, have limited $2 tickets available along with food and drink specials and giveaways.
Details here
.
* And on Saturday the 24th the Yards Park is hosting
Blocktoberfest
, with multiple stages, more than 10 acts, food, and of course beer. There were complaints from residents
about
noise levels
during a 10-hour event at the park on Sunday the 18th; one reply from the BID to a resident in the aftermath says that they "have learned a valuable lesson about events in the Park and the noise level," and that they are evaluating the types of events that are appropriate rental use for the park.
What will I be doing for the next few days? Praying that my beloved Google Nexus One phone comes back to life after an overnight seltzer soaking (thanks,
cat
). It's in a Ziploc bag full of rice drying out as we speak....
Operations Winding Down at Florida Rock Site by Ballpark
Sep 19, 2011 11:32 AM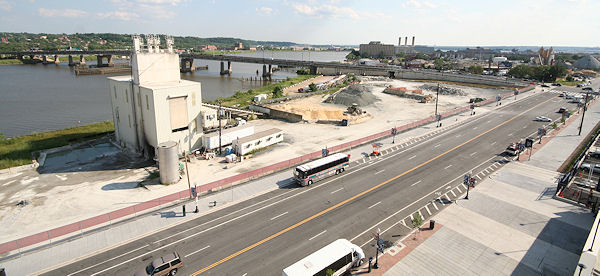 Back in March we learned that the plans were underway to
move the gravel/stone/concrete operations
that have been at 25 Potomac Ave. since the 1920s around the corner to South Capitol and S Street SE, down in Buzzard Point. All that needed to be done was build some new infrastructure at the new location, and get a raze permit approved, and then the site long known as
Florida Rock
could be demolished, which the site owners were hoping would be happen by early summer.
Of course, as is so often the case, the actual timeline didn't quite match up to expectations. Most notably, the new site had problems getting electricity, which was a mite ironic given its location
within spitting distance
of the huge power plant at Half and S SW. But I'm told that a temporary Certificate of Occupancy has finally been secured, and operations are starting to move from Potomac Avenue to Buzzard Point. And, once the
raze permit applied for back in March
is approved, demolition can begin.
Plans have been on the boards for a number of years now to transform the 5.8-acre site into the mixed-use
RiverFront on the Anacostia
, and in July it was announced that owners
Florida Rock Properties will be partnering with MidAtlantic Realty Partners
to develop the first phase of the project, an apartment building on the far eastern end of the site near
Diamond Teague Park
and across from the Grand Staircase at
Nationals Park
. This is a change from the office building originally planned for this phase, and will need to go through the Zoning Commission for approvals. It's hoped that construction could begin in spring 2013.
If you want to know more about the plans for the site, my
Florida Rock/RiverFront page
is chock full of renderings and details.
(Hat tip to eagle-eyed Man About Town David Garber, who
noticed on Saturday afternoon
that the cement tower on Potomac Avenue appeared to be losing some of its panels.)
New NGA Campus Done
Sep 16, 2011 10:59 AM
Clark Construction has delivered the new
National Geospatial-Intelligence Agency
campus at Ft. Belvoir, says
CityBiz Real Estate
.
(Not coincidentally, the federally legislated deadline for BRAC moves was yesterday.)
Curly W on the Metro: Blog Swarm!
Sep 16, 2011 10:27 AM
Keying off my post about
ANC 6D's approval
of
Navy Yard-

as a new name for the Metro station by Nationals Park,
Greater Greater Washington expressed some displeasure
("Navy Yard-W" is worst of new station name proposals"). That post was then
pondered by DCist
and
mocked by SB Nation
for, among other things, the contention that people would think "Navy Yard-W" was named for former president George W. Bush. And now there's a
GGW follow-up
saying that, by appending "Ballpark" to the Navy Yard station name, people won't use other stations that might work better for them to get to the stadium. (Though, really, when the Navy Yard station is all of a block away from Nats Park, maybe it's okay to label that as the station people should use.)
CSX Public Scoping Meeting Write-Up, Boards
Sep 16, 2011 10:20 AM
Greater Greater Washington covers the
CSX Public Scoping Meeting
, focusing on how some attendees were surprised to only find informational displays and no presentations from CSX, DDOT, or FHWA. A shame no one
made
any
mention
of that in advance.