Near Southeast DC: Past News Items
Go to Full Blog Archive
---
ANC 6B Supports Beer Garden Liquor License, Van Ness Elementary Reopening
Jan 12, 2011 1:22 PM
At Tuesday night's ANC 6B meeting, two south-of-the-freeway issues were voted on (remember, the section from 7th Street to M Street eastward is 6B04, not 6D07):
* By a 7-3 vote, 6B will now support the liquor license application by the Bavarian Beer Garden at 8th and L streets, SE, provided the Voluntary Agreement hammered out by 6B and BBG is approved by ABRA. (
Back in December
, 6B had voted to not support/protest the license until a VA was agreed to.) Under this agreement, the beer garden's overall hours of operation will remain from 11 am to 1 am Sunday through Thursday and 11 am to 3 am Friday and Saturday, but there are now slightly amended hours for entertainment. Entertainment indoors is approved from noon to midnight on Sundays, 6 pm to midnight Monday through Thursday, and noon to 2 am on Fridays, Saturdays, and holidays. Hours for "summer garden entertainment and dancing" are from noon to 11 pm Sunday, Tuesday, Wednesday, and Thursday, and 11 am to 1 am on Fridays, Saturdays, and Holidays, with none allowed outdoors on Mondays.
Kirsten Oldenberg, the 6B04 rep in whose single-member district the beer garden will be located (and who
now has a blog
!), expressed lingering concerns about allowing a tavern license in this location, while David Garrison reminded the meeting that there are residences on 7th Street whose backyards will be directly across from the outdoor garden. Norm Metzger mentioned that this establishment doesn't exactly fit in with the ideas for revitalizing the area as seen in the
Lower 8th Street Visioning Draft Report
. But despite the concerns, the liquor license application will be moving forward, with only new 6B chairman Neil Glick, Garrison, and Metzger opposing.
The commissioners still have not been shown any designs for the beer garden; however, while the lot's co-owner, Mark Brody, told the commission
last month
that he planned to build a temporary structure as quickly as possible with a permanent building coming (perhaps) in a few years, it's now been determined that since the block is in the Capitol Hill Historic District a temporary building is not allowed. So there will have to be a "real" building, and its design will be subject to historic review by all applicable organizations before it can move forward.
* New 6B02 rep Ivan Frishberg brought to the commission
a draft letter to DCPS
in support of reopening
Van Ness Elementary
, since interim chancellor Kaya Henderson
said last month
that the school system is "committed" to making a decision on the school this month. There was a lot of discussion, and a lot of questions brought up by David Garrison about the boundaries of the school, how it might impact the schools on the Hill, costs to get the school reopened, and more, but in the end the commission voted to approve the letter. (
I *think* the vote was 7-2-1, but am trying to get it confirmed.
)
UPDATE:
Oops. The vote was 9-0-1.
UPDATE:
Here's another wrap-up of the meeting from
The Hill is Home
, who could hear what was going on a lot better than I could....
Nat'l Community Church Buys Empty Lot on 7th
Jan 11, 2011 4:23 PM
This has been
hinted at
throughout the fall, and property records now reflect that the
National Community Church/Ebernezers
folks have added to the Miles Glass site on Virginia Avenue
they bought in August
by purchasing an empty lot around the corner on 7th Street, SE, for $875,000 in December. This now gives them about 19,000 square feet of land on Parcel 906, if my math is correct.
If you look at the
satellite view
of the block, you can see how NCC's holdings--the Miles Glass building, the empty lot just to its west, now and this separate empty lot on 7th across from the Marine Barracks--are connected. And one certainly has to wonder if the car shop on the corner of 7th and K/Virginia, now surrounded by a single landowner, is going to be staying in that spot much longer. (The other empty lot on the block, at the lower right, is where the
Bavarian Beer Garden
may be going in, creating the Saints and Sinners stretch along 8th.)
If you haven't been
following along
, the church's head, Mark Batterson,
wrote on his blog in late August
about the purchase of the 8th and Virginia site, saying that church is running out of space for services and staff at Ebenezers near Union Station, and since his vision for NCC is 20 locations and more than 100 staffers, they're looking at "going vertical" and constructing a building with about 50,000 square feet of space. They have been doing some "visioning" to figure out their plans for the site, and Batterson
told City Paper
in November about ideas of "two performance spaces, one at about 500 seat capacity and another at a thousand, with at least one level of underground parking to handle the crowds," but nothing specific has been announced yet.
Tuesday Tibits: ANCs, 1345 South Capitol, More
Jan 11, 2011 10:52 AM
* I skipped out on the first
ANC 6D
meeting of 2011, not seeing any Near Southeast-specific items on the agenda. I did check in with Damon Harvey of DDOT before the meeting, though, to find out what he was going to be speaking to the ANC about, and it was to tell residents that
2011 Visitor Parking Passes
will be sent out in the middle of March (right before baseball season starts). If you have any feedback or questions on the parking passes (which were instituted in 2008 as part of the
stadium Performance Parking Pilot
), you can contact Damon at damon.harvey [at] dc.gov.
* Tonight (Tuesday) is ANC 6B's meeting, at Brent Elementary at 7 pm. The
agenda
indicates there could be some news about the
Bavarian Beer Garden
proposed for 8th and L, SE, so I'll be there to check it out.
* SWill across the way
has the news
(via Bisnow) that Camden's long-delayed
1345 South Capitol Street
residential project across the street from
Nationals Park
is reportedly going to finally get underway during the first quarter of this year. The design that was approved
back in 2007
showed a 276-unit apartment building with about 3,300 square feet of ground-floor retail. I used to
track this building
, but pulled my coverage boundaries back to the South Capitol Street median when SWill hit the ground running with the "
Southwest... The Little Quadrant that Could
" blog. So while I'll probably mention milestones on the project, I'm going to leave the laser-like focus on it to Will.
* Newly minted ANC 6D07 commissioner
David Garber
was featured this past Sunday on
HGTV's My First Sale
, documenting his not-altogether-smooth road to selling a house he renovated in Anacostia. I don't see any repeats in the listings, but eventually the episode should be
posted online
.
* The city's web site about the various Anacostia Waterfront Initiative projects,
TheAnacostiaWaterfront.com
, is going to be decommissioned as of Feb. 1, with content about projects like the 11th Street Bridges, the Douglass Bridge, and the Anacostia Riverwalk having already been rolled into the DDOT web site. The new URL is
ddot.dc.gov/awi
.
'Water Pylons' Coming to New Jersey Ave. Underpass
Jan 10, 2011 3:22 PM
In its latest newsletter, the
Capitol Riverfront BID
reports that it has received a
2011 Public Art Building Community Grant
to spruce up the
underpass
where New Jersey Avenue crosses under the Southeast Freeway. The installation is called "Water Pylons," and will "transform the underpass into a modern representation of water that announces New Jersey Avenue as a gateway to the Capitol Riverfront community."
The 18 freeway support columns will be painted with reflective paint in various shades of blue, and four LED lights will help to illuminate both the art and the underpass. The BID says that the "painted blue pylons will reference the neighborhood's waterfront in an abstract theme that is distinct and surprising, but not distracting to motorists or pedestrians."
There will be public meetings on the project this spring, with installation expected to be finished by September.
Off-Topic Rearview Mirror: Family Memories of the Hill
Jan 9, 2011 11:01 AM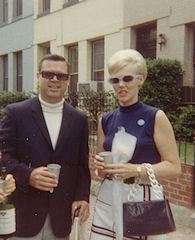 As I've always tried to emphasize when I'm asked about the origins of JDLand, I'm a historian at heart--I love knowing about how areas I'm familiar with looked and functioned in the past, especially the more recent past, when you can still see of few of the strings tying that era to the present day.
This is very much the case for me for Capitol Hill, land of my birth, and I'm lucky enough to have two very good resources to turn to whenever I want to hear some good stories about what my neighborhood was like back in the Mad Men era: my mother and father. Jim and Shirley each moved to DC in 1959, got married a few years later, and lived on the House side of the Hill until 1969, and it's no secret that they look back upon those years with great fondness.
Since I'm all about documenting stuff before it disappears, I recently asked Mom and Dad if they would write up for me their memories of what it was like to live on the Hill during the 1960s. Luckily it's the offseason for both bicycling (Dad) and golf (Mom), so they agreed to squeeze some writing into their schedules, and while the resulting reminiscences are mostly for the family's benefit and enjoyment, I thought that some readers might find them of interest as well, and since the web site has infinite space, and since it's wintertime, when news is slow...
First up
is a short post by my dad
, talking a little about when he moved to the Hill in 1959, living in the 400 block of New Jersey Ave., SE., with his brother, for $100 a month. (I also tossed in at the bottom some of the home movies showing Hill scenes, most of which I've linked to before, but I figure some multimedia can't hurt.)
If you have questions for Dad about
his post
or just want to pick his brain for other memories of his, post here in the comments, and I'll make sure he reads them and replies. He's already working on his next offering, so maybe some queries from the peanut gallery will rattle loose some additional nuggets to pass along.
(And hopefully before too long I'll get a submission from Mom, so that she can tell the stories of shopping at Weisfeld's when it was still in the 100 block of E and how Mrs. Weisfeld would just write what you owed on the back of a brown paper bag, and then give you a bill at the end of the month. But I don't want to steal her thunder.)
UPDATE: Like his daughter, Dad has discovered that writing about something interesting can take on a life of its own--he's submitted his second post about the Hill in the early '60s, with tidbits on the Kennedy inauguration (and its accompanying snowstorm) and the construction of the Rayburn House Office Building, along with a few famous names, memories of biking around the Hill, and even a little bit about Southwest. I'll post it in a couple of days.
Tidbits: Floating Bridge, 11th Street Bridge Closures, Water Taxis, Beer Garden
Jan 4, 2011 11:07 AM
A few small items that might be of interest: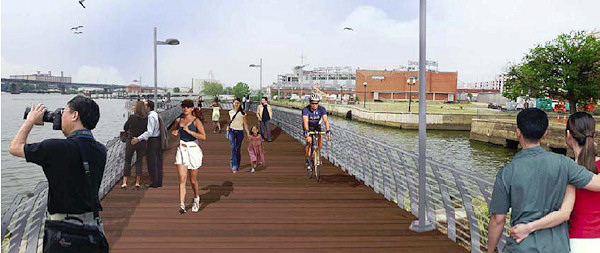 * The
National Capital Planning Commission
at its Thursday meeting
should be approving
the design of the 611-foot-long floating bridge to connect the
Yards Park
with
Diamond Teague Park
. The
"delegated action" document
says that the bridge will also include an 81-foot-long platform that will be used as a "marine environmental education center" -- the platform is necessary to span three underground pipes at the DC Water pumping station. At the BID annual meeting in December,
it was said
that construction on the bridge could begin this spring. (
UPDATE
) And construction is expected to take 6-8 months.
* If you drive into downtown DC across the
11th Street Bridges
late at night/early in the morning, be advised that the ramps from northbound I-295 and 13th Street, SE,
will be closed
between midnight and 5 am on both Friday, Jan. 7 and Monday, Jan. 10 to allow for work with overhead steel girders. But the South Capitol Street Bridge will be open for your Anacostia crossing pleasure.
* There hasn't been much apparent movement by
American Water Taxi
to get started with its planned service between Georgetown, the Southwest Waterfront, and
Teague Park
, but an update on their web site within the past few weeks says that "Focus groups and working group meetings to start in January."
* The
agenda
for the Jan. 11 ANC 6B meeting includes an item on the "Resolution of the Bavarian Beer Garden [Liquor] License Protest." Does this mean that the ANC and the folks wanting to open the beer garden at 8th and L have gotten the voluntary agreement hashed out, after all the
concerns recently expressed
? We shall see.
DC Music Fest Coming to Yards Park on May 7
Jan 3, 2011 9:47 AM
Another DC arts festival is being inaugurated at the
Yards Park
-- this time it's the
DC Music Fest
, scheduled for May 7, 2011. With plans to "showcase some of the best artists and bands of the Washington, DC and surrounding areas," the event already has a lineup of 12 bands, three singer/songwriters, and 1 DJ on two stages. Other local artists who want to play at the event can
submit themselves
at the web site until February 1, and a panel of judges will choose which acts will be added to the lineup.
According to
On Tap
, tickets will be $25.
Back in October, the first
RiverFrontFest
debuted on the streets just north of the Yards Park, offering a day of local art and music.
New Year's Eve Party by ReadysetDC at Trapeze School
Dec 30, 2010 6:02 PM
Just popping up in my inbox (which is hard to get to through the piles of opened boxes and discarded Toblerone wrappers) is news of the big New Year's Eve celebration ("
Evolution 2011
") being thrown by
ReadysetDC
Friday night starting at 9 pm at the Trapeze School's space at 4th and Tingey, SE at
the Yards
. Dance performance by Holly Bass, live music by Chelsey Green and the Green Project, AWR B-boy performance (you kids tell me what that is), aerial ribbon dancing performances, live painting by Brandon Hill of No Kings Collective, and much more.
Tickets are
$95
, and include an open bar, but you can get $20 off by using the discount code DC-LOVE. (They've even got a deal with the Courtyard by Marriott at New Jersey and L for a block of hotel rooms.)
Holiday Slowdown Now in Effect
Dec 20, 2010 11:01 AM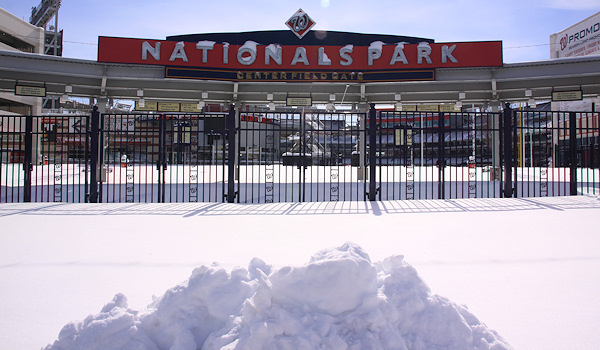 After the rush of public meetings over the past few weeks, it looks like we're now settling down into Holiday Mode, i.e., not much news, and I'll be taking the opportunity to take a bit of a break from JDLand. If there's anything big, I'll post it, of course, and I doubt I'll go completely silent
over on Twitter
, but at this point I'm expecting that things will be pretty quiet around here until after New Year's. (That will be when every other blog on the planet does a year-end roundup, but I always save that for my
State of the Hood
post in mid-January.)
So, Happy Holidays to all, travel safely if you're going over the river and through the woods to Grandma's, and enjoy all the tidings of the season.
Residents Day at Holiday Market Saturday
Dec 16, 2010 11:07 AM
The
BID
wants to remind neighbors that Saturday is
Residents Day
at the Holiday Market at 1100 New Jersey Avenue. It will run from 10 am to 3 pm, and in addition to the lineup of craft exhibitors, Christmas greens, and live music at lunch time, there will also be empanadas, free coffee and pastries from Starbucks, free doggie treats from Metro Mutts, the
Eat Wonky
and
Dangerously Delicious Pie
trucks and.... The
Red Hook Lobster truck
at lunchtime. (The footsteps you hear are my husband's, as he races to be first in line.)
Of course, the market is also running today and Friday as well, from 11 am to 7 pm, with the
CapMacDC
pasta truck scheduled to make an appearance on Friday.
Here's the flyer
, for more details on vendors and whatnot.
6B Protesting 8th Street Beer Garden Liquor License (While Working on a Voluntary Agreement)
Dec 15, 2010 1:01 PM
On Tuesday night the full ANC 6B commission took up the issue of whether to support the liquor license application for the new "Bavarian Beer Garden" that a businessman is trying to open at 8th and L, SE. I wrote a lot about it last week when the ANC's ABC subcommittee met, and you can
read that (long) entry
for most of the background, as well as
read the committee report
that came out of it.
Commissioners are still very leery of approving a tavern license "with an entertainment endorsement" without having much more information about the plans for the bar, worrying that if they give their support and what is currently billed as just being some "oompah" music turns into a nightclub with music late at night seven days a week, there will be little recourse. (The fact that this is the first restaurant venture by the applicant has them a bit nervous as well.) Their desire is to write various hours/occupancy/entertainment-type restrictions into the Voluntary Agreement, perhaps including some that can then be revisited a few years down the road when it's clear how the bar is operating.
Mark Brody, the applicant, told the commissioners that he is willing to sign a voluntary agreement, and is willing to negotiate over the
requested
hours of operation and occupancy load (which is at 399 on the initial application), so the negotiations will soon get underway. (The vote by the commissioners to support the license once a voluntary agreement is signed was 7-3.)
However, because the deadline for protesting the license application before ABRA is Monday (Dec. 20), and because the full ANC would need to approve any voluntary agreement by vote at a business meeting, the ANC is going officially be "in protest" with ABRA on the license until the agreements are worked out. (You can read the
ABRA Protest Process FAQ
for more details, including about how the parties would then be scheduled for a "settlement conference" with an ABRA mediator.)
2010 Capitol Riverfront Annual Report; Connector Between Teague and Yards Coming in 2011?
Dec 14, 2010 2:27 PM
The
Capitol Riverfront BID
just wrapped up its 2010 Annual Meeting, which certainly seemed to be the largest of them so far. The big part of the meeting is the unveiling of the
Annual Report
, chock full of statistics and photos. I'm not going to summarize it, mainly because I've been writing all year about most of the news and data contained in it, and also because if you're truly interested in the neighborhood you should read it yourself. :-)
There were two items in Michael Stevens' remarks that I thought were of note, though:
* Apparently an agreement has been worked out with
DC Water
(aka WASA) that will allow the "connection" between
Diamond Teague Park
(across from
Nationals Park
) and the
Yards Park
to be built, starting this spring. In the past, a floating bridge has been discussed as how this connection would be completed, but have asked the BID for more info and will post when I know more.
* In discussing the many parks of the neighborhood, Michael Stevens said that they are "hoping" that
Canal Park
will be completed in 2011--though, as he said that, the slide being displayed showed 2012 as the expected completion date. Given that the park is supposed to take 12-14 months to build, it would seem to be unlikely that the entire park would be ready before the end of next year, though perhaps some portions of it might be able to be open sooner.
UPDATE:
Here's
the slides used
by Michael Stevens during his remarks; the information on the connection between Teague and the Yards is on pages 22-24, with a rendering showing a walkway out over the water, looking exactly like an extension of the boardwalk at the Yards. The proposed project is listed as "a partnership among Forest City Washington, DC Water and the Office of the Deputy Mayor for Planning and Economic Development." And, on slide 27, Canal Park is listed with a delivery date of 2012.
Nats Looking to Add a Curly W to Navy Yard Metro Station Name
Dec 13, 2010 8:54 PM

At tonight's ANC 6D meeting, Nationals vice president Gregory McCarthy asked the commission to support the Nationals' request for a name change for the Navy Yard Metro station. But, instead of asking to add "
Nationals Park
" or "Ballpark" or "Baseball Stadium" or "[Insert Corporate Naming Rights Winner Here] Park" or some other permutation, the Nationals are asking that the Nationals' "Curly W" red logo be added to Metro's maps and signage instead. McCarthy said that focus groups with fans have indicated a strong identification with the logo, and, just as the Curly W appears on freeway signs around the area directing drivers to the stadium, the team wants the same icon to direct transit users.
Commission chair Ron McBee spoke of the team's positive impact on the community, especially all the work that team players and staff do with the students of nearby Amidon-Bowen Elementary School in Southwest, and there were few other comments from the commissioners. One audience member asked if this didn't amount to free advertising--McCarthy replied that the name of the stadium (which is owned by the city, he reminded) is "Nationals Park," and that the Curly W just signifies the team's name. (In far fewer letters.) The team would be on the hook for any costs incurred for the signage and map changes, but since WMATA is undertaking a reprinting and updating of its maps and signage next year, they probably have pretty good timing.
The resolution drafted by the ANC called for support of the Nationals' request, as long as Navy Yard remains in the station's name and remains first, with "Nationals Park" being an acceptable alternative if WMATA doesn't want to use the Curly W. (They also made sure to specify that the Nats are wanting the Curly W to be red.) This means that the ANC's preference for the station's new name is
Navy Yard/Capitol Riverfront/

, since the Capitol Riverfront BID
previously came to the ANC
asking for support in having
its
name added. The resolution also gives "Navy Yard/Riverfront/Ballpark" as an acceptable alternative if
Navy Yard/Capitol Riverfront/

is too long. The resolution passed 6-0-1.
In terms of how station name changes work, McBee passed out this 1987 DC government document
detailing how the city evaluates requests
. After an ANC weighs in, the WMATA committee looking at the request submits a formal recommendation to DC's WMATA board member(s), who then transmit a formal recommendation to the mayor, who decides on the request and transmits a request for action (or non-action) back to WMATA.
After the vote, McCarthy took a moment to thank outgoing 6D07 commissioner Bob Siegel ("who I first met when he was opposing the new stadium") for all the work he has done on behalf of the community since it was decided to put Nationals Park in his single member district.
Rainy Sunday Tidbits: Garage Art, ANC, Akridge/Half St.
Dec 12, 2010 11:28 AM
A few bullet points to pass along on this lovely day (man, I wish I was in Minneapolis right now):
*
I took a few photos
(belatedly) of the newly installed stainless steel baseballs hung this week on the
Nationals Park
garages on N Street. You can see a hint of the red and blue LED lights that will "activate" the balls, though I imagine it will be more impressive when it's dark out. (Also, if you're as desperate in your Christmas shopping as I am, remember that the Nats Team Store at Half and N is open from 11 am to 5 pm every day except Sunday.)
* A reader reported this morning that the fences have been taken down around the all-but-completed
1015 Half Street
office building, on the site of the old Nation nightclub. Douglas Wilson Companies, which took over the project when Opus East went belly up, had said when construction restarted in May that they would deliver 1015 Half by the end of the year, and they seem to have basically hit that date. No announcement of any tenants for the 440,000-square-foot building, though.
* The ANC 6D meeting is on Monday at 7 pm at St. Augustine's church at 6th and M streets, SW, but, as of now, no
agenda
has been posted. I'm sure it'll be a wonderful holiday potpourri of topics, though. (The agenda for Tuesday's
ANC 6B meeting
has been up for quite a while, and includes the
new beer garden
at 8th and L.)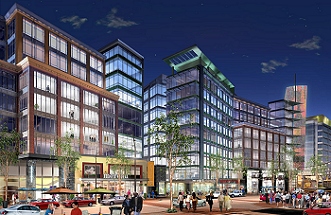 * A reader passed along
this DCMud piece
trying to play up movement on
Akridge's Half Street project
(just north of the ballpark), but I see a lot of "expects" and "luck" and "hope to" rather than any concrete start dates, and so, to me, that means there's really no news of impending construction. The fact that the Bullpen has apparently gotten it's lease renewed for the 2011 season would point to Akridge not expecting to do any work before fall. (And I'd also note that the first sentence gets everything wrong about the disposition of the Southeastern Bus Garage site, as is so often the case with DCMud items on Near Southeast: Akridge was the winning bid for the entire bus garage site
in 2007
, while Monument [which itself is not bankrupt, though its financial backer Lehman Brothers did croak] had earlier gotten the Metro station entrance on the
other side of the street
. Monument had owned land south of the bus garage, on the Bullpen site, but then sold that to Akridge
in 2008
.) The post also gives some background on the project, which might be new for people who haven't been following along, but which is basically what Akridge has been saying since they first unveiled the project
two years ago
.
You can see my
Akridge Half Street project page
for all of the details and renderings of the 700,000-square-foot office/residential/retail project, or, heck, read the
zoning hearing transcript
from January 2009. I think new residents will be happy about Akridge's long-mentioned plans for the "stall"-like vending area along the "Via" as well as a "neighborhood retail" feel for the Van Street side of the project, though people will probably be even happier about that once they know the project is actually going to start....
8th Street Beer Garden at 6B's ABC Committee
Dec 9, 2010 9:55 PM
Despite having
arrived fashionably late
to tonight's ANC 6B ABC committee meeting, I still managed to get there in time to hear the initial presentation by Mark Brody on his plans for the "Bavarian Beer Garden" that he is looking to bring to the currently vacant
northwest corner of 8th and L, SE
. (This is the "Saints and Sinners" block, which is also going to have the
National Community Church's new operations
on the Miles Glass site on the north end of the block.)
As I've written previously, he and his business partner (who has owned the property for more than 20 years--Brody appears to have bought a half-interest in the lots earlier this year for $600,000, according to property records) are
applying for a liquor license
for a tavern/beer garden that would seat 99 customers inside, with space for another 200 outside in the summer garden. They're looking to be open from 11 am to 2 am Sunday through Thursday, and until 3 am on Friday and Saturday, with the hours of alcohol sales matching those "open" hours. They also want to have live entertainment (oompah! oompah!) from noon to midnight on Sunday, 6 pm to midnight Monday through Friday, and noon to 2 am on Saturday. Brody said it would be "upscale," with beer running around $7, and there would be food, though no menu has been determined yet.
Brody brought no drawings or designs, but said they would put a newly constructed building along 8th Street, with the entrance on the corner, and the beer garden would be behind it,
butting up against
the driveway from Miles Glass that punches through to L Street. (Brody and his partner own the two small buildings on the west side of the driveway.) Brody suggested that having a large nightlife offering south of the freeway would help pull people south on 8th, and make them less reticent to use the parking lot beneath the freeway (which tied into the discussion around the previous agenda item, another restaurant in the 500 block of 8th). He also mentioned the large surface parking lots that exist nearby that would have more than enough capacity to hold the large number of patrons his plans are for, though certain bloggers in the audience mentioned that the big one at 7th and L is
probably going to see construction start
on its north portion before too much longer.
There was considerable skepticism from the commissioners (especially chair David Garrison) when Brody said that he hopes to be up and running "by spring," especially since the lot is in the historic district and he would still need all of his designs approved by the Capitol Hill Historic Society and the city's Historic Preservation Review Board, as well as go through the not-always-smooth building permitting process.
He and his partner (who is in construction) are looking at building a smaller "temporary" building now, with a more permanent three- or four-story structure to come later. But when the commissioners expressed their concern about having very little to go on in terms of design and concept before they make a decision as to whether to support the liquor license application, Brody said that he and his partner won't be building anything without getting the license first.
Commissioners also mentioned "Heart and Soul" a few times, which Hill veterans will remember as the venture at 8th and Pennsylvania that got its approvals as a restaurant with some live entertainment and turned into a nightclub that became a nightmare for residents. "What you're giving me screams 'nightclub,' " said 6B05 rep Ken Jarboe.
Neil Glick of 6B08 talked about the size of the plans, that this would be the largest space on the Hill except for maybe Remington's, and that "we can't just give away" support without much to go on, especially since Brody has not had any dealings with 6B before.
Kirsten Oldenberg, in whose single-member district (6B04) this site is located, listed similar concerns, as well as the fact that, if the temporary building is a success, why would the owners ever then tear it down to build something better? She also mentioned the
Lower 8th Vision draft plan
that has just been submitted to the Office of Planning, wondering if this project fits in to that vision.
6B07 commissioner Carol Green separated herself a bit from her brethren by saying that she feels the area south of the freeway needs something now.
Jarboe then mentioned the possibility of writing into the voluntary agreement that the liquor license be temporary (three or four years) so that the project can get started soon, but "to give [the license] to you forever and ever opens us up for mischief later on."
The license is on the agenda for the full ANC 6B commission meeting on Tuesday (Dec. 14), at 7 pm at the People's Church at 535 8th St., SE, but with things like a voluntary agreement still needing to be written, along with probably some strong feelings about wanting more information, I'm not sure how the timeline is going to work out, with the liquor license hearing date set for January 3.
UPDATE: After deliberations (which were public but I mistakenly didn't stick around for), the ABC Committee has decided to support the liquor license application contingent on the applicant and the city's ABC Board agreeing to a Voluntary Agreement that limits hours and occupancy (terms to come). 6B is also going to argue for a temporary license (as I described above), but it's not clear that the ABC Board would go along with that. There will be more discussion of this at Tuesday's full ANC meeting.
Democrats Looking to Name USDOT for Rep. Oberstar
Dec 9, 2010 10:31 AM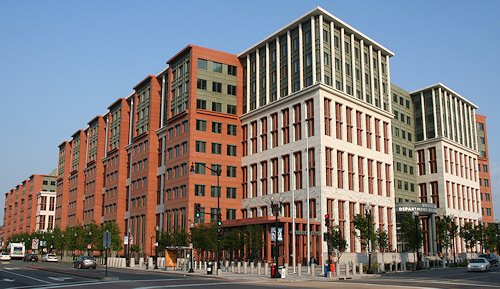 This morning WBJ's Michael Niebauer
tweeted
news about
a bill introduced
in the House of Representatives on Wednesday to name the
US Department of Transportation headquarters
on M Street, SE, for retiring Minnesota Democrat Jim Oberstar, who is
described on his own web site
thusly: "In the 34 years he has served in Congress, Jim has become known as the body's leading expert on transportation policy. From 1989 through 1995, he chaired the Subcommittee on Aviation, passing important legislation that has led to better maintenance and safer aircraft. Later, as the ranking democrat of the full Transportation Committee, he worked in a bipartisan manner to take the Highway Trust Fund off budget to ensure that gas taxes are used to fix roads and bridges and not to make the budget deficit look smaller."
The bill has 45 co-sponsors, including DC delegate Eleanor Holmes Norton, who led the push to get USDOT to move to what was then known as the
Southeast Federal Center
nearly
a decade ago
. The building, which houses 7,000 federal workers in 1.35 million square feet on 11 acres, opened in spring, 2007.
Knowledgeable Hill observers (*cough*
brother
*cough*) say that the bill is likely to get through the Democratic-controlled House, but as with everything in Congress-land these days, who knows what might happen when it hits the Senate.
Abbreviated Update from the Van Ness Meeting
Dec 8, 2010 8:10 PM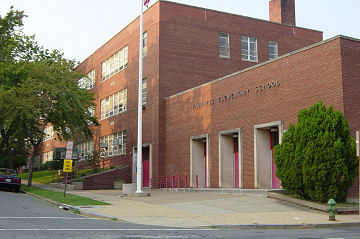 Tonight the interim chancellor of DC Public Schools Kaya Henderson met with a large and very involved group of parents (and a lot of toddlers, some of whom showed off their impressive lung capacity) who want to see Van Ness Elementary reopened.
DCPS told those assembled that it is committed to making a decision on Van Ness in January, and that the decision will be based on "whether the numbers work out," both in terms of whether there are enough school-age children to support the school and whether the economic realities of a budget-crunched city government can get scarce dollars shuffled to pay for getting the school reopened (which would require taking money from other schools that are in need as well). DCPS handed out
an information sheet
with some numbers in terms of children in the area and enrollment at nearby schools--I'm going to plead injury (thumb. ow.) and let you read it instead of summarizing.
Henderson mentioned many times the "positive energy" DCPS feels from the parents of the neighborhood, who clearly want a school opened immediately. There is no chance that Van Ness will open for the 2011-12 school year, the room was told, but one idea DCPS is looking at is possibly redrawing the boundaries for Tyler so that some of the Near Southeast children who live closer to Tyler than to Amidon (which is in Southwest) could go there. (One parent responded to this by saying that they hoped that all of Near Southeast could be included in a Tyler boundary redrawing "to keep the community together", and it's clear that many parents are not big fans of sending their kids to Amidon.)
At the end of the meeting, Tommy Wells said that with Van Ness in pretty good shape, capital funds shouldn't be a barrier to getting the school reopened if the necessary enrollment numbers are there. (Earlier, it had been announced [first by meeting organizer Bruce darConte and then a company representative] that EYA is pledging to undertake "buff and scrub" renovations at Van Ness if it'll help get the school reopened.)
Other than these items, the meeting was basically a "listening session," to allow parents to tell DCPS (again) their priorities and concerns. At the risk of being flip, I think I can boil it down to this: parents (and parents-to-be) in Near Southeast want Van Ness reopened. But it was a very collegial session--Henderson called it "one of the most delightful meetings I've been to."
So now the residents will wait to see what DCPS tells them---whether the school could reopen in 2012, or whether the numbers aren't quite there
yet.
It seems clear that DCPS expects Van Ness to reopen eventually--it's just a question of whether the timetable they come up with will be disappointing to the community.
[If this is less than complete, I apologize--I have to stop typing, I'm dying here! Feel free to use the comments to fill in what I didn't cover. You can also see
Tommy Wells's tweets
from the meeting for more.] For more background,
browse my previous posts
.
UPDATED to fix my Tyler/Brent mixups. As a non-parent, they're all the same to me. ;-)
20 M Signs Another Tenant, Now 97% Leased
Dec 8, 2010 10:56 AM
On the heels of
Monday's news
of a new tenant for
20 M St., SE
, Lerner Enterprises has just announced another 20,000-square-foot lease, bringing the building to 97-percent occupancy. This tenant is
Systems Planning and Analysis
(SPA), which will be occupying the 8th floor. They are expected to move in this spring, and will join the Bureau of Land Management, Booz Allen Hamilton, and the Columbia Group as the building's office tenants; Wachovia Bank at this point is the building's only retail tenant. 20 M was completed in March 2007.
Columbia Group Takes 20,000 Sq Ft at 20 M
Dec 6, 2010 4:23 PM
Lerner Enterprises has just passed along the news that
The Columbia Group
has signed a lease for 20,039 square feet at
20 M St., SE
, bringing the building to about 84 percent leased. The company--which does "technical services support" for the US military--is expected to move in this spring, and will be occupying space on the 7th floor. The other tenants--the Bureau of Land Management and Booz Allen Hamilton--are expected to start moving in in January.
Upcoming Calendar of Events (Through Dec. 17)
Dec 6, 2010 10:46 AM
This is a painful post for me to write. (No, seriously--I hurt my left thumb last week, and typing doesn't help.) But I will power through to bring you news of upcoming events, all while wondering why Decembers are always so busy with public meetings--because it's not like we don't we have enough to do already....
ADD:
Oops. Tonight (Dec. 6) is the 4th Annual
Livable Walkable Community Awards
, at Arena Stage at 6:30 pm.
* Tuesday (Dec. 7) is the second
Marine Barracks site search
public forum, in Eastern Market's North Hall. I can't find the agenda for it, but the CIMP web site describes it thusly: "Session 2 will begin with at 5:00 pm with an open house where information will be provided in displays, and subject matter experts will be present to discuss various aspects of the CIMP with a facilitated discussion to authenticate community development objectives to begin at 7:00 PM." You can see the
draft community objectives
handed out at last week's meeting, and read
my summary of that session
, as well as the
scads of posts
through the past year of this process.
* Wednesday (Dec. 8) is the neighborhood meeting with DC Public Schools interim chancellor Kaya Henderson on the movement to reopen Van Ness Elementary at 5th and M, SE. The meeting is at 6 pm (note the time change) at the Courtyard by Marriott at New Jersey and L, and while no decision on reopening the school will be announced, DCPS will be talking about the preliminary findings from the survey they did this fall about whether there would be enough students to justify reopening the school. Read my
previous posts
for details.
* On Thursday (Dec. 9) the ANC 6B ABC Committee will
meet at 7 pm
at the Southeast Neighborhood Library at 403 7th St., SE, and it will be taking up the new liquor license application for the
Bavarian Beer Garden
at 8th and L, SE. It's looking to be a 99-seat tavern, with an additional 200 outdoor seats in summer, and would operate from 11 am to 2 am Sunday through Thursday and 11 am to 3 am on Fridays and Saturdays. There's also apparently the possibility of live entertainment. The application will also be taken up by the full ANC at its
regular meeting
on Dec. 14 at 7 pm at 535 8th St., SE.
* Monday (Dec. 13) is ANC 6D's monthly meeting--the
agenda
should be out later this week.
* Tuesday, Dec. 14 is the
BID
's Annual Meeting, at 11:30 am at 100 M St., SE. There will be a keynote address by George Hawkins, general manager of DC Water, plus the BID will release its 2010 Annual Report and State of the Capitol Riverfront.
* The BID also launches its Holiday Market on the 14th, running daily through the 18th on the sidewalk outside of 1100 New Jersey Ave., SE, across from the Navy Yard Metro station. "Shop the market for wool sweaters and mittens, homemade soaps, jewelry, antique maps, wreaths and holiday greenery, paintings, and much more!"
See the flyer
for more details, or the latest
BID newsletter
.
* Also on the 14th is the aforementioned
ANC 6B monthly meeting
, which includes a report by Michael Stevens of the BID on the Lower 8th Street Visioning Process report that's being submitted to the Office of Planning. (This will also be presented to the ANC's Planning and Zoning Committee on Dec. 7 at 7 pm at 535 8th St., SE.)
* Finally, on Dec. 17, the James L. Brooks movie "
How Do You Know
" opens--this is the one that was filmed at
Nationals Park
(and all around DC) back in 2009, and stars Reese Witherspoon, Owen Wilson, Paul Rudd, and Jack Nicholson.
Ow.