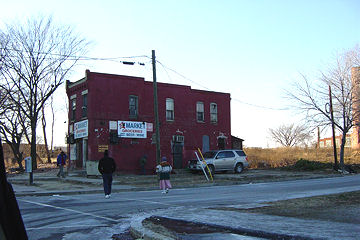 It's probably become obvious that I'm not particularly into the daily-news portion of this site right now.
It might be that, after 15 years, I have reached my maximum allowable limit of words written about zoning, public meetings, ribbon cuttings, retail spaces, project delays, and expected opening dates of highly anticipated grocery stores.
It also might be that I am still in the very early stages of trying to figure out life after
last year's neutron bomb
, and am wanting to pare back on additional sources of stress wherever possible, such as this perpetual feeling that I am falling down on the JDLand job.
I have spent a year telling myself that the groove would return after the memorial service, then after the sale of the Wyoming house, then after the holidays, then after the hip surgery, then after the anniversary, but that groove has remained elusive. I think it's time to listen to that.
I hesitate to say This Is It, because I've said that
twice
before
, only to be lured back by the siren song of being the Digital Town Crier. But I'm sort of looking at it like I am promoting myself to JDLand Editor at Large. (Though I see in 2013,
when I first tried this
dialing back, I called it Blogger Emeritus. Basically just read that post and change the years on it.)
If the mood strikes (like, say, when a highly anticipated grocery store opens or a professional all-star game comes to town), I'll post, but I'm done chasing the day-to-day tidbits and news. Or, more accurately, I'm done feeling guilty about my lack of interest in posting the day-to-day tidbits and news. But follow me on
Twitter
,
Facebook
, and
Instagram
, where I'll still pass things along that strike my fancy, and where I'll send up flares when there are new posts here.
I think this is for real this time. Fifteen years of always being on the lookout for news is a pretty good run, especially for a "hobby."
I'll always take pictures, though. And I am sure will keep maintaining the project pages, maps, sliders, and whatnot, because it's not like I won't be watching.
And I certainly won't just up and forget the mountain of minutiae I've stored in my brain about Near Capitol Ballpark River Yards since I started watching in 2003. I just don't want to pretend that I want to write about everything anymore.
Maybe the JDLand commentariat will just keep doing what it's been doing, which is to use the comment thread on the most recent post to provide the steady stream of news tidbits that I was slow to get to.
Thanks for everything. You folks have powered me on this adventure for a lot of years. But don't be strangers--I'm not disappearing completely.
And who knows, maybe the groove will indeed return. Like when Amazon picks the neighborhood for HQ2.
Tidbits to Tide You Over....
In an attempt to stay newsy while still expending the least amount of energy possible, JD has added this Tidbits portion, which will display comments that might be of interest to the wider JDLand readership from the thread below. Hey, it's better than nothing.
---
Submitted by
Packinblackandred
,
5/14/18 8:46 AM
:
In highly minor news, the 2 Eye Street building is going to be called Novel South Capitol according to some signage along South Cap St.
---
---
Submitted by
JD
,
5/11/18 12:45 PM
:
Tunnel/street news:

2. 5th Street to Reopen, as soon as May 14th
On or about the week of May 14th, 5th Street will reopen to vehicular traffic. Work will continue to progress on the street and open-space restoration at the intersection of 5th Street and Virginia Avenue. New paving, granite curbing, sidewalks, drainage and underground work for streetlights are well underway. CSX appreciates the community's patience while we complete this important work.

3. 7th Street Intersection to Close, as early as the week of May 14th
After 5th Street reopens, CSX expects to temporarily close the 7th Street SE intersection with Virginia Avenue for approximately 3-4 months. The closure will allow removal of the existing temporary bridge deck and final street restoration. The timing for the closure and work is dependent on favorable weather conditions and the reopening of 5th Street. CSX will provide updates as the work progresses.
---
---
Submitted by
JD
,
5/10/18 9:44 AM
:
WASHINGTON, DC (May 10, 2018) - The Bullpen will air all Washington Capitals games with sound on their brand-new Bullpen Big Screen. Fans can catch all the action at The Bullpen as the Caps take on the Lightning in the NHL Conference Finals. Game 1 kicks off during Truckeroo on Friday, May 11th, with Games 2-7 offering $5 drink specials from May 13 through 23, 2018.

---
---
Submitted by
JD
,
5/10/18 9:24 AM
:
Ta da!

800 NEW JERSEY AVE SE, WASHINGTON, DC 20003 / 0737 0827
PERMIT ISSUED
05/09/2018
Owner: WHOLE FOODS MARKET / Applicant: MELISSA DIAZ
NA / TENANT LAYOUT / CONSTRUCTION
THE PROJECT IS A TENANT FIT-OUT OF AN EXISTING SPACE IN A MIXED USE PROJECT BEING DEVELOPED UNDER A SEPARATE PERMIT. THE PROJECT IS A WHOLE FOODS MARKET OCCUPYING THE GROUND FLOOR AND A MEZZANINE WITHIN THE BUILDING. - TPR
05/10/2018

---
---
Submitted by
Westnorth
,
5/9/18 5:19 PM
:
Speaking of updates from readers, here's what's new from the Forest City Enterprises earnings call:
Parcel O is The Guild, 191 units, complete 3rd quarter 2019
Parcel L is L2, 264 units, no ETA; 14,000 sq ft of retail is comparable to Lumber Shed

The Yards' cash return is 6.6-7.1%. Not bad, but also not exactly golden-fleece.

Square 769 will be complete in 1st quarter 2020. The movie theater will be later in 2020.

FCE recently sold off their portfolio of NYC street retail properties and regional malls, and mentions that they may "evaluate the merit" of owning "remaining retail." So, if you'd love to own the low-rise bits of the Yards, they might entertain an offer.
---