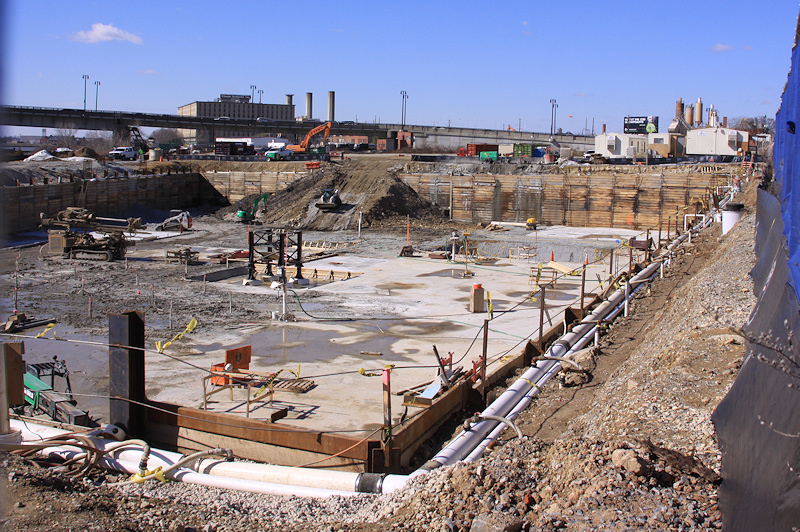 It's been a while since I've been down to the shores of the Anacostia at 1st Street (I'm old/it's been cold/I'm tired/I'm lazy), but on Saturday I finally made the trek to
Florida Rock
, and saw what I expected to see--a concrete slab at the bottom of the two-story excavation for the 305ish-unit residential building "
The Riverfront
," along with the base of the project's crane being put together.
I snagged a peek-through-the-fence shot of the hole, though before long I'll get to start taking photos of it from up above,
on the viewing platform
at Nats Park. (While I, uh, watch baseball, too. Yeah, yeah, that's it.)
Here's the riverfront view of the Riverfront footprint (below left), matched to the rendering of the same spot (center). Plus, at right, a shot looking from Diamond Teague's pier to the staircase at Nats Park, giving a sense of the plaza that will be there (and that one sightline from the staircase to the river will still exist after the apartment building is completed).
/

This building, the first phase of the overall 1.1-million-sq-ft mixed-use redevelopment, is expected to be finished in late 2016. It will have a little more than 18,000 square feet of ground-floor retail, and two levels of underground parking (as you see!). There will also be an extension of the
Anacostia Riverwalk Trail
.
The Phase 2 land immediately to the west of the new building is expected to be temporarily remade as a "beach" area, including volleyball courts, with additional space for parking and other temporary uses. Which is all separate from
Bardo's potential "brew garden" plans
for the two acres to the west of THAT site, on the portion of the Florida Rock footprint that edges up to the current
Douglass Bridge
.
UPDATE: I finally made it up onto the Douglass Bridge on Sunday for the first time in forever to take some photos, and got an even better view of the excavation and its position in relationship to the ballpark. So, let's all look at this and start to mentally prepare for the change in the view not only of the ballpark, but from the ballpark.