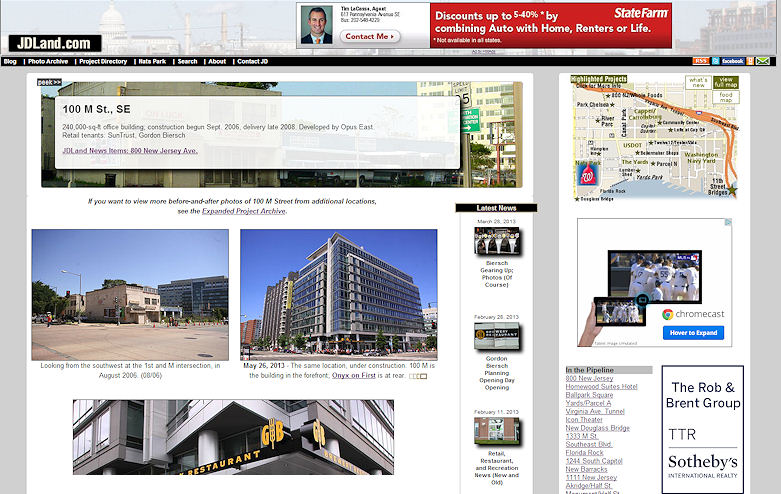 While I have appeared mostly AWOL from these parts for the past 10 days or so, I've actually been working harder on JDLand than I have in years, as out of nowhere the psychological energy arrived to drive a desperately needed redesign of the site's interior pages.
Click on one of the links on the map at the top right of the home page, or maybe go
here
or
here
or
here
, and you'll see what's going on:
* White space! Lots of it!
* Fewer words!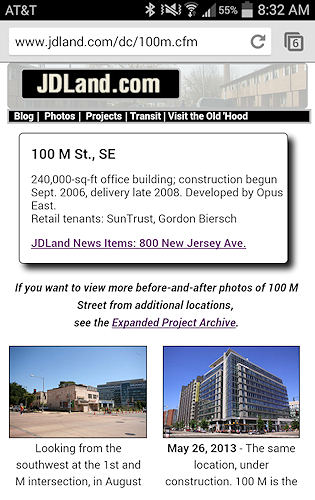 * A design that responds to your device--if you're on a big monitor, you'll see a rail of links to the latest news on a project. If you're on your phone, you'll see the basics (without having to drag the page around). With plenty of changes in between.
* For larger devices, the "peek" link at the left of the header box on project pages brings you a nifty (and not small) look back in time.
I've also been tinkering with the home page, but still have some things I want to do and so it's not quite as "responsive" as the interior pages. However, starting today you'll also see that clicking on photos in blog posts pops up a larger version, without having to load a new page.
I've done my best to test, but I'm sure there are configurations where this will all look pretty ghastly. If so, please
let me know
your browser and device, so I can troubleshoot.
There are also still a fair number of pages with the old design, and no doubt bugs aplenty, plus I may have been a bit too draconian in some of the content removal on the project pages. I'll be mopping up for a while yet.
It won't please everyone, of course, but it was definitely time for a change. And I've garnered a lot of enjoyment out of all of this work, which maybe isn't a feeling I've had related to JDLand very often in the past few years or so.
And now the In the Weeds discussion of the redesign, for those who might be interested: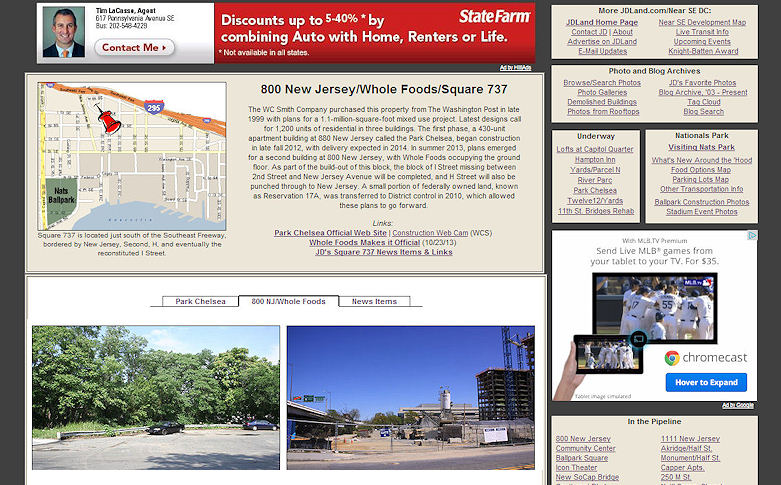 It's safe to say that web design has changed just a smidge since I threw together my first pages about Near Southeast back in 2003, but since I've known for years exactly how enormous the task would be to implement a new design, I just closed my eyes to the aging look and feel and concentrated on, you know, the actual content.
This wasn't a matter of just changing some code at the top and bottom of a template somewhere--thanks to the rather, ahem, organic way that JDLand grew over the years, the code (and the site, really) had become embarrassingly dense and messy.
I've had to go into more than 100 pages and rip out the old web 1.0/table-based layout approach and replace it with boatloads of CSS. Which meant that pretty much every element on every one of those pages needed editing. (At least now this means the NEXT redesign will be simpler.)
And since I was editing every page, this also was finally my chance to move away from a navigation configuration that had worked well early on but had left me increasingly hamstrung, where, say, the
Velocity
and
River Parc
pages were both subsections of a Square 699N page. Now I've pretty much given every project its own page. But that meant building about 20 new pages.
I also found myself sort of arriving back full circle at where JDLand began a billion years ago--as a project about a changing neighborhood, with an eye toward being more of a historical document and less of a breathless minute-by-minute tracking of minutiae. (Though I admit the breathless minute-by-minute tracking was fun for a few years there!)
And even though I've barely come up for air while working on this, it's been a great process, and reminded me of how much my enjoyment of JDLand used to also come from back-end development, such as when I built the automated photo archive on the site, or the even more massive full archive I keep elsewhere.
There's more I need to think about--it may be time to go to larger photos across the site, but that's about 10,000 photos that would need to be re-saved at higher resolutions. So maybe not this week. But I admit that picking out the huge header photos--looking for the oldest ones of each particular site--made me want to think about a better way to have everyone be able to look at the large versions--while still protecting them from nefarious non-approved uses.
I'll still be tinkering plenty--for instance, the notion of going to a "lightbox" display of blog post photos came to me while I was starting to write this entry, so I had to scurry off and implement that before I could go any further. It never ends.
So, it's best to remember that, at heart, JDLand will always really be just my own history-photography-writing-web development hobby, which of course leaves the site much more vulnerable to my mercurial whims than a real business would ever be. But that's how I roll.
And, who knows, maybe someday another flash of sudden psychological energy will strike at the actual blogging portion of JDLand....