As the
Fairgrounds
prepares to begin its daily hours on May 4, the outdoor event space just north of
Nationals Park
at Half and M is also starting to promote some of its non-gameday offerings:
JD on Budget News Pt.
: No, all $9.8 million is for Van Ness. If you follow the Charles Allen link above, you'll see the ent...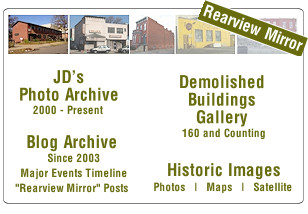 Records added or updated recently displayed here; click the "archive" links to see additional detail and older records. All data from DC Government databases and RSS feeds. JDLand takes no responsibility for errors, omissions, etc. (read CapStat disclaimer). Data is retrieved daily.


L ST SE AND 5TH ST SE
MOTOR VEHICLE THEFT /
05/08/13
900 B/O 5TH ST SE
MOTOR VEHICLE THEFT /
05/03/13
1000 B/O 3RD PLACE SE
MOTOR VEHICLE THEFT /
05/01/13
1500 B/O SOUTH CAPITOL ST
MOTOR VEHICLE THEFT /
05/01/13
1000 B/O 5TH ST SE
THEFT /
05/01/13
1500 B/O SOUTH CAPITOL ST
MOTOR VEHICLE THEFT /
05/01/13
900 B/O 4TH ST SE
MOTOR VEHICLE THEFT /
04/29/13
UNIT B/O M ST SE
THEFT /
04/27/13
700 B/O L ST SE
THEFT /
04/26/13
250 B/O I ST SE
THEFT /
04/22/13
1000 B/O 7TH ST SE
MOTOR VEHICLE THEFT /
04/22/13