(a random before-and-after moment)
| | |
| --- | --- |
| April 2, 2006 | November 11, 2012 |

3rd Place at L, Looking North (

see more

)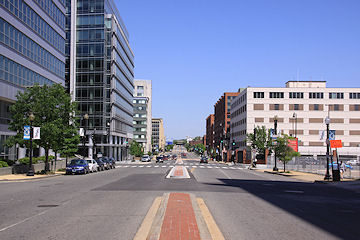 Just a reminder that Thursday night (Jan. 12) is the first public meeting for DDOT's M Street SE/SW Transportation Study, from 6:30 pm to 8:30 pm at Westminster Presbyterian Church at 400 I St., SW.
As the meeting announcement says
, "The purpose of the public meeting is to provide an overview of the transportation study, outline the study process/schedule and gather public feedback. Following a brief presentation, attendees will be asked to help identify concerns and issues on maps of the study area and also via a brief survey."
It isn't just about the six lanes on
M Street
, either: the study area goes from the Southeast/Southwest Freeway south to the Anacostia River and Washington Channel, from 12th Street SE all the way to 14th Street SW.
So, if you think there should be fewer lanes, more lanes, less parking, more parking, more bike lanes, fewer bike lanes, more pedestrian-friendly changes, fewer pedestrian-friendly changes, or just like watching people with wildly divergent views all trying to get their position to be the "right" one, come on down.

JDLand.com's Official Unofficial Guide, Updated for 2015!


For past mile markers in the neighborhood's evolution,
see my Near Southeast DC Timeline.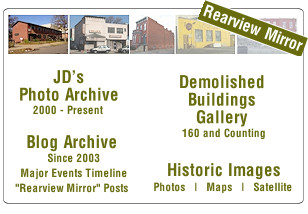 Records added or updated recently displayed here; click the "archive" links to see additional detail and older records. All data from DC Government databases and RSS feeds. JDLand takes no responsibility for errors, omissions, etc. (read CapStat disclaimer). Data is retrieved daily.


THEFT
Theft 2 (Theft F/Building)
04/23/15
400 B/O M ST SE
THEFT
2nd Degree
04/22/15
1000 B/O 3RD ST SE
THEFT
2nd Degree
04/20/15
1100 B/O NEW JERSEY AVE SE
THEFT
2nd Degree
04/12/15
1100 B/O NEW JERSEY AVE SE
THEFT
2nd Degree
04/10/15
100 B/O L ST SE
THEFT
Theft 2 (Theft F/Building)
04/10/15
100 B/O K ST SE
THEFT F/AUTO

04/08/15
50 B/O M ST SE
THEFT
2nd Degree
04/07/15
100 B/O K ST SE
THEFT F/AUTO
Theft From Auto 1
04/04/15
400 B/O M ST SE
THEFT
Shoplifting
04/03/15
0 B/O POTOMAC AVE SE
ROBBERY
Robbery/Attempt To Commit Robbery
03/28/15