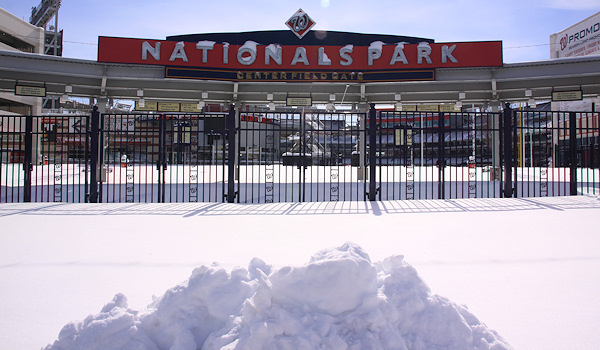 I was one of the 750,000 people wandering around DC with a camera today, and I trudged around a bit through Near Southeast to get photos of what it looked like the day after the Blizzard of 2010*, because it's always fun to go back during the next great snowstorm to compare how deep the drifts were. And because I needed the exercise before the Super Bowl Smorgasbord begins.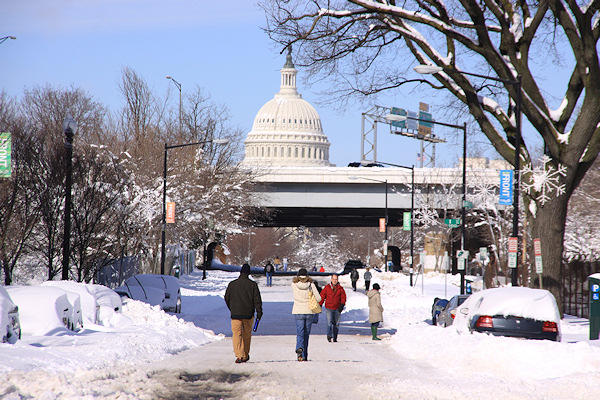 I'll eventually put the whole batch in the photo archive, but for now here's a
Quick Gallery of my favorite images
. I especially like the trapeze school tent, which looks like Ice Station Zebra. Also, you'll see a shot of the icicles along the roofline of 1100 New Jersey Avenue, which is posted more as a public service to remind people to watch out for falling debris. I almost got clocked when a chunk of ice fell off of 100 M, though I must admit it would have been poetic justice if I had met my maker thanks to the redevelopment of Near Southeast.
And, there's even a surprise contained in the gallery: my first photos of the "slinky" pedestrian bridge now under construction in the
Park at the Yards
. Let's give a big shout-out to the five-foot-high piles of snow in the parking lot just to the north of the bridge, which I climbed to be high enough to take photos over the fence:

See the gallery
for these shots, and more. And, for people wondering, I can report that the surface parking lots in the Yards are pretty much clear of snow. Parking lot F at First and M hasn't been touched, and neither have lots T and U on Third Street. And Subway is open, but Five Guys isn't. Half Street hasn't been plowed, and K and L are pretty dicey. First, New Jersey, Third, and Fourth are plowed, but narrow and not down to the concrete. M isn't clear, but is mainly slushy. (Until tonight when it all freezes.)
(* Apologies, but I don't go in for all the silliness of hash tag titles for snowstorms. Call me old school. And cranky. You kids get off my lawn, while you're at it!)