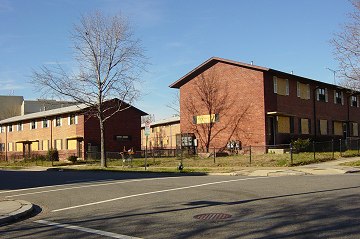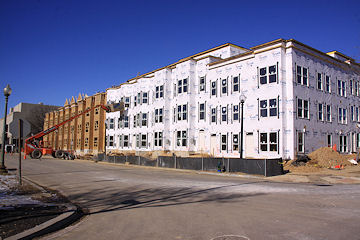 It's the age-old tradeoff: it's freezing outside, but it's also as clear a day as you'll ever have. So there was no avoiding a couple of (driving) treks around Near Southeast to update some photos this weekend. I concentrated mainly on the work on the last two blocks of the first phase of
Capitol Quarter
, including the new framing along
I between Third and Fourth
(above) and the bricking and painting on
I east of Fourth
. I also updated
some of the shots along Third
and also
along
Fourth
to not only get close-ups of the new frames, but also to update farther-away angles where the new townhouses now peek through in the distance.

I also zipped down to
Fourth and Tingey
to check out the new tent that's just gone up for the
Trapeze School New York
, which is preparing to begin its operations on this lot at
the Yards
in mid-February. (Just for the record, I'm pretty sure I will not ever be flying through the air with the greatest of ease.) This lot on the southeast corner of the intersection, known as "Parcel O" in Yards-development-speak, will eventually be home to a high-rise building of some sort, but because it's not in the project's first phase of development Forest City and the trapeze folks were able to work out an "interim use" for the land.
I even took some long-needed updates of photos of the
east side of South Capitol Street at I and K
, which I only ever seem to get the energy to update when it's the middle of winter and the temperature is especially frigid. On the other hand, it cracks me up because the low angle of the sun always just happens to throw shadows that blot out everything from the median westward (in other words, in that OTHER quadrant, outside my boundaries).
Here's
all the new photos
. Don't forget you can as always click the

icon on any page to see the entire range of photos for a certain location, many of which for today's batch come from my early days of photographing, in 2003 and 2004.