I rang out 2009 with a sudden burst of creativity, and so am welcoming 2010 with another tweak of the JDLand home page design.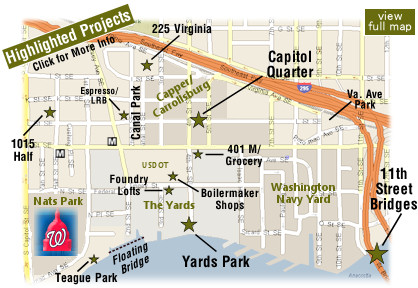 First and foremost, I've
brought back a map
to the main screen (a much smaller and less cluttered one), highlighting projects currently in progress. I was sick of the old one, but found I just couldn't live without *some* sort of map offering in this spot. Hopefully this one suffices.
Next, I
added a box
called "This Date in (Recent) Near Southeast History," which will dig into the archives every day and show links to blog entries and random photos since 2003. (The photos aren't marked with their location, so for the early ones it'll be a fun guessing game.)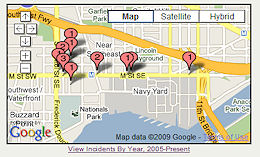 And I've finally taken the plunge into Google Maps mashups, with two new offerings. On the home page, under the
DC Government Data Feeds
, there's a mini-map marking the location of neighborhood crime incidents over the past 30 days. Beneath that is a link to a new interactive map showing
all crime incidents from 2005 to the present
, with a table breaking out the different types of crimes so that you can filter the map by year or offense or both. (The incidents, which all come from the city's data feed, are then listed beneath the map if you prefer the old-school table format.)
And there's also some slight changes to the general design and color choices, plus some cleanup of the offerings in the "General Links" box at the bottom right of the page, and a box for "Recent Updates/Additions" which I added mainly to do *something* with all the white space around the ad beneath the first blog post.
So, Happy New Year to everyone, and I hope you like the updates.