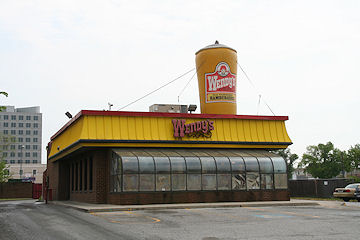 I attended my first-ever foreclosure sale this morning (yay...?), where the two lots at
23 I Street
(the old Wendy's site) that JPI had purchased in 2007 for $28.6 million were to be auctioned off after JPI defaulted on its $25 million loan. However, there were no bidders for the 47,000-sq-ft piece of land (which doesn't include the Exxon next door), and so the property is now owned by
Ruben Companies
, which bought the original note from Key Bank earlier this year.
Ruben Cos. also owns the
1100 South Capitol lot
(plus 1101 South Capitol, across the street and outside of my boundaries), and had at one point been working to purchase the St. Matthew's Church land at New Jersey and L before opting out.
The company has no plans to build anything soon on the 23 I lot--but if anyone's interested in renting the land for some interim entertainment use (
a la
Akridge's deal with the Bullpen on
Half Street
and even the
trapeze school
at
the Yards
), Ruben says they'd be willing to listen. Maybe the neighborhood could get a putt-putt course or something!