| | |
| --- | --- |
| September 24, 2007 | October 20, 2013 |
Even at my laziest, it's hard to not pull out my camera on a day like today and head to the Hood. But without a lot of projects going on, I had the chance to also wander by some locations I've not paid as much attention to as I should. Here's the highlights: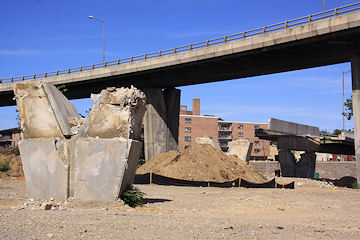 I stopped by
11th
and
12th
streets to get caught up on the RFK ramp demolition that's part of the
11th Street Bridges
project. The ramps across M have been down for a while now, making M Street along this stretch seem slightly less claustrophobic. The remaining concrete pillars (like the one at left, and the stubs on the south side of M) make for some interesting sculptures.
Capitol Quarter
continues to progress on its third block (between K, I, Fifth, and Fourth), with
some houses now bricked
and framing coming soon to the north side of the block, making St. Paul's church
not look quite so lonely anymore
. Plus, the first foundations are being poured on the fourth and final block of phase 1, along Virginia Avenue between Third and Fourth.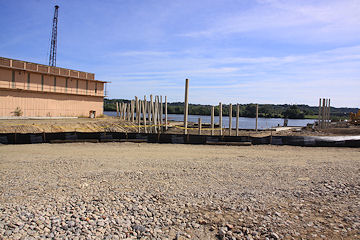 I even ventured down to the fences at the
Park at the Yards
to see what I could see, and on the west side of the footprint I could glimpse some of the work being done on the Canal Basin water feature at the foot of Third Street as well as some clearing of the area that will be the Great Lawn. Here's
the latest photos
, or check the
Yards Park
page to see some of them matched with the renderings of what the spots will look like.
This isn't the most earth-shattering shot of the day, but I did feel it necessary to finally get
a shot of 900 M Street
now that Domino's is open.

Last but not least, I wandered around Virginia Avenue Park, finally getting my set of
"baseline" photos along Ninth Street
(only six years later than I should have). I also took some photos of the park itself but I'm going to take a little more time and not do a rush-job on the park photos; the one above, of the community garden, will have to tide you over a little longer.
As always, on any of these pages, click on the
icon to see a complete set of before-and-afters of the location you're viewing. (And boy, am I loving being able to post larger thumbnails of photos here in the blog entries, thanks to the redesign of the home page. But don't forget to click through to see the non-thumbnailed versions.)
---
Jay
says: (
9/20/09 8:59 PM
)
JD,
The better half and I took part in the Capitol Hill Tree Walk this morning. Stops included Folger Park and Garfield Park, and then almost to the Freeway.
And yes, what great weather today!
---
---
Actually Lives in Near SE
says: (
9/21/09 10:45 AM
)
Appreciate the photos. Most impressive improvement to our hood over the past two weeks has been landscaping at Teague park and start of the water features which can be viewed if you venture out onto the pier a bit. This park is nicely done despite its placement sandwiched between WASA and Florida Rock.
---
---
JM
says: (
9/21/09 11:44 AM
)
My fiance and I took a walk over to Diamond Teague on Saturday and it was completely fenced off. We were able to make our way through the fencing onto the dock where the water taxis come in for the Nationals games. i'm a little confused by the setup. Where is the actual "park?" There wasn't much to speak of, except for a few very small patches of grass. I was disappointed by so much concrete over there. Can someone explain this to me?
Earlier in the day, we walked over to the Capitol Riverfront BID picnic going on. Did anyone else go over? We went on a walking tour put on by the BID. The Deputy Exec Director, Paige (?) was fantastic. We walked around all of the development and she gave us some great news. The old Boilermaker shop is set for construction by around the 1st of the year and they hope to have it complete about a year from now. There will be anywhere between 5 and 7 restaurants inside. I was pleasantly surprised with some of the timelines on the Yards development, in particular.
---
---
JD
says: (
9/21/09 12:57 PM
)
I just contacted Forest City, and they're not yet willing to commit publicly to a start date for construction. They say they do have a few tenants signed for the Boilermaker Shop, but none that they can announce publicly yet, and not enough to be able to start construction.
---
Add a Comment:
Comments are closed for this post.
JDLand Comments RSS Feed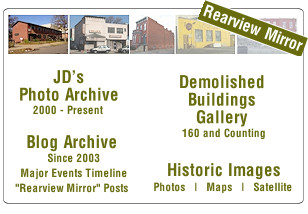 Records added or updated recently displayed here; click the "archive" links to see additional detail and older records. All data from DC Government databases and RSS feeds. JDLand takes no responsibility for errors, omissions, etc. (read CapStat disclaimer). Data is retrieved daily.


3RD PLACE SE AND K ST SE
MOTOR VEHICLE THEFT /
12/04/13
200 B/O K ST SE
THEFT F/AUTO /
11/28/13
1100 B/O NEW JERSEY AVE SE
THEFT F/AUTO /
11/26/13
POTOMAC AVE SE AND SOUTH CAPITOL ST
ASSAULT W/DANGEROUS WEAPON /
11/22/13
200 B/O M ST SE
THEFT /
11/21/13
1100 B/O CUSHING PLACE SE
THEFT F/AUTO /
11/21/13
400 B/O TINGEY ST SE
THEFT /
11/19/13
1000 B/O 8TH ST SE
THEFT F/AUTO /
11/16/13
800 B/O 3RD ST SE
MOTOR VEHICLE THEFT /
11/14/13
700 B/O M ST SE
THEFT F/AUTO /
11/12/13
K ST SE AND 5TH ST SE
THEFT F/AUTO /
11/11/13




| | |
| --- | --- |
| Active Public Space Permits | Archive |

1011 1ST ST SE
COLIN CLARK
Pending


excavation; new

03/03/14
to
05/01/14
COLIN CLARK
Approved (Pending Payment)


paving; landscaping; new

04/23/14
to
06/27/14
200 - 299 BLOCK TINGEY ST SE
Northeast Remsco Construction Incorporated
Pending


paving; excavation; new

01/01/13
to
12/31/13
100 M ST SE
WASHINGTON GAS
Assigned


excavation

04/23/13
to
04/22/14
1201 M ST SE
Michael Manoski
Pending Document


excavation

05/06/13
to
05/05/14
1333 M ST SE
WASHINGTON GAS
Assigned


excavation

05/01/13
to
04/30/14
1111 NEW JERSEY AVE SE
NJA Associates LLC
Assigned


paving; streetfixture; landscaping; excavation; new

06/03/13
to
06/02/14
125 O ST SE
TRAYLOR/SLANSKA/JAY DEE JOINT VENTURE(DAMIAN RUPPERT)
Issued


paving; streetfixture; new

12/24/12
to
12/23/13
300 TINGEY ST SE
Northeast Remsco Construction Incorporated
Pending


paving; excavation; new

12/14/12
to
12/13/13
301 TINGEY ST SE
Chuchart Kampirapang
Assigned


06/07/13
to
06/06/14
Potbelly Sandwich Works LLC
Issued


new

03/21/12
to
11/27/14