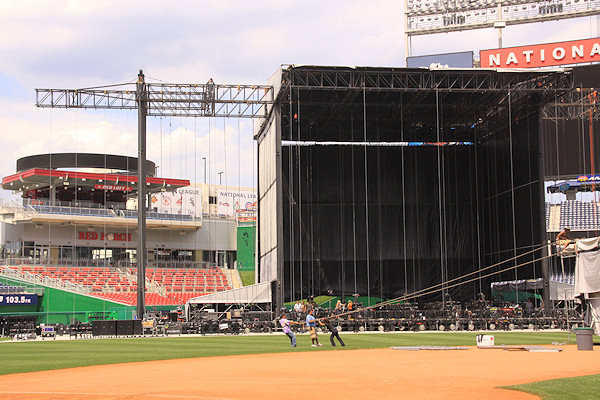 These aren't the most exciting photos I've ever posted (and goodness knows there are a lot of pictures at JDLand that already fall into this category), but I couldn't pass up the opportunity, so here are some shots from inside Nationals Park today
showing the construction of the stage
for Saturday's Elton John and Billy Joel concert. It's in dead centerfield, taller than the Red Loft but not quite as big as the scoreboard. (There will be seating on the field, it just hasn't been set up yet.) And, if you make to the bottom of the page, there's a couple non-stage shots that might be of interest, too.
In other news, I stopped in Cornercopia, and they tell me that they have all their city permits, and are now just waiting to get set up with their distributor, so they could be opening next week. They also told me that they will have tables with umbrellas, chairs, and benches, and the all important water dish for dogs. If you
didn't chime in on the last thread
on what goods you'd like to see for sale there, leave a comment below; you never know who might be reading!