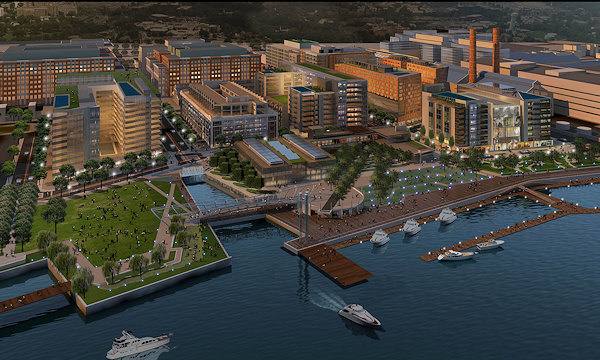 The folks at Forest City Washington have sent along the news that a groundbreaking ceremony for the
Park at the Yards
is scheduled for May 28 at 10:30 am. (The park is being funded by PILOT bonds created a while back, and so financing in this no-financing era is already taken care of.) Construction will begin in "a few weeks," and the park's first phase is expected to be completed in mid-2010. Work on rehabbing the Lumber Storage Shed and building two other new retail pavilions will come in Phase 2; see my
Yards Park page
for more details.
Also, in response to
the WBJ story
that mentioned construction liens at both the
Yards
and
Onyx
, Forest City passed along this statement:
"In response to the article published in the Washington Business Journal in the May 1-7, 2009 issue entitled "Contractors have filed nearly $28M in liens in D.C., Northern Virginia," in which Forest City Washington (FCW) was cited in regard to work done at its Yards project near the baseball stadium by one contractor, FCW wishes to clarify and update this issue:
* FCW was neither served nor notified of this lien until we read about it in the Washington Business Journal;
* The plumbing contractor involved in this action has been paid in full for the work it has invoiced on this job. FCW has signed lien releases from the contractor covering its services billed;
* The lien has been released.
It is unfortunate that the Washington Business Journal chose not to contact anyone at Forest City Washington in order to obtain the most updated information available in regard to this matter before publishing its story."
(Also, I deserve a ding-ing of my own for my recent references to
Building 160
as the Pattern Shop Lofts, when I know darn well that the name was changed to the
Foundry Lofts
a while back.)