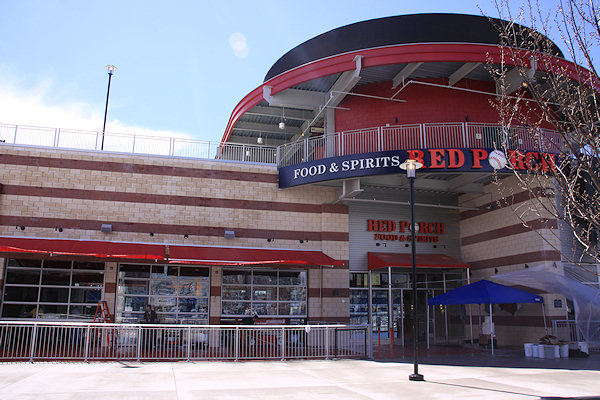 The Nationals invited the media (and a few others) in today to show the changes at the ballpark for this year, in advance of tomorrow's exhibition against the Orioles.
This press release
gives plenty of specifics, and there will no doubt be stories by most media outlets, so I decided to focus on taking pictures--I've thrown them together in a
What's New at the Ballpark quick gallery
, while I try to decide how to incorporate them into my main
Nationals Park
pages. You'll see changes like the new garage-style windows and seating area at the Red Porch (above), new seating on the field-side of the Porch, new seven-foot-tall president bobbleheads for kids to pose with in the "Family Fun Area," a newly branded Exxon(TM) Strike Zone, and some new signage.
There was also a showcasing of the new food being offered by Levy Restaurants, the new concessionaire. To quote the release: "Four new concessions concepts will be introduced at the park including a Healthy Plate cart, featuring healthy wraps, fresh salads, vegetables and hummus and fresh fruit; The Pit at the Red Loft, opening mid-season and serving traditional pit barbeque prepared on a charcoal grill; a barbeque concession stand, also opening mid-season on the main concourse, serving ribs, pulled pork and brisket; and the Triple Play Grill, located in the Left Field V and offering a pulled pork sandwich and foot-long Crab Louie sandwich."
I'll update with links to the media coverage as it comes in.