(a random before-and-after moment)
| | |
| --- | --- |
| August 21, 2003 | April 26, 2015 |

2nd (West) at I, Looking West-Northwest (

see more

)
On Tuesday night the Office of Planning and the Deputy Mayor's office held a third public meeting as part of the
planning process
undertaken this year for
Boathouse Row
, the stretch of land along the western shore of the Anacostia from the
11th Street Bridges
upstream. Much of this area has been owned and managed by the federal government for years and years, but is part of the batch of parcels being transferred back to DC (and on Thursday the mayor
will be announcing
was supposed to be announcing that this swap is finally complete, but the event has been postponed because of a scheduling issue with the Secretary of the Interior). With the District preparing to take control of the property, and with the Anacostia Waterfront Initiative looking to transform the city's relationship with the river, it was decided to take a step back and do some "visioning" of what this area could be if given the proper TLC. (Michael Durso of DMPED also took great pains to emphasize that there are no plans to dispose of this land to developers or other interests.)
One big surprise for this newcomer was that the city does not expect to begin any of the transformation of this area for another *ten* years or so, given the constraints of large close-by projects starting in the next few years such as the
11th Street Bridges rehabilitation
, remediation of the contaminated Washington Gas site east of 12th Street, and
WASA's Deep Tunnel project
. (And I will admit that hearing that ten-year timeframe made me feel a little less bad about having come to this planning process so late in the game!)
Also, the slides from the Tuesday meeting aren't yet posted online, so I think I will wait to delve into the details of all of this until those are available. But the study has now boiled down the wants and needs of various stakeholders into two concept alternatives, one of which imagines a $38 million project, $23 million of which would be dredging to allow for deeper-water boats farther up river (at least, that's how this non-boating-savvy blogger understood it), and the other which determines uses of the riverfront and the water if dredging does not take place, at a cost of about $13 million. Both concepts incorporate sustainable design, linked open spaces allowing for activities such as picnic areas, and amenities and shared uses like a small canteen and bike racks (and perhaps a bike rental oulet).
It's expected that the final report will be released in early January, followed by a 30-day comment period.
In the meantime, the operations of the
Anacostia Community Boathouse Association
will be moving from its spot in between the 11th Street Bridges spans to the marina just east of the Pennsylvania Avenue/Sousa Bridge (outside my boundaries!) in 2009; both Boathouse Row design concepts have ACBA returning after the bridge work is completed, perhaps with an expanded presence on the land just east of the bridges.
(Also, for people interested in the planned "boulevardization" of the old Southeast Freeway lanes that run from 11th Street to Barney Circle: it was mentioned that this project probably won't happen for another 10 years. But the planners did do some blue-skying of how this work--and perhaps the relocation of the CSX rail lines that also cut off Boathouse Row from its neighbors--could someday allow for this isolated patch of land to be reconnected to Capitol Hill and the rest of the city.)
---
G St.
says: (
12/18/08 3:31 PM
)
As long as they clean up the tires, trash and dead bodies strewn around there, this could be a nice area to visit... when all is said and done.
---
---
Rick
says: (
12/23/08 7:19 PM
)
JD
Thanks for the update. The 10 year time from just reinforces my rant a few weeks back about those of use who rented slips and storage space at one of the marinas getting kicked out with less than 30 days notice.
As one who has been on that end of Water Street for years, I'm not sure where the impression about trash, tires, and dead bodies comes from.
Rick
---
Add a Comment:
Comments are closed for this post.
JDLand Comments RSS Feed

JDLand.com's Official Unofficial Guide, Updated for 2015!


For past mile markers in the neighborhood's evolution,
see my Near Southeast DC Timeline.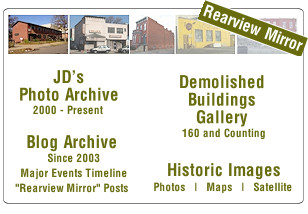 Records added or updated recently displayed here; click the "archive" links to see additional detail and older records. All data from DC Government databases and RSS feeds. JDLand takes no responsibility for errors, omissions, etc. (read CapStat disclaimer). Data is retrieved daily.


1100 B/O NEW JERSEY AVE SE
THEFT
2nd Degree
04/26/15
1100 B/O NEW JERSEY AVE SE
THEFT
Theft 2 (Theft F/Building)
04/25/15
THEFT
Theft 2 (Theft F/Building)
04/23/15
400 B/O M ST SE
THEFT
2nd Degree
04/22/15
1000 B/O 3RD ST SE
THEFT
2nd Degree
04/20/15
1100 B/O NEW JERSEY AVE SE
THEFT
2nd Degree
04/12/15
1100 B/O NEW JERSEY AVE SE
THEFT
2nd Degree
04/10/15
100 B/O L ST SE
THEFT
Theft 2 (Theft F/Building)
04/10/15
100 B/O K ST SE
THEFT F/AUTO

04/08/15
50 B/O M ST SE
THEFT
2nd Degree
04/07/15
100 B/O K ST SE
THEFT F/AUTO
Theft From Auto 1
04/04/15
400 B/O M ST SE
THEFT
Shoplifting
04/03/15
0 B/O POTOMAC AVE SE
ROBBERY
Robbery/Attempt To Commit Robbery
03/28/15




| | |
| --- | --- |
| Active Public Space Permits | Archive |

1401 11TH ST SE
Maryland Transit Administration
Issued


new

12/30/14
to
12/29/15
861 NEW JERSEY AVE SE
CSX Transportation Inc.
Assigned


paving; excavation

01/09/15
to
10/09/15
1100 NEW JERSEY AVE SE
Capitol Riverfront BID
Issued


streetfixture; new

08/19/14
to
08/18/15




| | |
| --- | --- |
| Recent Issued Building Permits | Archive |

1011 1ST ST SE

04/20/15

COLIN CLARK / MICHAEL BIANCO; COLIN CLARK; MITCH PERMUY

E98099105 / SUPPLEMENTAL

1265 1ST ST SE

04/10/15

CAPITAL RIVERFRONT HOTEL LLC / JERONE SCOTT

P1504925 / SUPPLEMENTAL

04/10/15

BIT INVESTMENT FIFTY-EIGHT LLC / OTIS ELEVATOR COMPANY

EN1501330 / SHOP DRAWING

TYPE OF ELEVATOR : TWO (2) TRACTION / STEEL / CENTRAL / VERTICAL TRANSPOTATION LICENSE NUMBER : ELC1300386 ISSUE DATE : 08 / 04 / 2014 EXPIRATION DATE 11-30-2015

1277 1ST ST SE

04/15/15

BALLPARK RESIDENTIAL LLC / CLARK CONSTRUCTION GROUP LLC

AH1500366 / CONSTRUCTION

ON-SITE PROJECT WORK AND TRUCK DELIVERY HOURS 6:00AM - 7:00PM MONDAY THROUGH SATURDAY FOR THE PROJECT DURATION AND THE FOLLOWING HOLIDAYS: EMANCIPATION DAY 4 / 16 / 15 COLUMBUS DAY 10 / 12 / 15 VETERANS DAY 11 / 11 / 15

1331 4TH ST SE

04/17/15

CLARK CONCRETE

AH1500371 / CONSTRUCTION

AFTERHOURS TO POUR CONCRETE ON ROOF FROM 4 / 20 / 2015 TO 5 / 20 / 2015 FROM 7PM TO 7AM

04/21/15

FC 1331 LLC / JAMES G HOLT

E1505081 / SUPPLEMENTAL

1150 5TH ST SE

04/09/15

DISTRICT OF COLUMBIA JEFFREY LUKER QUINN EVANS ARCHITECTS / REBECCA RUSCHMA ECS MID-ATLANTIC

SB1500233 / CONSTRUCTION

WE WILL PERFORM A TOTAL OF TWO SOIL BORINGS ON THE PROPOSED SITE AND ONE AUGER PROBE BORING FOR INFILTRATION TESTING. ONE BORING WILL EXTEND TO A DEPTH OF 100 FEET AND THE ANOTHER WILL EXTEND TO A DEPTH OF 15 FEET BELOW EXISTING SITE GRADES AND WILL BE LOCATED WITHIN THE BOUNDS OF THE PRIVATE PROPERTY. WE WILL ALSO DRILL ONE PROBE BORING OFFSET FROM THE 15 FOOT BORING TO A DEPTH OF APPROXIMATELY 1...

04/15/15

DGS DCPS / BRUCE PAIGE INDUSTRIAL SERVICES

B1506192 / CONSTRUCTION

REPLACE EXISTING INOPERABLE GENERAC GENERATOR WITH A NEW 6.7L GENERAC GENERATOR

1015 HALF ST SE

04/11/15

HALF ST SE LLC / ANDREW ARNTSON; HALF ST SE LLC; ANDREW ARNTSON

P63100436 / SUPPLEMENTAL

55 M ST SE

04/14/15

HINES GLOBAL REIT / JOHN GIUSEPPE-RAMCO

TL1500090 / CONSTRUCTION

FIRST TIME TENANT CONSTRUCTION FOR NEW OFFICE SPACE ON THE 9TH FLOOR FINCANTIERI MARINE GROUP AS SHOWN ON THE ATTACHED THIRD PARTY REVIEWED AND APPROVED MECH. PLUMB. ELECT. FIRE PROTECTION AND ARCH. PLANS BY KTA GROUP. INTERIOR WORK ONLY. NO CHANGE IN USE.

04/15/15

HINES GLOBAL REIT / JOHN GIUSEPPE-RAMCO

TL1500077 / CONSTRUCTION

TENANT LAYOUT TO CONSTRUCTION NEWTHIRD FLOOR OFFICE SPACE FOR GREAT MINDS AS SHOWN ON THE ATTACHED THIRD PARTY REVIEWED AND APPROVED MECH. PLUMB. ELECT. FIRE PROTECTION AND ARCH. DWGS. BY KTA. INTERIOR WORK ONLY NO STRUCTURAL WORK INVOLVED.

04/17/15

HINES GLOBAL REIT 55 M STREET LLC /

P1505068 / SUPPLEMENTAL

04/22/15

HINES GLOBAL REIT 55 M STREET LLC / JOSEPH SAFFER

P1505229 / SUPPLEMENTAL

80 M ST SE

04/20/15

WELLS REIT II 80 M STREET LLC / JOHN GIUSEPPE-RAMCO

B1503697 / CONSTRUCTION

RENOVATIONS TO EXISTING 5TH FLOOR OFFICE SPACE FOR TASC PHASE I AS SHOWN ON THE ATTACHED THIRD PARTY REVIEWED AND APPROVED MECH. PLUMB. ELECT. FIRE PROTECTION DEMOLITION AND ARCH. DWGS. BY KTA. INTERIOR WORK ONLY. NO STRUCTURAL WORK INVOLVED. NO CHANGE IN USE.

04/22/15

WELLS REIT II 80 M STREET LLC /

P1505220 / SUPPLEMENTAL

50 M ST SE

04/07/15

KCG 50 M LLC / FVI2020

B1501877 / CONSTRUCTION

A NEW 11 STORY AND PENTHOUSE LEVEL HOTEL WITH 195 ROOMS INCLUDING 766 SQ-FT FUNCTION ROOM 2ND FLOOR AND 4874 SQ-FT OF GENERAL RETAIL USE ON THE 1ST FLOOR. THE BUILDING WILL HAVE 2 BELOW GRADE PARKING LEVELS TO ACCOMODATE REQUIRED AUTOMOBILE PARKING. LOADING IS ACCOMODATED AT THE 1ST FLOOR.

55 M ST SE

04/23/15

HINES GLOBAL REIT 55 M STREET LLC / BERNARD D SASSER

E1505192 / SUPPLEMENTAL

80 M ST SE

04/21/15

WELLS REIT II 80 M STREET LLC / RONNIE E WRIGHT

E1505080 / SUPPLEMENTAL

04/21/15

NOT AVAILABLE NOT AVAILABLE / NEIL NUTWELL; NOT AVAILABLE NOT AVAILABLE; NEIL NUTWELL

P84507258 / SUPPLEMENTAL

04/21/15

UNKNOWN UNKNOWN / PATRICK BARRON; UNKNOWN UNKNOWN; ROBIN MALLEY

E38207212 / SUPPLEMENTAL

04/22/15

WELLS REIT 80 M STREET LIC / FRED MILLER; WELLS REIT 80 M STREET LIC; DOMINIC TOTARO

AR62521964 / SUPPLEMENTAL

04/23/15

TASC TASC / KEVIN HOOVER; TASC TASC; KEVIN HOOVER

E43277941 / SUPPLEMENTAL

300 M ST SE

04/21/15

NA NA NA

EHOP1290001 / HOME OCCUPATION

1201 M ST SE

04/09/15

COPT / EVAN O'BRIEN/ D MCKEEVER SERVICES

B1505061 / CONSTRUCTION

INTERIOR RENOVATION ONLY TO BATHROOMS ON FLOORS 1-4.

909 NEW JERSEY AVE SE

04/07/15

909 NEW JERSEY AVENUE ACQUISITION LLC / SHAW HERGENRATHER

P1504830 / SUPPLEMENTAL

1200 NEW JERSEY AVE SE

04/08/15

JBG/FEDERAL CENTER LLC / JOHN MCDONALD

P1504842 / SUPPLEMENTAL

1000 NEW JERSEY AVE SE

04/07/15

PHILIP BROWN

PC93167082 / POST CARD

REPLACEMENT OF NOT MORE THAN 1 GAS APPLIANCE ON A RESIDENTIAL COMMERCIAL OR INDUSTRIAL PROJECT.

04/13/15

CAPITOL HILL TOWER HOUSING COOPERATIVE INCF / BRIAN DENNIS

P1504947 / SUPPLEMENTAL

1500 SOUTH CAPITOL ST SE

04/07/15

NATIONALS STADUIM / RANDAL COX; NATIONALS STADUIM; RANDAL COX

E37461133 / SUPPLEMENTAL

04/08/15

WASHINGTON NATIONAL STADIUM LIC. / DAVID C. WILLIAMS

E1504771 / SUPPLEMENTAL

04/09/15

JOHN GIUSEPPE / PHIL HAUHN; JOHN GIUSEPPE; PHILIP HAUHN

E19554829 / SUPPLEMENTAL

04/15/15

WASHINGTON NATIONALS STADIUM LLC / JOHN GIUSEPPE-RAMCO

B1506296 / CONSTRUCTION

REVISION TO BLDG. PERMIT B1503799 NEW TEAM STORE AT NATIONALS PARK AS PER THE ATTACHED THIRD PARTY REVIEWED AND APPROVED REVISED MECH. PLUMB. ELECT. FIRE PROTECTION AND ARCH. PLANS BY ECS MID ATLANTIC LLC. ORIGINAL APPROVED PLAN SET ATTACHED ALONG WITH WRITTEN DESCRIPTION OF CHANGES MADE.

04/17/15

WASHINGTON NATIONAL STADIUM LLC / DOMINIC E TOTARO

M1501639 / SUPPLEMENTAL

04/17/15

WASHINGTON NATIONALS STADIUM / STEPHEN J. EXELBERT

P1505092 / SUPPLEMENTAL

04/22/15

WASHINGTON NATL STADIUM / JAMES W. SCHIFFHAUER

E1505137 / SUPPLEMENTAL

AH = After Hours; B = Alteration & Repair; D = Demolition; E = Electrical; FB = Boiler; M = Mechanical; P = Plumbing and Gas; PC = Post Card; R = Raze; SG = Sign; TL = Tenant Layout; TN = Tent; RW = Retaining Wall;



1022 - 1109 M ST SE
03/27/15
$ 5,000,000
WASHINGTON HUMANE SOCIETY
9TH ST SE
03/03/15
$ 3,730,000
818 POTOMAC AVENUE SE LLC
POTOMAC AV SE
03/03/15
$ 3,730,000
818 POTOMAC AVENUE SE LLC
POTOMAC AV SE
03/03/15
$ 3,730,000
818 POTOMAC AVENUE SE LLC
POTOMAC AV SE
03/03/15
$ 3,730,000
818 POTOMAC AVENUE SE LLC
1103 9TH ST SE
03/03/15
$ 3,730,000
818 POTOMAC AVENUE SE LLC
1105 9TH ST SE
03/03/15
$ 3,730,000
818 POTOMAC AVENUE SE LLC
816 POTOMAC AVE SE
03/03/15
$ 3,730,000
818 POTOMAC AVENUE SE LLC
0819R L ST SE
03/03/15
$ 3,730,000
818 POTOMAC AVENUE SE LLC
1201 HALF ST SE
02/19/15
$ 9,000,000
WEST HALF RESIDENTIAL II LLC
N ST SE
02/19/15
$ 36,000,000
WEST HALF RESIDENTIAL III LLC
0038 N ST SE
02/19/15
$ 36,000,000
WEST HALF RESIDENTIAL III LLC
0036 N ST SE
02/19/15
$ 36,000,000
WEST HALF RESIDENTIAL III LLC
R N ST SE
02/19/15
$ 36,000,000
WEST HALF RESIDENTIAL III LLC
0030 N ST SE
02/19/15
$ 36,000,000
WEST HALF RESIDENTIAL III LLC
0032 N ST SE
02/19/15
$ 36,000,000
WEST HALF RESIDENTIAL III LLC
N ST SE
02/19/15
$ 36,000,000
WEST HALF RESIDENTIAL III LLC
1275 HALF ST
02/19/15
$ 36,000,000
WEST HALF RESIDENTIAL III LLC
HALF ST
02/19/15
$ 36,000,000
WEST HALF RESIDENTIAL III LLC
M ST
02/19/15
$ 36,000,000
WEST HALF RESIDENTIAL III LLC
1ST ST SE
02/10/15
$ 1,913,472
BALLPARK HOTEL LLC
1ST ST SE
02/10/15
$ 1,913,472
BALLPARK HOTEL LLC
1ST ST SE
02/10/15
$ 1,913,472
BALLPARK HOTEL LLC
1ST ST SE
02/10/15
$ 6,600,000
BALLPARK RESIDENTIAL LLC
1ST ST SE
02/10/15
$ 6,600,000
BALLPARK RESIDENTIAL LLC
1ST ST SE
02/10/15
$ 6,600,000
BALLPARK RESIDENTIAL LLC
1ST ST SE
02/10/15
$ 6,600,000
BALLPARK RESIDENTIAL LLC