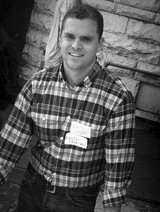 1. How long have you lived in your ANC? And how long have you lived in DC, or the DC area?
I've lived in the neighborhood since the summer of 2010 and in the District since 2007. Growing up, my family went to church on the Hill and my dad worked on the Hill, so this is a part of the city that has felt like home for a long time.
2. What made you decide to run for ANC?
We have a once-in-a-lifetime opportunity to build a neighborhood that follows best practices for new development and sustainable design, and that has a healthy and attractive mix of building uses, community amenities, and parks. I ran for ANC because I have a real dedication to this city, and have the interest, experience, and ability to push for a future that takes fullest advantage of the opportunity we have.
3. What do you see as the role of an ANC commissioner?
The role of an ANC commissioner is to be a supportive communication point between residents and District government agencies, and to take initiative on hyper-local issues that affect the neighborhood. I often have my own opinions about what's important to focus on and prioritize when it comes to neighborhood issues and development, but I've found that the best ANC suggestions, decisions, and actions are always the product of resident collaboration.
4. Near Southeast will now have two commissioners. How will you work with your east-of-South-Capitol compatriot on issues specific to the neighborhood?
Although I've loved representing the entire neighborhood for the past two years, I'm looking forward to working with the 6D02 commissioner on Southeast issues that I've mostly carried the flag for on my own (with support from my Southwest-side colleagues) to this point. Over the past couple months I've met with all of the contenders for the re-boundaried district, and will reach out to next week's winner to strategize about the most effective way to serve the greater neighborhood starting in 2013. Issues related to new development, infrastructure, transportation, and schools affect everyone, regardless of where the specific lines are drawn.
5. Both districts are home to public housing residents. Are their interests being forgotten in the push for and emphasis on redevelopment in these areas? How do you serve them as commissioner?
Every time I meet with the residents of the income-diverse or senior buildings, I leave humbled by the incredible opportunity I have to serve a community with diverse histories and needs. The issues affecting the residents of public housing that I've heard voiced most often relate to public transportation accessibility, safe pedestrian access through the neighborhood, and the creation of neighborhood activities and amenities that serve all people -- issues that are actually fairly universal across economic levels. I am proud of my record of service to all of the neighborhood's residents, and look forward to continuing in-person outreach in places where email lists and Facebook and Twitter updates don't have as great an impact.
6. If you could wave a wand and get something done in Near Southeast tomorrow, what would it be, and why?
I would wave my wand over Van Ness Elementary and have it renovated and reopened. Although there are a few large projects I'd love to wave a magic wand over, opening that school is the most pressing need for our growing neighborhood. Do we need new development? Yes. Do we want more restaurants and retail? Yes. Should we be redesigning M Street? Absolutely. But in order for our neighborhood to grow into a place that is truly sustainable for people wanting to invest and stay here, we have to have an accessible neighborhood school. The Virginia Avenue Tunnel project comes in a very close second, which I would love to see re-built, re-paved, and re-landscaped tomorrow. A completed Whole Foods and Trader Joe's would also be nice...
7. What do you want voters to remember about you as they fill out their ballot?
I'm responsive, communicative, always open for personal meetings or phone calls, and am a constant presence at meetings on issues affecting our neighborhood. I created a citizens development advisory committee, I have been supportive of new businesses seeking to locate in the neighborhood, and I have banded with parents working to reopen Van Ness and with residents working to shape the Virginia Avenue Tunnel. I am continuing to work on parking reforms and to bring paddle sports rental (kayaks, stand-up paddleboards) to Diamond Teague Park. I have a good relationship with my colleagues in Southwest, as well as in neighboring ANC 6B and across the ward. I have also fought for issues that extend beyond our boundary, like redistricting and re-prioritizing public school librarians.
8. What do see as the most pressing issue(s) for the new 6D07?
Reopening Van Ness School, shaping the Virginia Avenue Tunnel project in such a way that it is built fastest and in a way that affects residents the least, and pushing for development that supports people of all ages and that exemplifies diverse, attractive, and green design.
9. Are you for or against the Virginia Avenue Tunnel expansion/reconstruction? Which of the four alternatives being studied do you think would be the best (or least-worst) option for the neighborhood?
As much as I wish the project weren't happening, at this point I believe it's more constructive to work with the team and the residents closest to the project to make sure that the construction alternative that is chosen respects the neighborhood, finishes quickly, and leaves us with a new Virginia Avenue and surroundings that look and function even better than they do now. Although Alternative 3 is attractive for using closed-trench construction, it significantly expands the area of impact by constructing two new tunnels south (and therefore closer to neighboring townhomes) of the existing tunnel. My goal, which is closely aligned with the Capitol Quarter Homeowners Association, is to see a hybrid alternative presented that uses a closed trench, keeps the construction footprint as far north as possible, as has as short a timeframe as possible.
10. Does your approach to advocating for the neighborhood change in any way with your district's smaller boundaries, especially given that some of the larger upcoming projects (such as the ones directly north of the ballpark) are no longer in your district?
My approach will likely change some based on the new boundaries, as I will be working much more closely with another commissioner on immediate neighborhood issues.
11. What if anything would you change in your next term from how you approached your first term?
I am constantly humbled to learn new ways to do my job more effectively, efficiently, and collaboratively. I intend to mark my second term with even more community interaction and public input, and will more fully engage leadership above and around me to better understand and communicate our neighborhood's big and small picture priorities, needs, and requests.
12. Should Drew Storen have been pulled in the bottom of the 9th in the 5th game of the NLCS after he gave up the first hit?
Let's remember that Storen was one checked swing away from being a hero. Sure, the fall came quickly, but it's easy to criticize the decision in hingsight. As much as I was standing with my jaw on the floor with the rest of DC that night (and for the next few days), I'm proud of how far we came and I'm looking forward to a great 2013 Nats season.