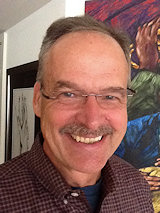 1. How long have you lived in your ANC? And how long have you lived in DC, or the DC area?
My wife, Carole and I purchased a Velocity Condominium in 2007 before the building construction started and moved to the Velocity two years ago. Before coming to the Capitol Riverfront we lived for a year in the Downtown area on K Street and prior to downtown we had a suburban life for nine years in Annapolis. I grew up in the Washington metro area; I lived in Maryland and graduated from the University of Maryland in College Park. Email: kaminskied@comcast.net
2. What made you decide to run for ANC?
I want thank all the Velocity voters who supported me for the ANC nomination by signing the DC ballot petition. The Velocity resident support was great encouragement to me to run for this office. My decision was not a quick one but it has lead to a great campaign experience.
Our future as a community was key to my decision. Local government service in Capitol Riverfront offers a unique opportunity to shape and influence place making just five blocks south of the Capitol Building. Capitol Riverfront is a place where the focus is on the future, a clean slate of new community development, transportation, and parks.
3. What do you see as the role of an ANC commissioner?
The challenge for all people active in our 6D community, including ANC commissioners, is to mobilize new and long-time residents to participate in decisions and advocacy for a better community. The ANC commissioner should not be a robotic proxy but an advocate and a leader for community enhancement.
More can be done to speed our way to the vision of a modern 6D neighborhood; more can be done from the City to serve young residents with appropriate programming in our new parks, open new retail and entertainment. Young families need neighborhood schools where children can walk to the classroom and live near their classmates.
If elected, I will be an uncompromising 6D ANC advocate for improvements in the 6D public realm, including 6D streetscape, infrastructure, transportation, parking, safety, more bicycle lanes, walkable options, education and parks.
4. Near Southeast will now have two commissioners. How will you work with your east-of-South-Capitol compatriot on issues specific to the neighborhood?
Work on the ANC should not turn on a single specific issue, especially not over issues that can be settled with compromise. Working together, Commissioners must focus at the neighborhood level of City government. The small things such as a new street sign, better trash pickup or a crosswalk can have the greatest everyday benefit. To achieve Capitol Riverfront progress, all commissioners must listen to neighbors on many issues and give priority to the quality of life areas that matter.
5. Both districts are home to public housing residents. Are their interests being forgotten in the push for and emphasis on redevelopment in these areas? How do you serve them as commissioner?
In the Southwest district and the Capitol Riverfront, redevelopment is both inclusive and sensitive to the housing needs of disadvantaged residents. The 6D ANC should continue to work closely with developers to find up-market and affordable housing options with a special focus on residents in the four SW public housing developments.
For other resident needs, ANC commissioners turn to community support organizations to help disadvantaged residents. This model is more mature in the Southwest. Rev. Ruth Hamilton, Director of the Community Benefits Coordinating Council (CBCC), leads a highly successful 501(3) c charitable organization with the goal of "coordinating benefits for a caring community." The CBCC has launched activities in the Capitol Riverfront but the sustaining model for community service is our future.
6. If you could wave a wand and get something done in Near Southeast tomorrow, what would it be, and why?
The Capitol Riverfront Business Improvement has played a key role in bringing development to the neighborhood. Michael Stevens and the Capitol Riverfront BID team have done an excellent job improving the clean and safe attributes of our community and providing a vision for the future of the urban framework that defines the community. It has been a pleasure to serve as one of two resident Board members of the Capitol Riverfront BID.
The role of the ANC presents many challenges. It takes time is to shape specific attributes of the community that respect the sensitivities and requirements of the residents but there are some areas that are a major challenge to our community timetable. Connecting the Capitol Riverfront with important hubs of transportation such as Union Station and Downtown with bike and streetcar services is a costly problem that could benefit from the wave of a magic wand
7. What do you want voters to remember about you as they fill out their ballot?
Before you vote consider this simple idea: the voters engage with their ANC; voters weigh-in with their commissioner on parks, parking, safety and resident environs, cleaning of streets, school curriculum of a new neighborhood school and obvious things like street lights.
To better serve these citizen advocates for change, I will work for better parks, improved trash removal, insure safer streets, modernize or replace old schools. At the end of the day, active residents enjoy and care for Capitol Riverfront places they helped make.
If this sounds like the right approach to make our community better, please vote Ed Kaminski, 6D02 Advisory Neighborhood Commissioner.
8. 6D02 is a new ANC, with boundaries that run from just south of the Mall in Southwest down to Nationals Park in SE west of 1st Street (along with Capitol Hill Tower and 909 New Jersey). What do you see as the most pressing issue(s) for this particular area?
Pressing issues can be very specific to a building. Improving parking is a critical issue for most of the high-rise residents. Expanding retail with new restaurants and entertainment may be important to others. Families are looking for progress on Van Ness Elementary
We need to bring activity to the docks at Diamond Teague Park, secure the ongoing financial needs of Canal and Yards Park, break the underserved legacy of Randall Park and improve access and usage of Garfield and Virginia Ave Parks. We need to create more dog parks.
Above ground transit is a big challenge. The old near-southeast made accommodations (poor bargains for growth) to nonresidents and their automobiles hoping for growth; it is time to make Capitol Riverfront transit work for us, with more bike paths, walking and water transit modes for the people who live here. South Capitol and M streets are notable examples of roadways for suburban passage to other places.
9. Do you see any difficulties inherent in representing portions of both SE and SW, which sometimes have very different goals and interests? How will you handle this?
No, during my campaign work in Southwest, I had the good fortune to meet a single mother, who lives in the Capitol Park Plaza with a compelling story of everyday life. With great humility, she revealed how she manages her time holding down three jobs, including part-time work as a teacher's aide to pay for her daughter's private school in Capitol Hill. Her daughter attends St Patrick's Catholic Elementary and is a very good student.
This mother has the same concerns as any mother with a young daughter. She wants her daughter to have a safe path under the Southwest Freeway to school and she wants her daughter to attend a good middle school. Oh, and she would like to have a new dog park near her apartment. This mom convinced me that our goals as neighbors in SE and SW are not that different after all.
10. There is great concern from residents east of South Capitol about parking, specifically on-street parking for residents who are ineligible for RPP stickers thanks to living in large multi-unit buildings. What will be your approach to this?
Capitol Riverfront growth is escalating demand for resident, worker and visitor parking. The Ballpark District Performance Parking Pilot was implemented to protect residential parking in the wider Zone 6 and to increase parking access to commercial and retail storefronts through variable pricing mechanisms for street parking. One unforeseen outcome at this stage is that blocks at the center of the pilot are much more residential than commercial.
The core of the Capitol Riverfront has a higher ratio of high-rise residential buildings underway than the original development plan predicted. Providing RPP residential parking for these high-rise residents in the Ballpark District could rebalance parking to meet the larger than expected residential demand. Commercial buildings typically build sufficient fee parking for workers not using public transit options.
The baseball game day parking and metered-only parking streets can be maintained with few adjustments. Demand sensitive pricing will enhance street parking availability for Capitol Riverfront businesses. I propose that residents in high-rise buildings have RPP privileges. With RPP zone parking, they will find parking in the wider Zone 6 area when in-building parking is not available.
Daryl Jackson, President of the Capitol Hill Tower (CHT) COOP Association, has worked closely with DDOT and the Marriott Corporation to achieve substantial improvements in the parking issues in his high-rise building. Lessons learned from Capitol Hill Tower's solutions and open RPP authorization for all high-rise residents in the Ballpark District would be a big step forward.
11. It looks like development south of M Street may soon start ramping up again. How do you approach both the interest in getting that area activated with what will probably be increased crowds and noise that may make established residents north of M unhappy?
As a member for the 6D02 ANC and resident board member of the Capitol Riverfront BID, I hope to forge Voluntary Agreements (VA) with development interests that could limit and control noise from music venues and crowds that would impact areas north of M street. These agreements have worked for other ANC's and can define special conditions that would be acceptable to residential living and would provide controls that are stronger than DC law.
Noise from the Fairgrounds was a serious problem this summer. At Velocity, we initiated a plan for the Underground management to meet residents who were interested in working together to achieve some constructive problem solving at The Fairgrounds. Residents traveled back and forth between the venue and resident's apartments, taking decibel readings while the band played after the game.
Resident sound monitoring of Half Street should never be a required condition to have a good living environment and undisturbed sleep at night.
12. Should Drew Storen have been pulled in the bottom of the 9th in the 5th game of the NLCS after he gave up the first hit?
I support Davy Johnson, Manager of the Year 2012 (and 1997), who is a former player for the Baltimore Orioles when they won four pennants and two World Series championships between 1965 and 1972. Baseball is not a science, Davy's great instincts about player performance has served the team well with a tremendous year of winning NATITUDE baseball for the Capitol Riverfront and the City. Go NATS!