2/21/14 - Sadly, we must pass along the news of death our classmate Alec Armbrister. As noted in his obituary, he spent many years as a bicycle courier in DC, and even was profiled in the Post Magazine in 1992.
11/3/13 - Now, that was a party. Thanks to all who came to the Bethesda Marriott last night. We really had a blast! You can see Jacqueline's pile of photos on Flickr or hers and others in the class Facebook group. This class really is a special one, and we're so glad people seemed to have such a good time. Just don't ask right now about the next reunion - we need some rest!
7/9/11 - Continuing to shift the online home of the class over to Facebook, we've now got a new Facebook group where we're congregating. Click on the "Join this Group" link, and if you're a member of the class, you'll shortly be approved to join in the merriment.
11/9/08 - If you didn't come to the mini-reunion, you missed a heck of a party. The 100+ attendees descended on Buffalo Billiards at 8 pm and socialized well past the scheduled end time! And it appears that a great time was had by all. (Unless everyone was just pretending for my benefit.)
My photos of the evening are posted on Flickr (click on the thumbnails to see larger versions). It was rotten light for taking pictures (even with a big annoying flash that people no doubt got tired of looking at), and there's some blurry shots I'm extremely not proud of, but there's some decent pictures, too. (I tried to get everyone, but if I missed you, I apologize. You can't get good help these days!)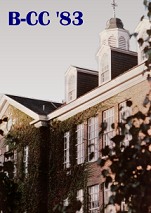 Feed Your Addiction
• Post a Bio and read the others already posted, so you won't have to waste precious reunion time with the basics.
• Chat on the Message Boards, because you don't really want to wait until November to catch up.
• Join the B-CC 1983 Facebook Group to keep up on all the latest news, and to hang out with old friends.
• Visit Memory Lane to see grouped photos from previous reunions, the prom, graduation, Gettysburg, and even some surprising finds from the attic.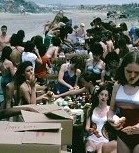 17,000 slides from 1970-1983.


B-CC Home Page
B-CC Educational Foundation